Cambio at the Serpentine Galleries is a poetic walk around trees with designer Formafantasma, discussing their importance, commercial role and how we can protect this vital species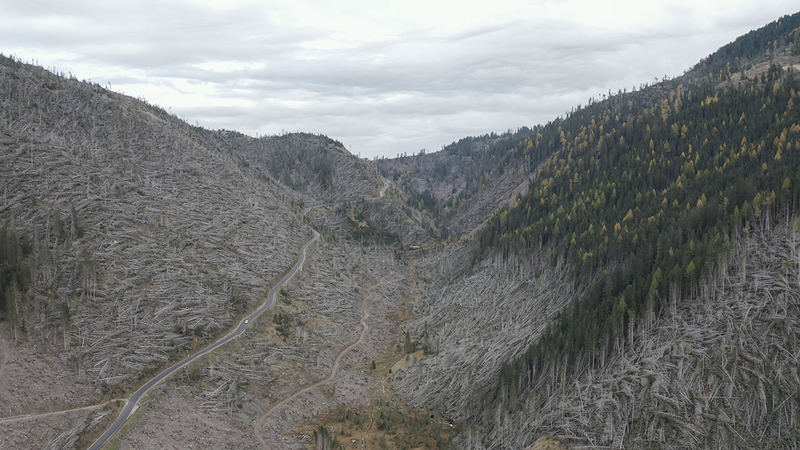 Formafantasm: Cambio – Serpentine Galleries, 2019. Val di Fiemme, Italy 2019. The image shows the damage to natural forests caused by an extreme storm. Photo credit: C41 Productions
Xylarium is a new word for me, meaning a library of wood specimens. These beautiful historic samples form a key component of Cambio, a new design exhibition on the governance of the timber industry at the Serpentine Galleries that manages to be both pertinently informative and poetic.
The show has been created by the Italian design duo Formafantasma, whose previous research included the Ore Streams investigation into recycling electronic waste. While full of serious insights into conservation, the impact of climate change, illegal logging and political and legal responses, the exhibition manages to convey this important material in an accessible way.
'Cambio' is both a reference to the medieval Latin for change/exchange and to the cambial layer, a membrane running around the trunk of trees that promotes growth.
Entering the exhibition, we are hit by the smell of wet earth and forest flora – scents created specially for the show as an immersive reminder of what's at stake when forests are threatened. Several striking exhibits set the scene. One is a locally sourced oak in a state somewhere between tree and timber – we can still see the bark and the fungus, but it has been horizontally sliced as the start of the manufacture process. Behind this, a film shows analysis of the information held within trees to reveal the inexorable rise in temperature that they record over their lifetime. Next to this, a dramatic photograph shows the devastation caused by a recent extreme storm in northern Italy, in which an astonishing 13 million trees were felled. One of these provides the wood for the exhibition installation.
Formafantasma wants designers to consider not just aesthetics when choosing materials but also wider ecological issues such as their original context and method of extraction, as well as longevity of use. In doing just this, the exhibition goes way beyond FSC compliance to offer up for consideration broader philosophical, conservation and policy issues to promote a better understanding of the bigger picture in relation to the procurement of timber.
Everyday objects such as paintbrushes, pencils and tools are analysed to reveal how many were made from illegally-sourced timber, which still makes up 15-30% of the global timber trade. A display of stacked stools invites us to consider the lifespan of the furniture we buy and how we should maintain a healthy relationship between an item's 'service' years and the time it took to grow by using it for longer. Oak pieces fared best at 150 years, with walnut at just 60 years. Analysis of – appropriately – copies of Darwin's Origin of the Species from all around the world reveal that the same eucalyptus and pine pulp was being used throughout, encouraging the planting of these species where they wouldn't naturally be found.
The Xylarium section of mainly 19th century samples is drawn from the collections of Royal Botanic Gardens at Kew. It is not the first time these wonderful pieces have been exhibited in Hyde Park – back in 1851 and 1862, they were on show at the Great Exhibition and International Exhibition. At both, they were shown as seemingly infinite timber resources of the different varieties available throughout the Empire, including tropical hardwood, with handy tips on their best uses –Pombel, for example, from Queensland, is labelled as 'wood fragrant, takes a good polish'. But even back then, as the labels show, some such as Green Ebony were already extinct, illustrating how long these problems have been brewing.
Curator Rebecca Lewin hopes visitors will come away with a more nuanced understanding of the complex issues involved in the sustainable sourcing of timber. There is certainly much to learn.
Films and other displays dig deep into conservation issues behind timber production. Planting afresh is more problematic than it may seem, running the risk of creating tree monocultures quite different to natural habitats. There are plenty of worrying statistics. We learn how intact natural forests can store 40% more carbon than plantations, but that 80% of the world's forests are now degraded. The exhibition suggest that the best way forward it to ensure community forestry rights, since local people generally prove to be the best guardians of their habitat.
It is certainly stimulating, especially a section on the politics of plants, which imagines a Universal Declaration of Trees' Rights – Article I: 'All trees have the legal right to exist, flourish and evolve'. Article 3 suggests that violations be prosecuted at the International Court for the Right of Forest Ecosystems.
In one of the most poetic elements, towards the end of the exhibition, visitors find themselves being addressed by a tree courtesy of the video Quercus, created by philosopher and botanist Emanuele Coccia:
'Everything you know, everything you built, you learned from trees…' says the tree in the narrative. 'We fabricate the conditions for your existence…Our sacrifice has made the existence of fire possible'.
It's thought-provoking stuff that stays with you long after leaving the show, as the tree reminds us of our debt to them – not only in terms of fire, but oxygen – 'every breath is an intimate communion with us'. We are exhorted to do better:
'You just have to pay more attention to our language, the way we communicate, the way we are.'
Will we ever do this? Maybe not. But at least shows like this will encourage a greater understanding of the complexities of timber conservation and production, and the choices we make both as consumers and designers.
---
Formafantasma: Cambio, Serpentine Galleries, until 17 May 2020, Kensington Gardens, London W2 3XA