Anthony Caro's interest in architecture is explored across the county for the Caro in Yorkshire celebration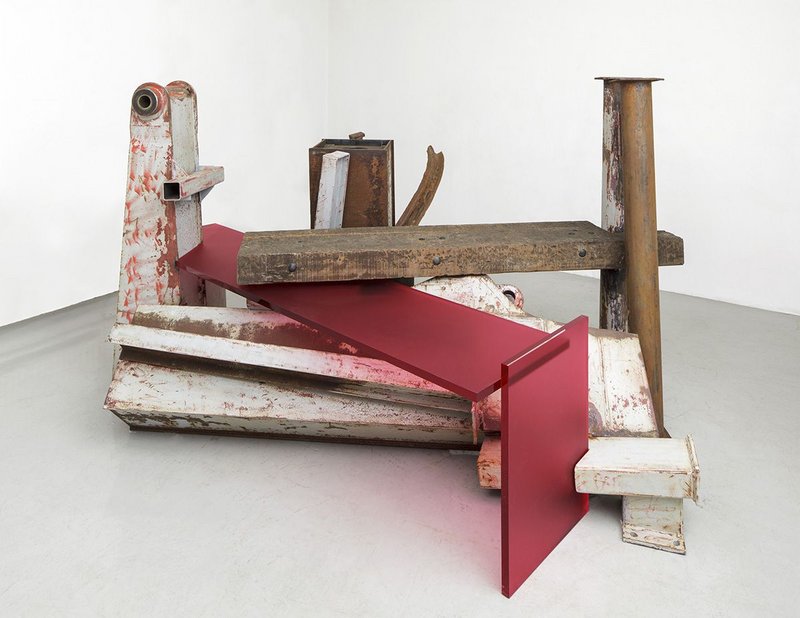 Terminus, 2013

Credit: John Hammond, Courtesy Barford Sculptures Limited.
Anthony Caro (1924–2013) coined the phrase 'sculpitecture' in jest to describe his output arising from an increasing interest in architecture late on in his illustrious career. It stuck. And it is this strand of his work that will be explored next month at The Hepworth Wakefield as part of the Caro in Yorkshire multi-venue celebration of the sculptor's prolific work.
Caro, who regarded sculpture as hovering between painting and architecture, famously collaborated with Norman Foster on the Millennium Bridge and also worked with Tadao Ando and Frank Gehry as well as the engineer Chris Wise. While most of this activity took place relatively late in his career, he himself reflected that architecture had had a bearing on his work as far back as his painted steel works of the 1960s. Long before his overtly architectural collaborations, he was always interested in the idea of through-ness and scale, says Caro in Yorkshire curator Eleanor Clayton. Some of these works and his Table Piece series are included in the show as well as later pieces with a more overt relationship to architecture.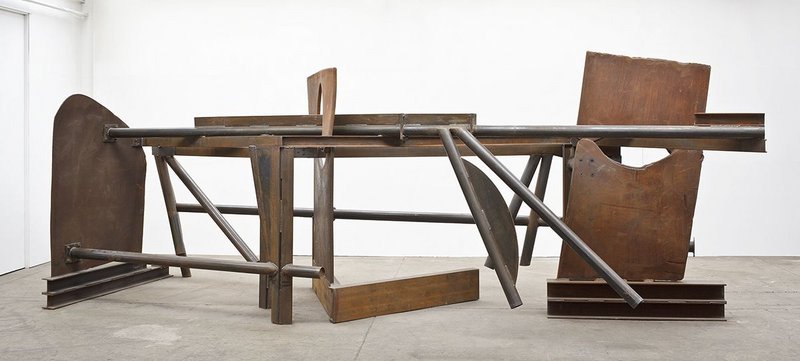 Park Avenue Series - Morning Shadows, 2011-2012.

Credit: John Hammond, Courtesy Barford Sculptures Limited.
'He became very interested in [architecture] in later life,' says Clayton, adding that Caro also wrote a great deal about this. 'In 2007 he remembered teaching sculpture to students at the AA and talking about shared concerns with architecture in relation to how people interact with their surroundings,' she said.
The exhibition charts Caro's increasing engagement with architectural themes and includes one of the sculptures he made in 1977 at Emma Lake in Canada, where he used tubular steel to enclose space. His habitable work, Child's Tower Room (1983/4), was designed as a wooden piece that only children could pass through. A few years later, he began working directly with architects. The Hepworth Wakefield show includes Palanquin (1987/1991) – a piece inspired by the 1987 Sculpture Village, a collaboration between Caro, Gehry and Caro's wife Sheila Girling.
One of his most architecturally scaled pieces, Park Avenue, was conceived as a tubular steel work spanning three blocks of Park Avenue in New York, and was the first time that he worked from a model. Undeterred that it proved too expensive and complex to realise in situ, Caro simply divided the piece into smaller works and made those instead. One of these, Morning Shadows, is on display in the show.
The new exhibition is also notable for the inclusion of some of Caro's Last Sculptures. These integrated Perspex sheets into the sculptural composition, another example, says Clayton, of how he was continually pushing the boundaries of what sculpture could be.
Clayton expects the David Chipperfield-designed Hepworth Wakefield gallery to prove a particularly appropriate environment for viewing Caro's sculpitectures. Meanwhile, the other exhibition venues will focus on complementary aspects of the sculptor's work.
Caro in Yorkshire, from 18 July until 1 November 2015: The Hepworth Wakefield, Yorkshire Sculpture Park, Henry Moore Institute and Leeds Art Gallery
---