Chinzy, dated, geeky… or ingenious, intricate retro? The caravan revisited
Summer is over and as memories of summer holidays fade, it's time to celebrate one of its less loved aspects: the humble caravan. For those of us who grew up in the 1970s and 80s, a caravan holiday was more of a threat than a promise. Often to be found making slow and ungainly progress down narrow country lanes and indelibly linked to the depiction of rain-lashed campsites and marital disharmony in Carry On movies, caravans have undoubtedly had a lot of bad press.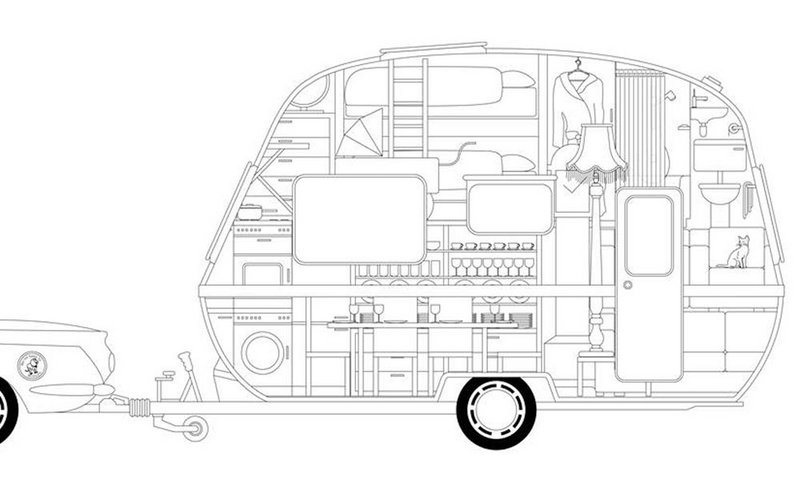 Lacking the taste for adventure of proper camping yet falling far short of a well-appointed hotel, the caravan represents a modest attempt at escapism, a desire to bring as much of your home with you on holiday as possible. Yet they are also indisputably ingenious pieces of design that, were it not for their association with suburban bad taste, would surely press most architects' buttons.
The classic caravan has a highly distinctive profile, like a slice of Swiss Roll on wheels, trimmed in chrome perhaps and with a neat little door and fold-down steps. Often painted in tones of beige and off-white, they came with names like The Sprite or the Compass Connoisseur. These days, caravan designs attempt some kind of aerodynamic sleekness and feature tinted windows and a hint of luxury, but no one's fooled.
Although they come in various shapes and sizes, they are in essence a compacted house on wheels complete with beds, galley, kitchen area and a toilet/bathroom. There is something fascinating in both the ingenuity and the familiarity of this interior. Part of the pleasure is its recognisability, the fact that, like a dollhouse, there is everything from the normal domestic environment but on a smaller and more intricate scale.
They are a single room that transforms its function throughout the day, a strange intensification of the domestic realm
Caravans also offer the pleasure of things that fold out and down, of beds and tables that can be packed away as if they had never been there. They are a single room that transforms its function throughout the day, moving from breakfast room to dining space, to lounge and finally to bedroom all occupying the same small square meterage of space. The chintziness of caravan interiors is deceptive: they are actually a strange intensification of the domestic realm.
In recent years, along with the 'staycation', the caravan has enjoyed something of a renaissance. Geeky, old-fashioned and with a hint of austerity chic, it was only a matter of time before the hipsters got hold of them. There are now campsites dedicated to vintage caravans, cute 1950s and 60s models with floral wallpaper and net curtains. And then of course there's the American Airstream model, a particular favourite of design buffs with its macho sheet-metal cladding and association with 50s Americana.
Caravans are not always about the freedom of the highway though. Sometimes they don't even move and it is in these situations that they sometimes come into their own. In suburban gardens they can act as impromptu house extensions or become colonised as children's dens or teenage hideaways. Sitting by the side of A-roads, they serve up sugary cups of tea and bacon rolls. They can also act as ticket kiosks, flower stalls and ice-cream vans, or be pressed into medical service by the St John's Ambulance. Sometimes they just become repositories for junk or retreat slowly into the undergrowth.
Ultimately the caravan should hold great appeal for architects, representing an elusive dream of ingenuity, mobility and temporariness. A lightweight, mass-produced instant architecture, a hybrid of Archigram, Jean Prouvé and Buckminster Fuller rolled into one. Unfortunately for architects, they often come decked out in the kitsch garb of suburban housing. But this combination also lends them a jolly surrealism all of their own, and for that we should love them.