Carsten Höller's all for turning in his highly interactive Haywood Gallery show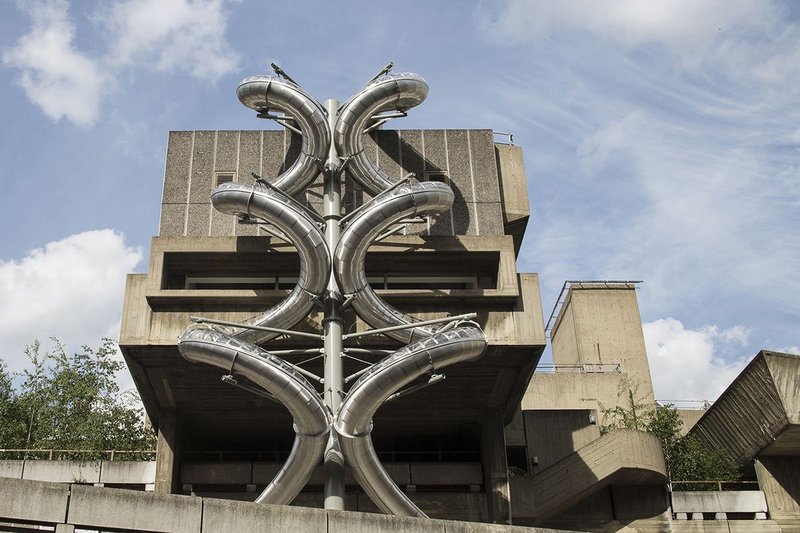 Carsten Holler's baroque bravura at the Hayward Gallery.
Springing like shiny serpents from the concrete hulk of The Hayward Gallery, it's the two isometric slides that will inevitably grab your attention first at Decision, the latest show by artist Carsten Höller.
But fun as these are, they are by no means the only remarkable exhibit at this invigorating show, which sets out to challenge spatial perceptions and decision-making in Holler's customary mischievous and playful way.
The entrance sequence – definitely not one for the claustrophobic – is particularly memorable and rather unsettling. Visitors choose one of two routes and enter the pitch black of a metal tunnel, feeling their way gingerly as it twists and turns before depositing them in the first gallery. Such a beginning, says Höller, avoids the usual snap judgment that people inevitably make on entering a show. The rotating installation of Flying Mushrooms is something of a relief after this, but it's not long before the visitor is put to the test again, whether deciding whether to ingest one of the mystery white and red pills heaped on the floor, or trying out the robotic beds that slowly move around the gallery. A giant dice with tunnels instead of spots invites the small and lithe to crawl inside.
But perhaps the most disorientating experience are the Upside Down Goggles that invert the viewer's vision, leaving them flailing around comically as they try to navigate the terrace.
I wasn't brave enough for the Two Flying Machines – a sort of human carousel that spins visitors above another of the terraces. But I greatly enjoyed climbing through a space cut in the gallery roof and shooting down one of the slides – a great way to exit a show.
According to Hayward director and exhibitions curator Ralph Rugoff, Decision is one of the gallery's most ambitious shows ever. It's certainly a testament to the space's robust flexibility, using its exterior and interior to the full in a fitting sign-off before closing for a two year refurbishment.
Carsten Höller: Decision, until 6 September, Hayward Gallery, South Bank Centre, London
---