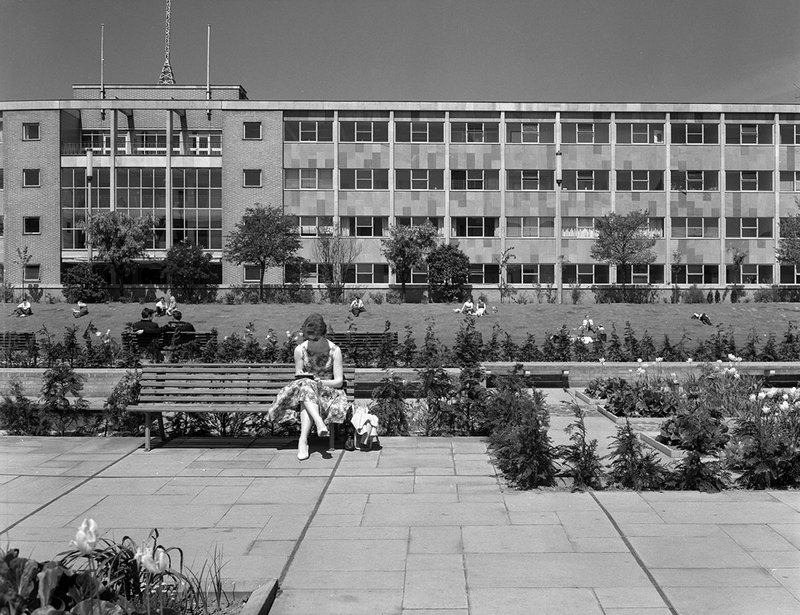 Central Police Station, Queen's Gardens, Hull, 1962.

Credit: Henk Snoek / RIBA Collections
Hull was one of Britain's leading ports and a thriving centre of commerce from the Middle Ages. Its prosperity continued into the 20th century, reflected in a wealth of impressive architecture. But it was badly bombed by the Nazis in 1941 and rebuilding was slow and inconsistent, based on a reconstruction plan by Edwin Lutyens and Patrick Aber­crombie which was never fully realised.
The plan envisioned a new civic heart for the city concentrated around Queen's Gardens, a large public park constructed from the old Queen's Docks – infilled in 1935 with a pedestrian boulevard and ornamental gardens. Frederick Gibberd was employed to oversee its post-war remodelling, setting it below the surrounding road to emulate the appearance of the former docks and introducing public art to animate the space.
Gibberd also masterminded Lazenby & Priestman's Central Police Station of sea-green slate and Portland Stone, as well as designing the nine-storey, Festival of Britain-style, Hull College. That block, with its distinctive roofline, dominates the Gardens but was described by Pevsner as 'alas run-of-the-mill'.