When I first came to London over 20 years ago, my first job was in Queen Anne's Gate not far from London's Victoria Station. Yet despite its proximity both to the station and to Westminster, the area around Victoria Street was decidedly sleepy, full of anonymous-looking government offices and with few decent shops or refreshment opportunities beyond the old fashioned boozers. It's no wonder I spent lunch times in St James's Park instead.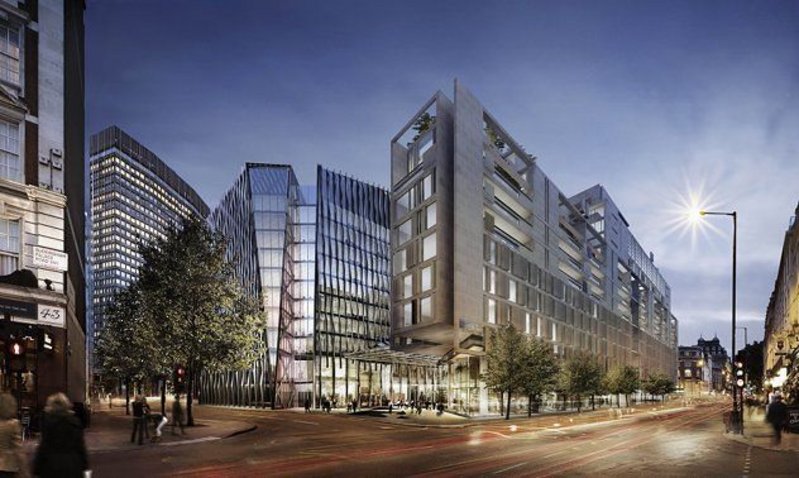 Now, however, Victoria is in the throes of transformation, with cranes lining the way from the station to Buckingham Gate as shiny new offices and apartments spring up. Already there is plenty of temptation for lunchtime spending and an altogether different occupier clientele is developing with newcomers Jimmy Choo, Burberry, John Lewis, Microsoft.

62 Buckingham Gate is the latest addition, an 11-storey spec office developed by Land Securities, the biggest developer player in the area and designed by Pelli Clarke Pelli with Swanke Hayden Connell.

Land Securities is investing £2billion in the Victoria area over the next decade, including Lynch Architects' Kings Gate and Zig-Zag Building and Victoria Circle, which will include new commercial buildings by PLP and residential by Benson and Forsyth.

Part of Land Securities' aim is to bring a greater diversity of uses to the area including more retail and refreshment facilities and more apartments - McAslan & Partners' residential Wellington House is complete, and David Chipperfield is converting the 29–storey Portland House office tower into apartments.

So Victoria is changing, but is it for the better? It certainly has more to offer than ever before in terms of commercial, residential and recreation. No-one is mourning the passing of the tired old office stock that's making way for the new. And the new shopping and refreshment facilities are very welcome. But that's not to say that what is built will be to everyone's taste. On the inside, 62 Buckingham Gate is pretty impressive, with common parts created by US designers LSM. I like the sparse but grandly proportioned reception, enlivened by the richness of the marble-lined reception and also by two well-chosen artworks, a tapestry from Grayson Perry's The Vanity of Small Differences series and Stuart Haygarth's wonderful, Optical Chandelier sphere made up of 70,000 suspended optical lenses. There are great views over the capital, a nice terrace, and high-spec common areas. So from the inside looking out, it's great, and has already attracted its first tenant. From the outside however, opinion is likely to be more divided. Pelli Clarke Pelli has aimed to respond sensitively to the surrounding location, and the angled glass reflective façade is intended to capture reflections of notable nearby building such as Westminster Cathedral. It's certainly more thoughtful and distinctive than many spec office developments in the capital. But for all this, the overwhelming impression is of still another addition to the run of shiny office commercial blocks along Victoria Street that however well-appointed leave one yearning for the warmth and texture of brick and stone.

Victoria has already changed hugely, but in five years time, when Land Securities has completed its other Victoria schemes, the area will be thoroughly transformed, with tourist and shoppers mingling with a more diverse breed of office worker, and the suited civil servants of the old days thoroughly outnumbered. London never stands still, but even for the capital, such wholesale and fast-track transformation of a city centre area's identity is remarkable indeed.