'Pioneer of interior architecture' Charlotte Perriand was a truly collaborative designer whose modular designs for constrained spaces set the pace for modern living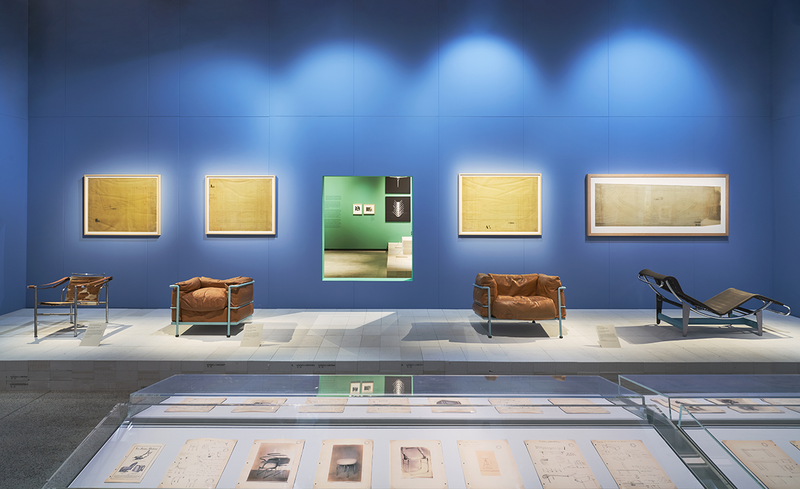 Exhibition installation shot of Charlotte Perriand: The Modern Life at the Design Museum. Series of tubular steel furniture with manufacturing plans designed by Le Corbusier, Pierre Jeanneret and Charlotte Perriand (Centre Pompidou, Paris National Museum of Modern Art – Centre for Industrial Creation and Vitra Design Museum.)

Credit: Felix Speller for the Design Museum
At the start of the Design Museum's new exhibition on Charlotte Perriand there's a great story about her first encounter with Le Corbusier. Fresh from the success of her exhibit at the 1927 Salon d'Automne, she presented herself at his studio in the hope of joining his team, only to be dismissed with 'we don't embroider cushions here.'
She had the last laugh when he subsequently sought her out after seeing the exhibition, which presented her glamorous, ultra-modern vision for an open-plan domestic interior full of clever fittings and tubular steel furniture. They went on to work together – along with Le Corbusier's cousin Pierre Jeanneret - for a decade, and again some years later.
Seeing this rather splendid new show – the first on her in London in 25 years – it's clear that Le Corbusier wasn't alone in under-estimating her. She is still primarily known in the design world as a furniture designer, although her contribution to his studio is now far better understood and acknowledged. This exhibition, however, takes a wider lens and shows her far greater creative output, from individual items of furniture through to large-scale architecture.
'She really was a pioneer of interior architecture. Her concept of the interior was a synthesis of architecture, design and art,' says Design Museum chief curator Justin McGuirk.
For him, she is a pioneer in so many ways – of tubular steel furniture, of open plan living, of modular furniture and storage, and of participative design. He describes her as a 'truly collaborative spirit' – citing her projects with metalworker-turned-designer Jean Prouvé as well as Corbusier and Jeanneret, and the fruits of these joint projects are celebrated in the exhibition. Along the way, we gain an insight into her sociable personality, her friendships with Jeanneret and artist Fernand Léger (whose work is also included), her love of skiing and outdoor sports, and her adventures in Japan during and after the Second World War.
Designed by Assemble, the exhibition is divided into three clear phases.
The first shows Perriand's early work as a machine-age modernist – she was, after all, someone who wore ballbearings as a necklace – and her work leading furniture design in Le Corbusier's studio. Her innovative tubular steel furniture is here to admire – nicely paired with production drawings and accompanied by notebooks showing her design process. Visitors can even try out some of her best known designs, including the famous Chaise Longue Basculante co-designed with Le Corbusier and Pierre Jeanneret. But it's the glamorous and radical roomsets that really catch the eye as a demonstration of her exploration not only of the use of metal and glass but of the potential of open-plan living and compact living spaces. We see the use of storage units to replace walls, a table that rolls out to seat 11 with the use of a concealed mechanism, and, at the 1929 Salon d'Automne, a kitchen with fold-down surfaces and fold-away pan storage.
A second section focuses on her move in the mid-to-late 1930s towards an aesthetic inspired by nature. This new direction was fuelled in part by many long walks with Jeanneret, where they were captivated by the forms of 'found' objects such as stones, tree stumps and bones. Some she photographed in-situ – these beautiful black and white prints are included in the show – and some she collected as artefacts. She began working more with wood and with fluid 'free-form' shapes, as best personified by the 'Boomerang' desk for a newspaper editor, which was also capable of hosting editorial meetings. Her two year stay in Japan at the invitation of architect Junzo Sakakura allowed her to escape the difficulties of war-time France and explore a totally new culture and tradition of craftsmanship. She was to return to stage an exhibition in 1955 which demonstrated her belief in the interior as a synthesis of art, design and architecture.
The final section focuses on her later interiors and architecture in the 1950s and 60s. By then, says McGuirk, she had reconciled her differences between her early machine age modernism and later nature-inspired aesthetic, by finding a harmony 'between industrial and craft, between metal and wood, between urbane and rural'.
Believing that the profession of architecture should be 'work in the service of humanity', she was keen to get the most out of constrained living spaces and to maximise the potential of modular, inexpensive design.
'She really believed in the power of design as a tool for improving life for everyone,' says McGuirk.
Perriand designed compact modern kitchens for Le Corbusier's Units D'Habitation in Marseille, and created her seminal shelving units for the Maison du Mexique student housing. In London, she worked with Erno Goldfinger on offices for the French Railways, and also designed the London branch of Air France in 1957, which is partially recreated in the show.
The exhibition ends with what is described as the 'crowning achievement' of her long career, the collaboration with Gaston Regairaz architects on Les Arcs ski resort in France, which was built from 1967-87. An extensive architectural model conveys the huge size of the project, which Perriand conceived as 'reclining' into the landscape. For quality control and speed of construction, she prefabricated the bathroom and kitchen modules, which are included in the exhibition, as part of the compact but comfortable accommodation. A keen skier, Perriand also designed ski lodges and refuges.
As well as demonstrating the breadth of her work, McGuirk hopes the exhibition conveys her lively character. We get some idea of this from the photos of her interspersed throughout – in one memorable image she is shown from behind, wearing nothing from the waist up apart from her necklace, and with her arms stretched high aloft seemingly in exuberant response to the mountain view. In another, she's laughing as she eats with chopsticks in Japan. At the end of the exhibition, well into her 80s, she's shown still at work clutching her design drawings.
'She was unique – dynamic, independent but at the same time very sociable and collaborative. She was defining the modern interior, but also living the modern life,' says McGuirk.
Charlotte Perriand: The Modern Life, until 5 September 2021, Design Museum, 224-238 Kensington High Street, London W8 6AG