Chatsworth House's exhibition of contemporary seats sits well in its historic setting and offers a leisurely tour of the stately home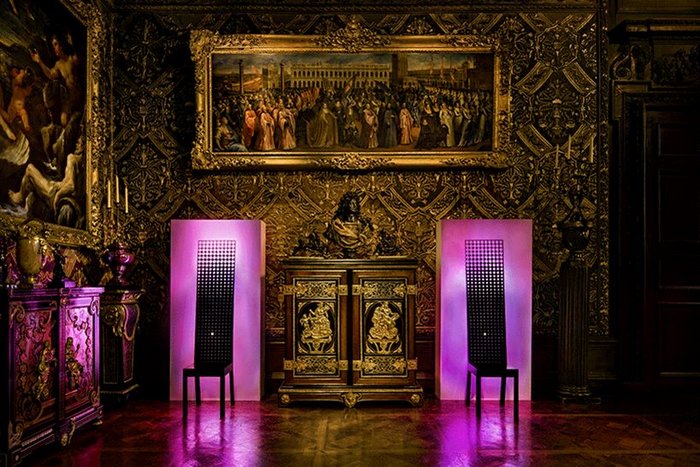 Visiting Chatsworth House, the Derbyshire home of the Duke and Duchess of Devonshire, is not for the faint-hearted. You need stamina to stay the course of a full tour of such an extensive stately home. And however wonderful the décor and the artwork, visitors can be excused for fancying a nice sit-down along the way.
Make Yourself Comfortable, the first contemporary design exhibition to be held at Chatsworth, might well be the answer to the prayers of the weary-legged. With 75 seating exhibits – all but four to be sat on – it not only provides much needed resting space but also, according to exhibitions curator Hannah Obee, adds to a long tradition of contemporary collecting stretching back to the earliest days of Chatsworth, when it was the first Baroque palace in the country.
'The seats become a bridge between what was considered contemporary and exciting in the past with today's vision of design that is boundary-pushing or desirable,' she says.
Chaise Lawn by Deger Cengiz

· Credit: Photo by Chatsworth House Trust

Clay Chairs by Maarten Baas.

· Credit: Photo by Chatsworth House Trus

Endgrain by Raw Edges © Chatsworth House Trust

Long-Form-Library by ifsodoso © Chatsworth House Trust.

Endgrain by Raw Edges

· Credit: Photo by Chatsworth House Trust

Endgrain by Raw Edges

· Credit: Photo by Chatsworth House Trust

Water Block by Tokujin Yoshioka

· Credit: Photo by Chatsworth House Trust

Tom Pricesh1947-123

The Duke & Duchess of Devonshire on Canvas Chair by YOY for Innermost

· Credit: Photo by Chatsworth House Trust
The 21st century works are a fantastic mix of styles that sit surprisingly well in the historic house. Obee hopes the contemporary furniture will help visitors appreciate the house and its contents in a new way.
'We're keen to bring a new perspective to Chatsworth so that visitors will participate and feel part of the interiors rather than have the traditional passive visit to a historic house,' she says.
In the Sculpture Gallery, for example, Raw Edges has created Endgrain, a work that provides a more intimate relationship with the statues. In this extraordinary piece, a new wooden floor has been laid with 10 benches and seats, seemingly growing out of it, placed alongside key pieces so that viewers can consider works such as Canova's Endymion at leisure and closer at hand. The floor and benches are smattered with colours inspired by the gardens of the house. Since the sixth Duke had wanted a more colourful floor when the gallery was designed in the 19th century, this intervention, albeit temporary, seems particularly appropriate.
It's a fair bet that Thomas Heatherwick's Spun chairs, which encourage the sitter to lean back and spin around, will prove a star attraction. Arranged in the Painted Hall, they have the added benefit of providing more comfortable views of the elaborately painted ceiling and walls, which otherwise require a mirror to peruse at length.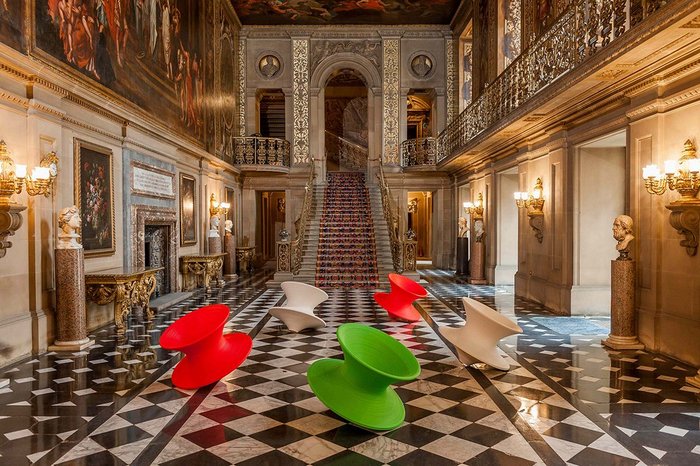 Another highlight is Long Form Library by Thomas Mills for ifsodoso, conceived as an immersive, self-contained book reading environment. Positioned in the Oak Room, it alludes to a previous use of the space to house the library of 18th century natural philosopher and scientist Henry Cavendish.
Other pieces are scattered throughout the grand home. Tokujin Yoshioka's Water Block glass benches, whose surfaces suggest flowing water, are located – appropriately – in the grotto, where plumbing was first introduced into the house in the 1690s.
Elsewhere, pieces by designers including Amanda Levete, Marc Newson and Moritz Waldemeyer find other positions amid the historic interior, adding another layer to the already rich design story of Chatsworth.
Make Yourself Comfortable at Chatsworth. To 23 October 2015, Chatsworth, Bakewell, Derbyshire, DE45 1PP
---