Children through the Ages was a doll's house-sized gallery for 34 miniature artworks by modern artists including Barbara Hepworth and Ben Nicholson. Nearly 90 years later, 11 remain in a replica gallery in Chichester's Pallant Gallery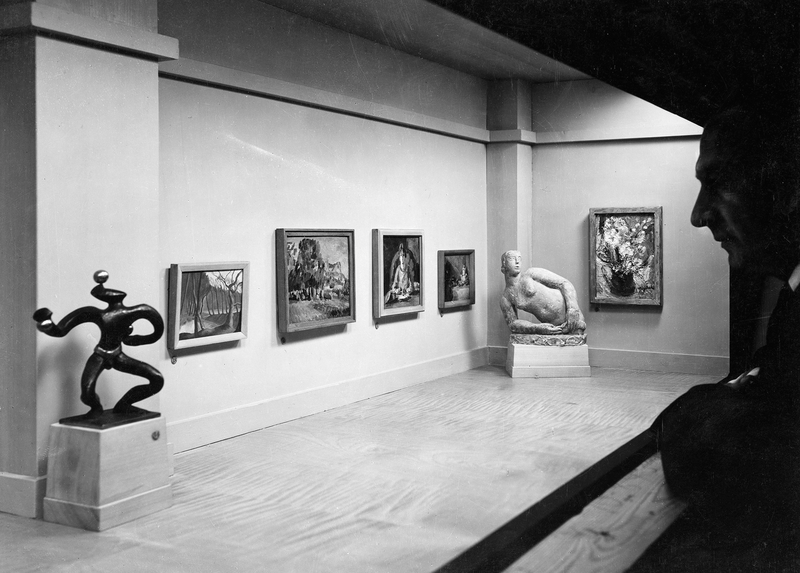 RIBA139055 / RIBA Collections
34 Gallery London, 1934
In 1934, art dealer Sydney Burney set out to create an exhibition with a difference – all the works of art were in miniature. Burney commissioned architect Marshall Sissons to create a doll's house-sized gallery to contain tiny but perfectly formed artworks by 34 of the best modern British artists including Ben Nicholson, Barbara Hepworth, Henry Moore, Vanessa Bell and Paul Nash.
The model was displayed as part of an exhibition called 'Children Through the Ages' in aid of the Greater London Fund for the Blind. It was described in the catalogue by the art historian and critic R H Wilenski as 'an artistic tour de force, a fascinating peep show, and a page of history all in one. It really is a microcosm of modern aspects of English painting and sculpture in 1934'.
The 34 Gallery disappeared after the exhibition but 11 of the original artworks were discovered in a suitcase by Burney's grandson. In 1997 these were given to Pallant House Gallery in Chichester where they are now on display in a replica miniature.