Croydon's development director, Colm Lacey, is a man known for getting things done. Could his ambitious programme create London's third city?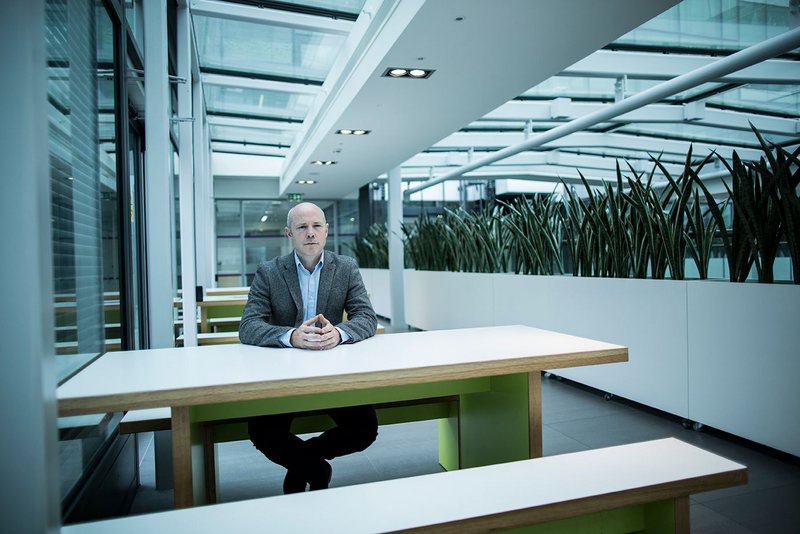 Credit: Wilde Fry
Croydon is the south London borough that, with its mainline trains and its trams, its famous skyline and leafy, hilly countryside close by, does not feel much like London. That is the way its director of development, Colm Lacey, likes it. 'We're trying to recreate Croydon as a modern European city,' he says as we meet on the top floor of the council's HQ, one of those shiny, brittle-feeling new atrium-based civic complexes (architect EPR) that define this era as much as the carved-stone civic pomp of earlier times.
Lacey has been directing Croydon's urban strategy since 2014, having previously been at the very different east London borough of Newham, during the time of the great post-Olympics rebuilding of Stratford and the Royal Docks among much else – and before that he was at the Homes and Communities Agency and the Greater London Authority. Dublin-born, qualified at first in economics and politics, then trained at the LSE's Cities programme, Lacey is known for getting things done and for finding some agile strategies to do so at a time of financial austerity. His time at the borough correlates with its return to Labour majority control in 2014 after eight years of Conservative rule. And he is one half of what might be deemed an ex-Newham double act, given that his newly promoted chief executive is Jo Negrini, his immediate predecessor as director of strategic regeneration in Newham, who moved to Croydon eight months before him.
The latest result of his endeavours is Brick by Brick. This is a private development company spun out of Croydon Council at the start of this year, its remit being to build housing-led projects across the borough which will densify the more suburban parts of the borough in an acceptable way – and above all, with a class-leading target of 50% affordable housing. This is possible, says Lacey, despite the fact that Brick by Brick will work in exactly the same way as an ordinary developer: paying market rate for land and taking profits in the normal commercial way, which will then be returned to the council coffers. The council is the sole shareholder and, having taken a 46% cut in its government funding allocation over the past five years, needs as many sources of income as it can get. Lacey is managing director of Brick by Brick.
So, er, how come the sums add up with 50% affordable housing when nearly all private developers produce 'viability assessments' purporting to show that anything near that is commercially impossible? And when even London's ambitious new Labour mayor Sadiq Khan is starting with 35%, with 50% as a longer term goal? Lacey smiles a broad smile. 'It's a mystery!' he says, as only someone can who has had to deal with slews of such dark-arts assessments in his career. He's not going to say that developers find ways to skew the figures, but he does say 'I long suspected that the figures were not accurate'. Doing it for himself, so to speak, gives him an opportunity to get to the actual achievable numbers. If they stack up, then other councils around the country will be entitled to ask stern questions of their housing development partners.
This being property-bubble London, of course one has to wonder what 'affordable' means. Well, drill down a little and you find that while this is the familiar 'up to 80% of local market value' formula, which still makes them expensive in an overheated property market, other factors apply. So another objective is that 60% of the affordable homes will be for rent and 40% for shared ownership. The 50% of new housing that is NOT in the affordable category will be for sale at full market rate. The numbers target is 10,000 new homes by 2021, along with 16,000 new jobs in the borough. Around 1,200 new homes are in the programme so far.
Croydon – with a development plan that aims to make it London's 'third city' by the start of the 2020s, along with those of London and Westminster – has long been a magnet for good architects and urbanists, going back to an influential 1993 design initiative 'Croydon – the future' by the original Architecture Foundation. Lacey and Negrini joined a borough with Vincent Lacovara already in place. One of the founders of architect AOC and a long-term Croydon planner, he is now director of the borough's placemaking team. One senses an urbanistic critical mass developing.
Lacey runs through the roster of architects signed up for the first Brick by Brick schemes. It's good, mingling emerging, younger and established names for various sizes and types of project: Coffey Architects, HTA, Mae, Mikhail Riches, Pitman Tozer, Stitch, vPPR. Plus – and this is a straw in the wind – ­Croydon's own re-emergent architects' department, starting with a core of three architects in its spatial planning team. There's no reason, says Lacey, why the council shouldn't do some of its own architecture as well as overseeing outside consultants. He has identified some 50 sites, mostly council owned.
So for instance, Coffey will be doing three-bed houses on infill sites, HTA and Mae will tackle estates regeneration, vPPR will design for 'tough urban infill sites' and so on. Meanwhile, away from housing, Croydon has other big-ticket items under way. The much-loved Fairfield Halls – an early 1960s reach-me-down of the Royal Festival Hall by Robert Atkinson and Partners – form a decayed cultural hub that has just closed for a £30m refurbishment and expansion by Rick Mather Architects. This includes College Green alongside and will extend to the rear with a new building for Croydon College plus a 200-unit housing development, again by Mather. 'It's a key gateway site, it has a totemic quality,' Lacey says.
There is also the massive expansion of the town-centre Whitgift Centre in the hand of the Westfield malls developers, but here more stitched into the grain of the townscape. And finally, the daunting traffic corridor of Wellesley Road, with its roundabouts and underpasses – which bisects the town between the cultural and retail centres – will be tamed as part of a very large scale, complex infrastructure project that will include new platforms for the mainline railway station and a new tram loop, plus investment in 'social infrastructure'. Or jobs, as they used to be called.
The 17-mile Tramlink system, along with some increasingly appreciated mid-century commercial buildings, is what makes Croydon feel really different, because it is not part of London's radial transport pattern, rather an outer suburban connector. This difference, along with a projected population grown of 10-15% to 2020, the densification that the Brick by Brick residential schemes will provide and the cultural and public realm improvements, should make this difference much more apparent. A modern European city, rather than an awkward London outlier? Lacey and his colleagues are bringing it on.
---