Curator Rob Wilson explains the rationale of his exhibition on colour in architecture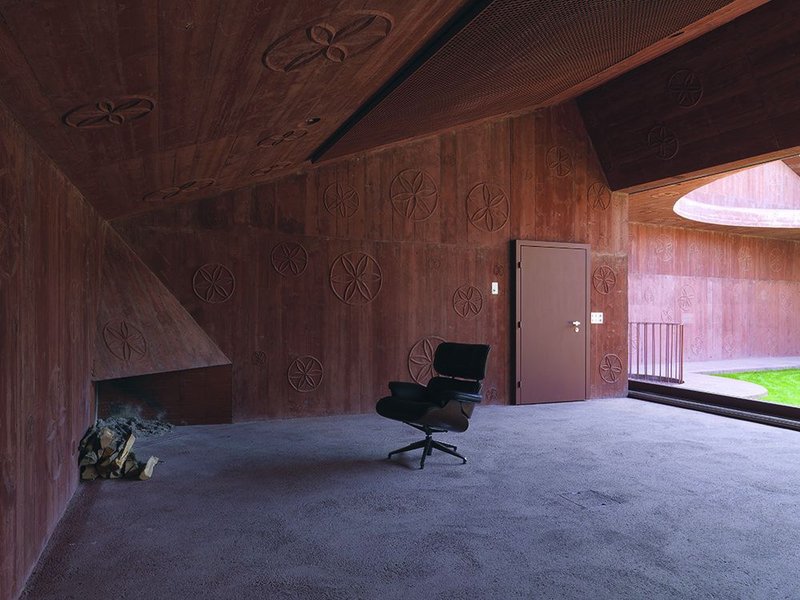 Full of colour doesn't have to be colourful: Falerio Oligiati's Atelier Bardell, Switzerland.
The last couple of decades has an acceleration in the building materials available in a hugely expanded range and choice of colour. Many new projects use colour as a key element in their design – to create distinctive identities, as well as in place-making and way-finding - and sometimes just for extraordinary effect.

The exhibition includes examples from practices such as MVRDV, Caruso St John, Renzo Piano, Sauerbruch Hutton and Valerio Olgiati, with additional material drawn from the V&A and RIBA Collections, and from across different periods and cultures to contextualise and draw parallels between the contemporary use of colour and in the architecture of the past. Thus in focusing in on the use of ceramic tiles for coloured facades, Renzo Piano's Central St Giles Court is shown with a 17th century mosque in Isfahan; AHMM's graphic interior scheme at Westminster College sits next to a 1920s cinema design by Robert Atkinson.

It was of course fantastic to find objects such as a working sheet of colour options from Georgian architect Henry Holland's office, a De Stijl-like bedside cabinet made by James Stirling, and a futuristic 60s interior design by Max Clendinning, to contextualise the contemporary projects. But what became increasingly clear was the recurring problem presented by the use of colour in architectural design.

For colour has always been a tricksy subject for architects to pin down, compared with the certainties of line and geometry. Seen as something that can't be fully rationalised or accurately measured, it often seems to stray dangerously into uncertain areas of decoration and taste. Questions of light and shadow, of form and texture, have in general been favoured in the reading of a building: see Le Corbusier's famous description in Vers une Architecture: 'Architecture is the masterly, correct and magnificent play of masses brought together in light.'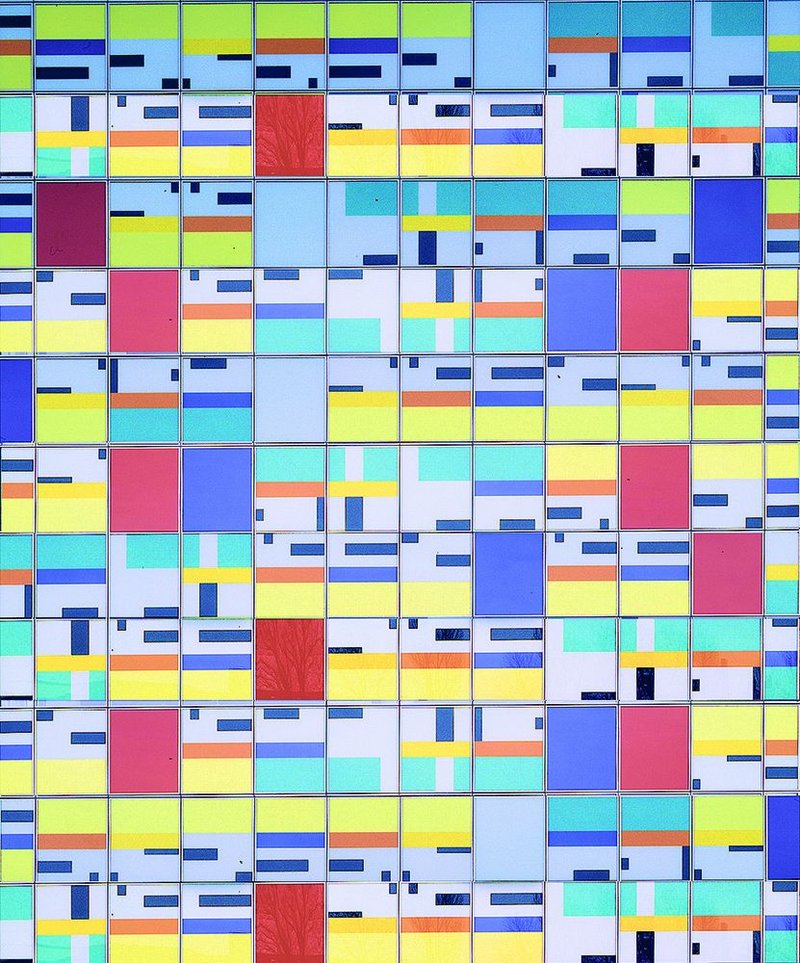 Alsop's study for the Colorium, Düsseldorf
But the desire to pin down and classify colour accurately has a long history. Sir Isaac Newton first analysed the refraction of light into the colour spectrum in his 1704 book Opticks. His analysis was questioned by Johann Wolfgang von Goethe in Zur Farbenlehre 1810, arguing for the importance of individual subjective perception. Both books are included in the show, yet this eye/mind divide, the scientific versus the emotional, in colour perception has remained ever since.

The exhibition has five sections. Face to the World looks at the spatial and graphic qualities of colour in the reading of buildings, and the articulation of elements to underline the perception of form and structure. Narratives in Space considers the use of colour to articulate spatial connections, including projects such as Sauerbruch Hutton's poetic beehive project in a Munich park: architecture in miniature. Surface to Depth explores colour as either an integral quality of a material or purely as surface application or pattern. Here projects such as Valerio Olgiati's Atelier Bardill in Switzerland with its pigmented and patterned concrete shell show how non-primary colours can still infuse a building with a very intense atmosphere.

One notable trend has its own section: the use of neutral, natural tones, and white. Tone Down, White Out traces the latter's connections to modernism's obsession with hygiene and purity of form, but overall this tendency has origins in the great 19th century debate on the polychromy of classical temples. So a fascinating sketch by Leo von Klenze is included, one of the key figures in this debate, which he sent to the RIBA in 1836 to back up his argument on the use of colour. This sits alongside contemporary projects such as Diener & Diener's Natural History Museum in Berlin, its war-damaged facade partly recast in grey concrete, appearing almost like a ghost of itself, and David Chipperfield's Hepworth Wakefield.

The final section, New Horizons of Colour, considers experimentation in the use of colour and material from MVRDV's Didden Village, a roof-top apartment like a small village dipped in bright blue, to UN Studio's La Défense building in Almere, the Netherlands, its glass cladding covered in dichroic film, changing colour depending on light-source, transfiguring it into an ever-changing iridescent shell.

The Chromazone display aims to provide a stimulating journey through the use of colour in architecture today and its origins.
Chromazone: Colour in Contemporary Architecture
To 19 May 2013
RIBA/V&A Architecture gallery, London SW7, www.vam.ac.uk
---