David Chipperfield's attempt to drag the Venice Biennale away from the starchitect and back to ideas for all humanity is only good in parts.
The venice architecture biennale is not a single thing, even though it is always given a single theme. Like Caesar's Gaul, it is divided into three parts. Most important is the section curated by the director himself (this time David Chipperfield) in the medieval naval Arsenale buildings and the Central Pavilion in the Biennale Gardens. Then comes the cluster of separate exhibitions taking place in all the purpose-built national pavilions dotted around the gardens and in various places across the city. These are curated by the individual nations, vary greatly in quality, and often pay only lip service to the given theme. Thirdly there are 'collateral events', a kind of Biennale Fringe which is nonetheless strictly policed. Along with all this there are endless talks, debates, parties and even more fringe and not remotely official happenings. Sometimes there is even controversy – such as this year's protests by supporters of jailed Russian girlpunk group Pussy Riot in the vicinity of the Russian Pavilion.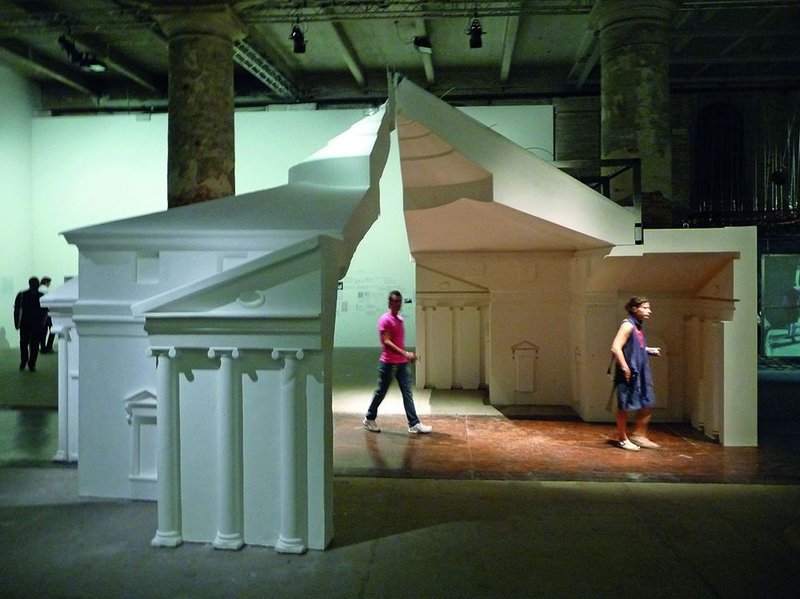 Deconstructed Palladio in FAT's Museum of Copying.

Credit: Hugh Pearman
This time, the theme is 'Common Ground'. It's about what architects and people share – influence, ideas, place, humanity. It's meant to be an antidote to the years of sensational icon-building in which starchitects competed to show ever more exotic confections. 'My feeling is that you have to distinguish between a biennale and a trade fair,' Chipperfield remarked in the run-up to the opening. 'It must be about ideas. I thought this was a moment to try to create a concept, taking an issue that was in the air.' Actually it's the fourth biennale in a row to try in various ways to break free from the icon and others have tried even before that: one remembers Massimiliano Fuksas' theme 'Less Aesthetics, more Ethics' from 2000. In truth, 'Common Ground' does not look or feel so very different from its predecessors, though there is less of the terrible business of architects pretending to be artists, and more collaboration between architects as Chipperfield intended. 'Despite our different concerns, backgrounds and points of view we do indeed share common ground, and this forms the basis of something we might describe as an architectural culture,' he writes in his introduction to the show.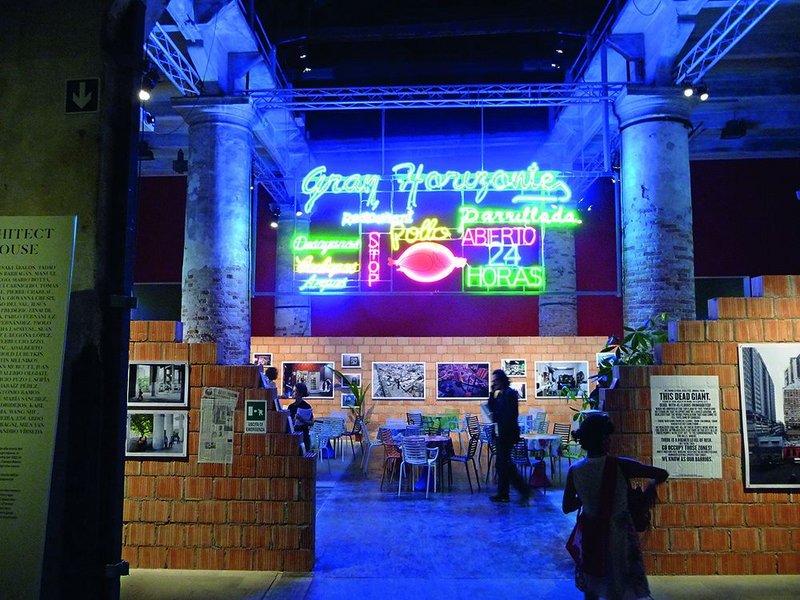 Justin McGuirk and Urban-Think Tank's Caracas display won the Golden Lion.

Credit: Hugh Pearman
There are reasons for the relative sameness of these shows. One is that, customarily, the directors are appointed late, giving them an insanely short amount of time to pull it all together, on a shoestring budget. This was especially true of Chipperfield, whose appointment was delayed until January this year by the politics surrounding the departure of former Italian prime minister Silvio Berlusconi, who was trying to oust the Biennale's president, Paulo Baratta. Baratta survived and the next Biennale may be different: it is likely to be directed by Rem Koolhaas, who thus has a great deal more time.
Another reason is the nature of the Arsenale buildings: tall, long, dauntingly magnificent. Architects have somehow to hold their own in this space, so typically it is broken up by a series of large-scale set-piece interventions. This time these included immersive video rooms by Lord Foster and Farshid Moussavi, which were a matter of taste. Foster's theory-free, celebratory room with a million flashing and swirling images and names worked for me better than Moussavi's somewhat strained presentation of what she calls architectural 'affects'– formal gestures with no underlying meaning. Icons, you might say.
FAT does well with its 'Museum of Copying', tackling the business of how there is nothing original in architecture, everyone copies everyone else. Hence its deployment of a large deconstructed foam model of Palladio's Villa Rotonda, the most copied building in history. But further along you find a bit of attempted pure originality, the bolted-aluminium bondage corset of Zaha Hadid and Patrik Schumacher's 'Arum' installation. However, this was supported by a lot of material on thin-shell construction by others.
No less 'signature' is O'Donnell + Tuomey's timber installation 'Vessel', standing like some cranked chimneypiece on the axis of the concourse. Universality in architecture, ancient-meets-modern, is the theme here – as it was for Indian/Australian architect Anupama Kundoo, who championed traditional construction with a replica of her 'Wall House' in southern India using Indian craftsmen (who had some trouble with Italian building regs).
'FAT's Museum of Copying deploys a large deconstructed foam model of Palladio's Villa Rotonda, the most copied building in history'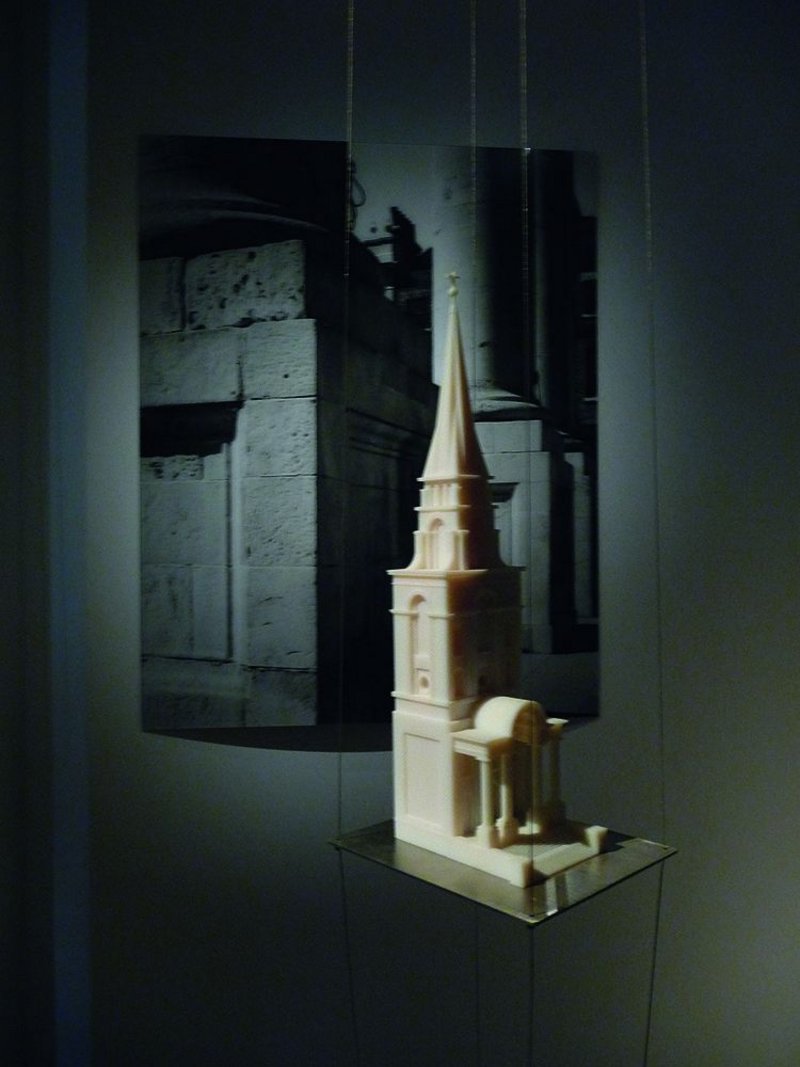 Beautiful display of Hawksmoor's London churches, curated by Mohsen Mostafavi.

Credit: Hugh Pearman
At the end of the main run, the triumvirate of Haworth Tompkins, Patrick Lynch and Eric Parry make an agreeable urban enclave formed of large-scale representations of some of their London projects – including an actual section of Haworth Tompkins' Young Vic facade, shipped out. Back in London the resulting large rectangular hole is masked with an image of a section of wall at the Arsenale. Bit of international dialogue going on there.
All of these are rightly eclipsed by the colourful, active Caracas-themed display by Justin McGuirk with Urban Think Tank, which took away the best-in-show Golden Lion. The story (with photos by Iwan Baan) of an abandoned unfinished office tower, the Torre David, taken over by squatters, and the resulting community there, is set against a recreation of a typical garishly-neoned Venezuelan street restaurant, the Gran Horizonte. This functions as a real restaurant here, so looks, sounds and smells like the real thing. Common Ground, geddit? It's a simple, charming conceit that works well, acting as a focus for this whole section of the show.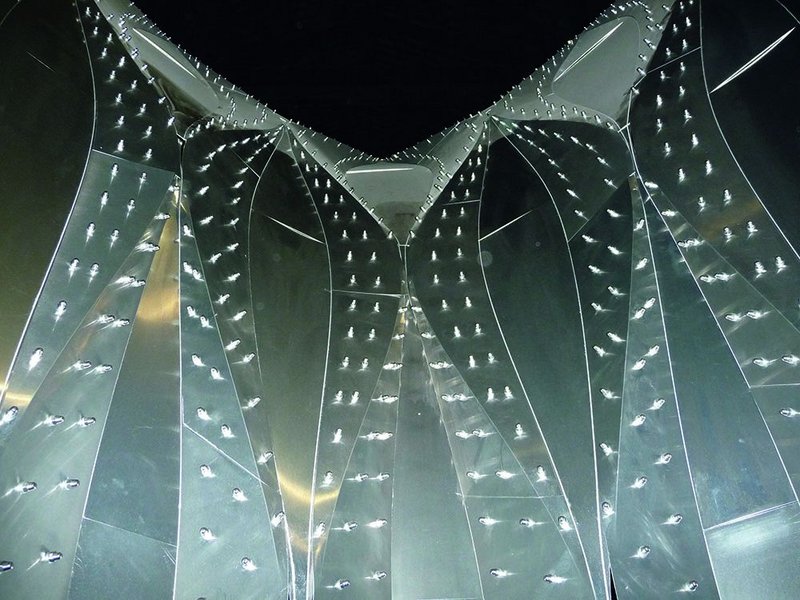 Arum, an exercise in thin and shell construction by Zaha Hadid and Patrik Schumacher.

Credit: Hugh Pearman
So huge is the Biennale that one can only give highlights. Such as in the Central Pavilion, where Koolhaas's OMA celebrated the anonymous public-sector architects of the post-war years, especially those of London's South Bank Centre. Or fellow Rotterdamians, Crimson Architectural Historians, with its 'Banality of Good' display on ideological new towns, before crass profit-making took over. The main display here, however, which had many architects drooling, was 'The Piranesi Variations' by a team directed by Peter Eisenman. Four groups re-imagined Piranesi's 1762 etchings of the Campo Marzio in Ancient Rome, overlaid with modern interventions. Eisenman-style diagrammatic theory was therefore much to the fore, and some beautiful and intriguing models resulted.
Away from everyone else, right up in the gardens at the top of the Arsenale complex near the wharfside, you find a mute but rich conversation going on: complementary structures by Alvaro Siza and his friend, collaborator and former pupil Eduardo Souto de Moura. De Moura's, buff-coloured, looks out across the water; Siza's dark red one makes a dog-legged alleyway among the trees, fully internalised. Between them, they express the character and colours of Venice and of their own relationship. The result is calm, pure architecture. Not quite sublime, perhaps, but getting there.
Collateral events? I must mention starchitect Ole Scheeren's 'Archipelago Cinema', moored in the Arsenale basin. A version of a similar floating auditorium previously designed for a film festival in Thailand's Andaman Sea, it is much less exciting than it sounds – beanbag seats on stepped floating pontoons, basically, with the big screen erected on the quayside. The disadvantage of this arrangement is that, once ferried there by boat, you can only escape mid-film by swimming. As, it seems, many wanted to do during the screening of 'Against All Rules', a hagiography of Scheeren and the CCTV building project he led while at OMA, by film-maker Horst Brandenburg. I skipped this and was assured I was lucky to do so – but I still endured a long press conference about it in the blazing sun on the largely unshaded pontoon the following day, before a merciful water taxi arrived. Going by the unintentionally hilarious trailer (Scheeren channelling Ben Stiller's Zoolander), this is the kind of architect-as-solo-genius schtick that is precisely what Chipperfield is trying to avoid.
'A recreation of a typical garishly-neoned Venezuelan street restaurant functions as a real restaurant here, so looks, sounds and smells like the real thing. Common Ground, geddit?'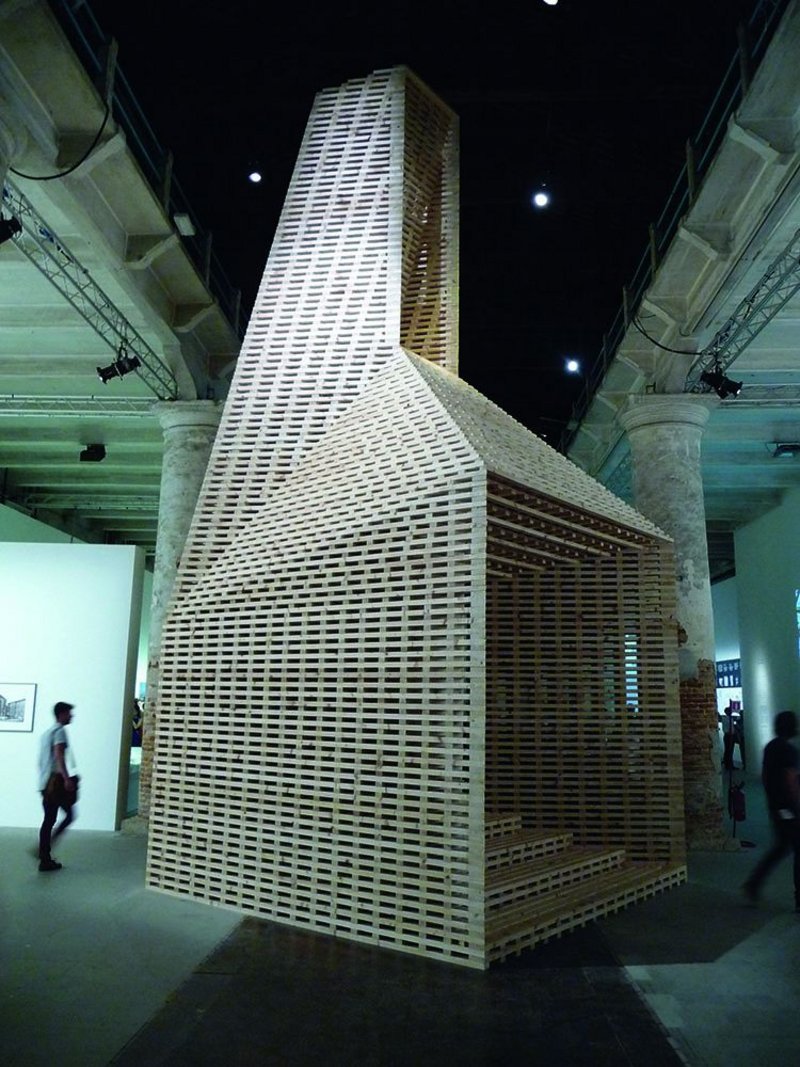 O'Donnell + Tuomey's Vessel installation intrigued many.

Credit: Hugh Pearman
And then we have the national pavilions, always a mixed bag. My favourite was the Dutch one, the Rietveld spaces simply and beautifully animated and divided by a lovely moving curtain by Petra Blaisse; the Golden Lion however went to Toyo Ito's more socially aware Japan pavilion, exploring cheap ways to make post-tsunami housing out of devastated trees, with some exquisite, delicate models.
The British get full marks for effort – 'Venice Takeaway' sent 10 teams around the world to find clever wheezes to bring back home, the diametric opposite of nationalist tub-thumping – but this resulted in a confusing, over-complex set of narratives that must have baffled most of the visitors. National pavilions here need simple, clear ideas and presentation. If you don't get what they're about in 15 seconds, you turn round and leave. The British – hampered as ever by our awkward, over-compartmented pavilion – just stuffed too much in there and paid the price. Ten teams is too many, the strands of research too various and at times too obvious. For instance Alex de Rijke of dRMM's Dutch connection is clear enough: getting him to research Dutch floating housing can't have been much of a stretch, though he makes a tongue-in-cheek epic journey out of it that is a welcome relief to the earnestness around him. Apart from that, and Aberrant Architecture's informative exploration of Rio's prefabricated concrete schools by Niemeyer, I can't even remember what most of it is about, and I spent quite some time there. With luck this approach will work much better when the show transfers to the RIBA HQ from February to April next year, operating on its own terms rather than trying to slug it out in the Venetian mêlée.
What would be perfect for the neoclassical spaces of the British Pavilion is a variation of the exemplary Nicholas Hawksmoor London churches exhibition, with photographs by Hélène Binet, curated by former AA school head Mohsen Mostafavi in the Venice Pavilion. Following that thought, what about a future show on British traditionalist architecture in the British Pavilion? Now that WOULD be a radical proposition.