Architecture is occupying the Royal Academy. Don't miss it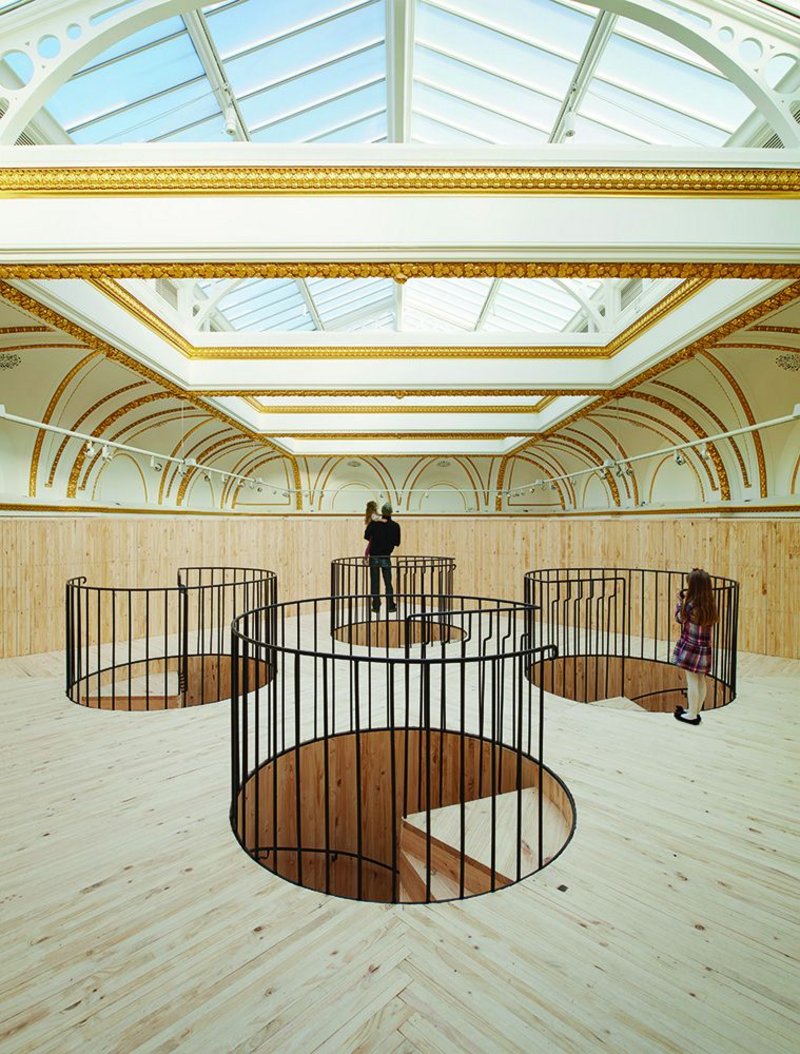 Pezo von Ellrichshausen's installation is the closest to an actual building.
There you are in a kind of heaven, with little peephole windows in its high balustrade focusing on the gilded angels you find up there
This is by no means an unqualified success, but it is quite possibly the bravest exhibition the Royal Academy has ever staged and I urge you to see it. Brave because it is, on the face of it, defiantly uncommercial and unlikely to appeal to its core 'Friends' audience of elderly Home Counties types. As a wholly unsubsidised institution, the RA has to earn money. So bravo for backing young curator Kate Goodwin's show – in all the main galleries, mind, not tucked away in a corner somewhere – that sets out to reduce architecture to its essence. In the process it no doubt hopes to attract an entirely different kind of intrigued visitor – the Time Out crowd.
No superstarry names are here, the best known in the architectural world perhaps being the Portuguese duo of Alvaro Siza and Eduardo Souto de Moura, Japan's Kengo Kuma, and Ireland's Grafton Architects. The others are Diébédo Francis Kéré (Burkina Fasso and Germany); Pezo von Ellrichshausen (Chile); and Li Xiaodong (China). It's all very democratic: nobody gets star billing.
The two architects who work best with the existing gallery interiors are the ones who exploit the full height of the rooms. Pezo von Ellrichshausen has made the nearest thing to an actual building here, a form that recalls both fortresses and oil rigs. Beautifully made in prefabricated timber sections, with elegant iron handrail details, it is a platform raised on four columns, each containing a staircase, which takes you right up to a platform at cornice level. There you are in a kind of heaven, with little peephole windows in its high balustrade focusing on the gilded angels you find up there. Almost as impressive is your route back down (or up, for those who can't use stairs) via a seemingly endless access ramp zigzagging to and fro behind a timber wall across the end of the gallery.
In contrast, Grafton Architects has gone for the abstract sublime. Given two galleries, it has made one a place of darkness, one of light, each dealing with aspects of light as key architectural determinant. In both massive forms, resembling great beams and sheets of concrete, hover overhead. The taller, gloomier room with its gradually changing light levels has the greater impact: made of three interlocking forms, you appear to be looking up the interior of a tower, which makes the gallery seem even taller than it already is.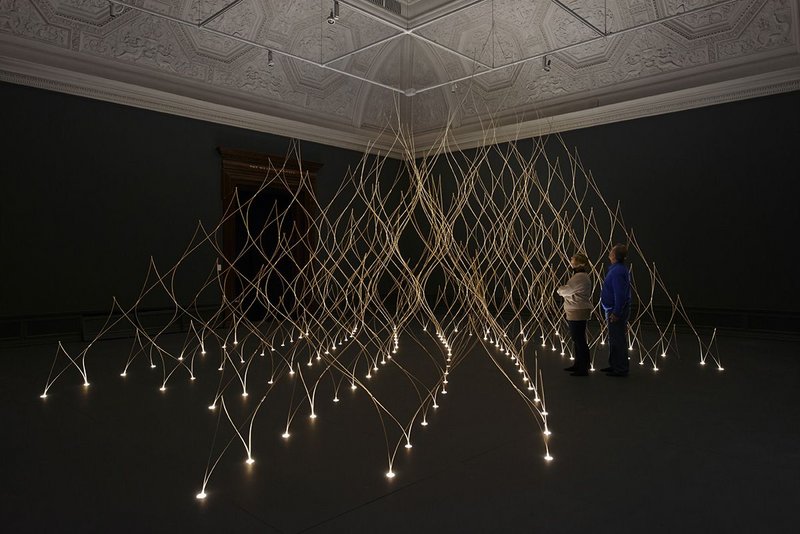 Kengo Kuma's sensual rooms play with light and dark.
Eventually you emerge into a Zen garden of pebbles and mirror wall – a clearing in the wood
Kengo Kuma's two rooms are to do with delicacy, suggestion, and smell: his constructions of very slender flexible bamboo canes clipped together are accompanied by the smell of cedar in one room, and in the other the scent of rush tatami mats. Each strand is lit from below in dark spaces: the structures hint at many things from flames to pyramids.
Even more woody is Li Xiaodong's maze-like installation, a direct reference to his rural Liyuan Library in China, which uses framed layers of birch sticks for walls, a softly underlit opalescent floor, the sequence interrupted by smooth softwood-finished hideaways. Eventually you emerge into a Zen garden of pebbles and mirror wall – a clearing in the wood, perhaps – so as well as the musical pleasure of running a pen, say, along the birch staves, you get the crunch underfoot as well.
The big surprise, perhaps even let-down, is Diébédo Francis Kéré. In place of the earthy vernacular materials for which he is known in Africa, he has chosen a very humble, usually invisible, first world material: white honeycomb plastic sheets of the kind normally used as mass-produced door cores. These he has layered into a compression-and-release chamber leading from one gallery to another, a kind of saddleback tunnel. Bins of long coloured plastic straws are provided: you are encouraged to insert these into the structure, contributing to its ever-hairier construction. Somehow this is an unsatisfactory, indeterminate construction. The material does not want to be structural and is unpleasant to the touch.
The Portuguese duo are at their most laconic. Siza arranges three simplified yellow columns in the sculpture courtyard outside: one fallen, one upright but broken, one complete. They are too small for the space, though this is a cruel arena to exhibit in, as many a sculptor has found. Inside, his collaborator Souto de Moura has taken moulds of two of the architraves between galleries – one arched, one flat – and translated these into very fine reinforced-concrete shells. They are then placed at a slight angle to their respective openings, as if the architraves were swinging open like doors, or going for a stroll. It's presumably meant to be slightly disorienting, and is: but only slightly.
So not everything comes off, but think: an ambitious architecture show, of the kind you might associate with the Arsenale at the Venice Architecture Biennale, is here in the main galleries at the RA. Rejoice – and visit.
---
Sensing Spaces: Architecture Reimagined
To April 6, Royal Academy, Piccadilly, London W1J 0BD, royalacademy.org.uk
---