Charles Jencks' home turned museum uses rich symbolism and wry humour to make serious points about PoMo, culture and the cosmos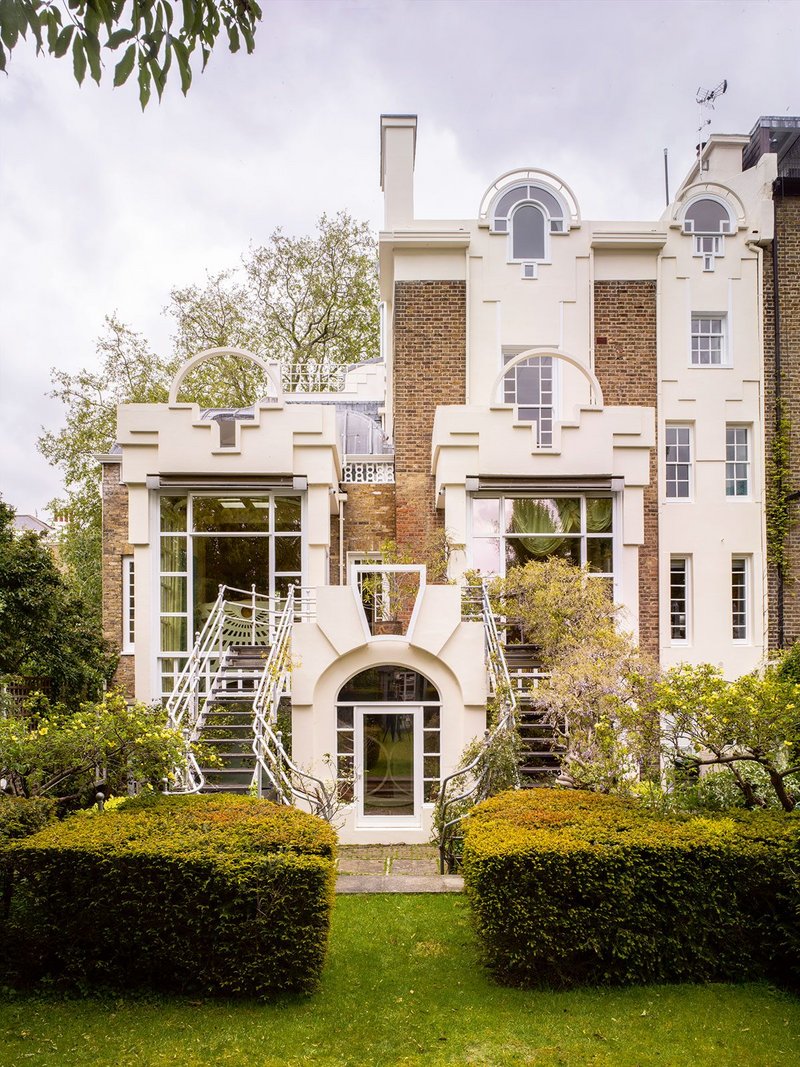 The Garden facade with a representation of the family of four.

Credit: Sue Barr
My favourite museums are the houses of artists and architects: Dali, Barbara Hepworth, Ernő Goldfinger, Eileen Gray. Part of the appeal is simply nosiness, of course. But house-museums also illuminate the relationship between life and art, and present work in ways that are more direct, unmediated and immersive than any conventional exhibition. You get all that and much more at the Cosmic House, the eccentric, exuberant home of the late architectural theorist and designer Charles Jencks, which opened as a museum on 24 September.
Designed with his wife Maggie Keswick Jencks and architect Terry Farrell and completed in 1985, the six-year project to remodel an early Victorian house in west London was a kind of sequel to Jencks' 1977 bestseller, The Language of Post-Modern Architecture. With PoMo degenerating into a superficial style, he wanted to demonstrate another way forward: an architecture of complex and meaningful symbolism. The result defies concise description, save to say that it has a richness and intensity comparable to Soane's house.
Jencks resolved to make a museum shortly before his death in 2019, and it has been realised by his daughter, the designer Lily Jencks, and the writer Edwin Heathcote, who Charles appointed 'Keeper of Meaning'. When I visited they were still considering the finer details of presentation. How lived-in should the lightly restored rooms appear? How should Jencks' customarily messy desk be dressed? 'We don't want it to look like he has just stood up and left', said Lily, 'but nor do we want the house to be too aestheticised'.
My tour started in the Cosmic Oval, a mirror-lined vestibule where inscriptions and frescoes introduce two principal themes that recur symbolically on the journey through the house. They are 'cultural time' – the story of civilisation – and 'cosmic time', from the Big Bang to the diurnal drumbeat of our own lives. 'It sets up a game of hunt the symbol', said Lily.
You don't have to look far to spot one. Straight ahead, in the middle of the house, is the Solar Stair, a toplit spiral staircase with 52 concrete treads, each with seven facets in its riser, representing one year. Each step bears a sign of the zodiac. Steel balls threaded onto banister rails depict the sun, moon and Earth.
Interconnected rooms arranged around the central stair reflect the four seasons. Winter comes first – a dark-hued, maximalist sitting room. A fireplace by architect Michael Graves is one of several small-scale commissions dotted around the house. Above sits a bronze bust by Celia Scott, portraying Eduardo Paolozzi but representing Hephaestus, god of fire and sculptors.
Theatrical ruched curtains frame the entrance to the adjoining Spring room, where primrose-yellow furniture riffs on classical architecture. Here the spatial intricacy of the house also comes into play. Bookcases screen a small Egyptian side-chamber, and steps descend into a giant bay window, where seating encircles a sundial. An angled doorway leads to the cheery Summer dining room, where daylight spills from slots between rafters that radiate from the Solar Stair, delivered by some mysterious system of glazing and voids above.
The first floor contains some of the most idiosyncratic spaces, from Jencks' square-themed bedroom to the Moonwell, a kaleidoscopic lightwell lined with mirrors and arched windows. One moment of calm amid the profusion of ornament and oddity is a plain room originally used as Maggie's study. 'She said "symbolism stops at my door",' Lily recalls. Though the house is generally quite practical, it does lack informal spaces to relax – not that Charles would have noticed. 'He had no downtime. What he wanted was the complete integration of life and work'.
Such matters were not a priority for Jencks as a designer, suggests Heathcote. 'Charles thought of himself as a critic who architects, rather than an architect who critiques, and the house was not conceived in the way that an architect primarily interested in ways of living might approach it. It is a series of stories, as much akin to a written manifesto as to a conventional building'. Terry Farrell recalls that the instructional agenda grew in importance as the project advanced, and Jencks took the lead on interior design. 'I used to say that there should be a page number on each of the drawings he did, as they would all be going into a book'.
If the house is sometimes like a built lecture, it is one liberally leavened with jokes. Next to the high-minded Cosmic Oval is the Cosmic Loo, where the toilet has two handles – a surreal contribution to the pervasive theme of balance and symmetry. There are terrible puns: the Spring room has lamps mounted on coiled springs. The kitchen sits between the Summer and Autumn rooms and has an Indian theme: Indian summer – geddit? MDF cabinets resembling chunky fragments of Hindu temples are painted to look like pink marble. As Jencks liked to say, 'If you can't stand the kitsch, get out of the kitchen'.
The wry humour gives an engaging sense of Jencks the person. Another discernable characteristic is his famous fondness for taxonomy and classification. In the tent-like Architectural Library, bookcases resembling buildings from different ages contain volumes on those periods. Books remain as Jencks left them, slightly higgledy-piggledy and stuffed with newspaper clippings and his own notes. 'He wrote like crazy in everything', says Lily. 'His marginalia is extensive and usually fun'.
On and on it goes, a fizzing ferment of ideas, quotes, abstruse information, puzzles, tricks and contradictions. Almost every inch demands a second look, from the abstracted human forms in the facades to a trompe l'oeil jacuzzi designed by Piers Gough, based on an inverted Renaissance dome. Visitors will get background information from a detailed guidebook that comes with their £5 tickets, but thankfully the building's custodians have chosen not to slap interpretive labels all over the place. The house still looks more like a home than an exhibition.
The most conventionally museum-like space is a new basement gallery and visitor reception, an enticing concoction of shiny green resin, glittering mirrors and cosmological symbolism, which Charles and Lily created from an internal garage just ahead of the building's grade-I listing in 2018. Outside, new steps that descend from the street double as seating for waiting visitors. (The museum will welcome groups of up to 15 people, by appointment).
Large hinged panels create more display space than one expects. Exhibitions form part of a wider programme devised by curator Eszter Steierhoffer. An annual theme will guide the content of shows and events in the house and at partner institutions, as well as zines and digital publications, all of which feed into a book at the end of each year.
This season the theme is the house. Thereafter, Jencks' archive provides abundant material for presentations on postmodernism – an era now distant enough to allow fresh reflection – and the museum will also address contemporary issues. 'Charles was keen that the house should not become a shrine or mausoleum', says Heathcote. 'Inevitably it is about Charles Jencks because he designed it and lived here, but that's not the end of the story. The Cosmic House is fixed in appearance, not in ideas – it will continue to provoke.'