The cottage is reimagined for today in a new exhibition, At Home in Britain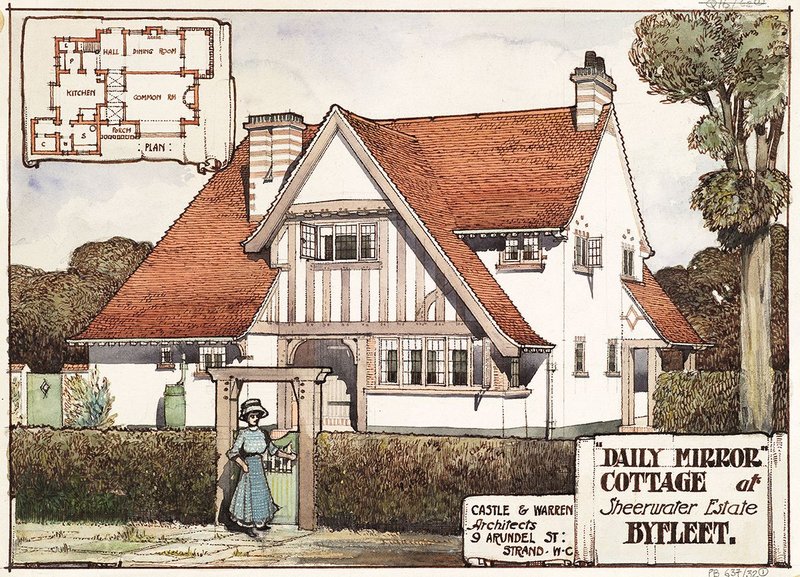 Design for the Daily Mirror Cottage, Sheerwater Estate, Byfleet. Designed in 1910 by Castle & Warren.

Credit: RIBA Collections
What defines a cottage? Is it size, location, architectural style, or a mix of all three? And what form should cottages take in the 21st century amid growing densification and challenges to affordability? These were some of the issues concerning Jamie Fobert Architects and Parisian architect Edouard François in their reimagining of the cottage typology as part of the new exhibition At Home in Britain: Designing the House of Tomorrow. This opens later this month at the RIBA's Architecture Gallery in London.
The exhibition explores the nature of cottages, terraces and flats in the 21st century. It is organised in partnership with the BBC Four series Dan Cruickshank: At Home with the British, which takes a historical look at the development of the British home. 'The idea is to spark a debate by using three typologies to consider the future of housing,' says co-curator Anna Holsgrove.
Six invited practices were given access to the RIBA Collection as a live research tool, with archive material included alongside exhibits from the contemporary architects.
For his contribution, Jamie Fobert explores how villages can be grown sensitively using a contemporary cottage typology as an alternative to typical village expansions, which often involve fields being sold off for suburban-style, pseudo period housing developments.
First, the Canadian-born architect – who is also designing the exhibition itself – had to get to grips with the particular nature of the English cottage. 'In Canada, a cottage is a summerhouse on a lake. If it's not on a lake it's a cabin. But in England it's obviously something very different,' he says, adding that essentially cottages are about the rural condition, something that architects often fail to engage with.
His research took as its starting point a project on village densification that the practice initially did for an unrealised competition project in the village of Waddesdon in Buckinghamshire. He developed this thinking further for the exhibition in a self-initiated project for new housing in the village of West Burton in the Yorkshire Dales. Fobert choose this location after seeing the branch-like Fold Houses sketch by Alison Smithson, an unrealised scheme for 11 houses in the village from 1955. This sketch has been a major influence on his project, especially the notion of new growth emerging from existing structure.
'Can the cottage typology become a way of adding on to villages in a way that isn't the developer method of taking a field, putting roads on it and cramming houses on? We're looking at how you should build in these very delicate conditions,' says Fobert, adding that the growth must be considered carefully rather than simply imposing a new house typology on the site.
He is exploring the notion of contemporary houses within walled gardens while working in a very gentle way with the grain of property in the village, which derives from medieval land patterns. Fobert chose a site behind a row of houses on the main village thoroughfare, utilising land that was originally used by crofters. Lanes are carefully created through to the new rear properties, and carry on into the fields beyond. 'I'm keen that people who live in the new houses feel that they're living in the village,' he says.
The scale of the new property is relatively modest but with generous walled gardens. 'Walled gardens are a wonderful thing and are missing in modern typologies,' he says. 'It's hard to imagine a cottage without a garden.'
A variety of two-floor house types are proposed with identical windows and exposed timber structures. Fobert is grappling with affordability – kit houses are a possibility – so that young people are able to afford to stay in the village and have their own homes. Accommodating contemporary cottage industries is another idea.
Edouard François' exhibit on the cottage typology also tackles densification, while attempting to maintain the spirit of what previously existed. His project was informed by his recent experience of flying over the American city of Detroit, and seeing how derelict buildings were being reclaimed by nature.
His cottage concept has four stages. The first is an open field state followed by a handful of cottages in a field, which he describes as 'the first primitive way to urbanism '. Gradually this 'mutates' as further development is built and agricultural paths become roads. As the village extends and densifies it begins to resemble a city, but one that retains the original cottages and introduces agriculture within the urbanised settings – on the roof. 'It returns to what it was. This is the new city,' says François.
In the exhibition, these contemporary ideas will be juxtaposed with archive material exploring how the rural idyll aesthetic was referenced in the Garden City Movement and looking at how the cottage informed the design of the suburban semi. It also explores whether cottages can return to the typology's origins of providing affordable, self-built housing for workers – a contrast with the developer-led construction of much new housing in rural areas.
It also questions the role of the architect in housing design. 'Good design and good architecture is not just for the elite but should be for everyone,' says Anna Holsgrove.
The other two typologies are each tackled by two other architects. For the terraces, Mae is looking back to historic 'rated' pattern-book housing in Liverpool and considering how pattern-book housing can be reinvented as contemporary custom-built housing. vPPR is exploring the party wall aspect of terrace housing, including whether terraces can be reimagined to reflect contemporary live/work patterns, possibly through the inclusion of shared space. This is a pertinent question, given that nearly one third of people in Britain live in a terraced house, and 14% work from home.
Studio Weave and Mecanoo are looking at the future forms of flats. The former is considering the negativity surrounding communal living and looking at how this could be addressed in the near future. The practice is particularly interested in how student housing and housing for the elderly might co-exist through the creation of communal areas such as laundry rooms and refreshment areas.
This section will be accompanied by archive material from RIBA Collections on the Isokon development in Hampstead, north London, Denys Lasdun's famous ziggurats at University of East Anglia and Arne Jacobsen's St Catherine's College, Oxford. Also included are Dolphin Square in Pimlico, once the largest self-contained block of flats in Europe, which accompanies Dutch practice Mecanoo's contemporary reimagining of the mansion block.
At Home in Britain: Designing the House of Tomorrow, 18 May – 29 August 2016, The Architecture Gallery, 66 Portland Place, London
---