Ensuring members have the tools and information to navigate this crisis is the institute's priority says chief executive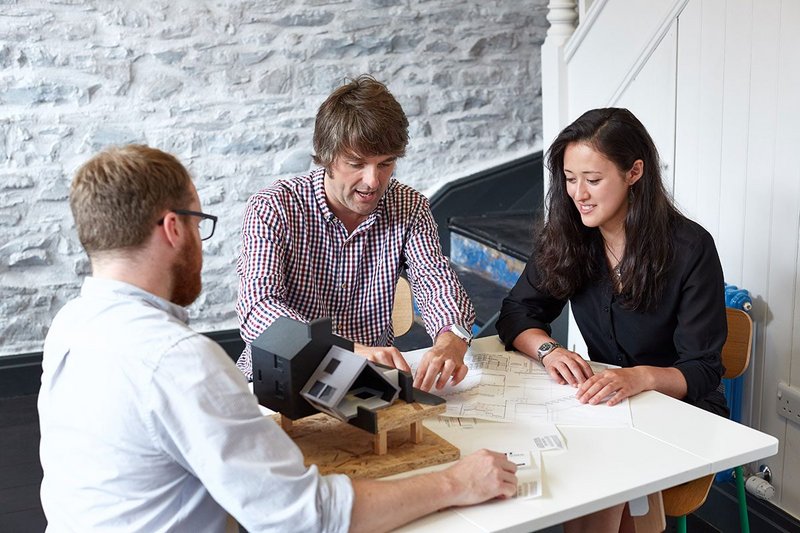 Collaborating at O'Neil Associates before the Covid-19 crisis.

Credit: RIBA
The implications of coronavirus will be felt by the whole economy and specifically the construction sector for a long time to come.
The RIBA's priority is to ensure that our members have the tools and information they need to navigate these challenging times. On our website we have created a 'Covid-19 hub' which provides a suite of resources and information. The content is wide ranging and regularly updated. From lobbying the government on key issues, to providing practical advice on practice resilience and remote working, we are tailoring our plans and tactics to respond to member feedback.
We're in contact with the government on a daily basis: I have written directly to both the chancellor, Rishi Sunak, and the housing, communities and local government secretary, Robert Jenrick, to outline some of the challenges our members are facing.
I regularly meet the leaders of the Chart­ered Institute of Building, the Royal Institution of Chartered Surveyors and the Royal Town Planning Institute to discuss cross-industry issues and set out actions. We are using every opportunity to build on our strong relationships with key government departments, ensuring our members' concerns are heard, understood and acted on.
And we are effective; our proposals to ease the economic impact of Covid-19 are being incorporated into new government legislation – the deferral of VAT payments for a period of 12 months was a recommendation we set out to the chancellor. We are lobbying to mitigate the impact of a range of issues from site closures to the rapid cancellation of early stage projects on future workloads. We are committed to ensuring that the appropriate support is in place for all businesses.
We are also collaborating with archi­tecture institutes internationally, from Denmark to New Zealand. It's a global pandemic and we are working on a global response on behalf of the profession.
We are effective – the deferral of VAT payments for 12 months was one of our recommendations to the chancellor
So that we can represent and advocate for our members effectively, our staff need to be safe and supported. Since Covid-19 was first reported in China we closely monitored the spread of the virus and undertook extensive scenario planning, considering how it might affect our members, staff and activities.
We initially postponed our flagship international and UK awards schemes and then, as the situation rapidly escalated in the UK, it became clear that our day-to-day operations would need to change. Over just four days, we closed all our UK offices and transitioned from a mainly desk-based operation with 300 staff to a virtual one. Investing in our technical systems and encouraging flexible working arrangements in recent years has enabled us to adapt quickly and ensured we are able to stay connected.
Like many organisations, the RIBA has asked a number of our UK-based employees to go on furlough through the UK government coronavirus job retention scheme. This will help safeguard jobs and ensure a level of financial security for the institute.
We are committed to supporting architects as they play a key role in managing and treating the threat posed by Covid-19. From 3D printing to create frontline equipment to the rapid construction of emergency NHS buildings, we are coordinating the expertise and resources of our members in important areas.
Whatever the next few weeks and months hold, we will support members, and society, every step of the way.
---
Support for members
We are dedicated to supporting our members through this pandemic and are committed to responding to your queries and needs. We have a number of ways in which you can get in contact with us so that you can tell us what you need and we can update you with the latest news and guidance. This will keep you informed on the support available from the RIBA, and enable us to hear your personal experiences which will help inform our activity and policy.
Visit architecture.com – all our up to date guidance and information can be found on our COVID-19 hub.
Daily, weekly and fortnightly updates – articles and information updated daily onto architecture.com and RIBAJ; priority guidance collated into your Member Update which is delivered into your email inbox every Thursday; and guidance and updates from your regional team every other Monday.
Give us a call – our RIBA information line +44(0)20 7580 5533 is open 10am-midday, and 2pm-4pm for all questions; your local Regional Directors are always on hand to discuss your specific needs and the membership team is available for any membership queries +44 (0)20 7307 3600.
Tell us what you want to know – Fill in the next member survey coming out this week, attend your local 'virtual town hall' event, (find details in your regional enewsletter or on https://www.architecture.com/my-local-riba); or post on our @RIBA Twitter and LinkedIn channels.
Deep diving into learning – our new RIBA Academy allows you to access RIBA CPD from anywhere in the world and record your CPD hours. Content is exclusive to RIBA Members, accessed by logging in.
Check your member preferences – As a member check that you are receiving your weekly member update, fortnightly regional member update and monthly RIBA Journal magazine – if not, contact the membership team. Don't forget to activate your digital RIBAJ subscription for daily updates and more content.
---
Covid-19 survey
The RIBA conducted an initial survey to find out how Covid-19 is affecting the sector: 23% of respondents said they had experienced a negative impact on their mental health, with isolation and uncertainty frequently cited as causes for this. It's clear that the implications of Covid-19 for the profession are far-reaching. For the full findings of the survey visit: www.architecture.com/coronavirus
---
Alan Vallance is CEO of the RIBA