Architecture's role in rebuilding damaged communities is perhaps its greatest work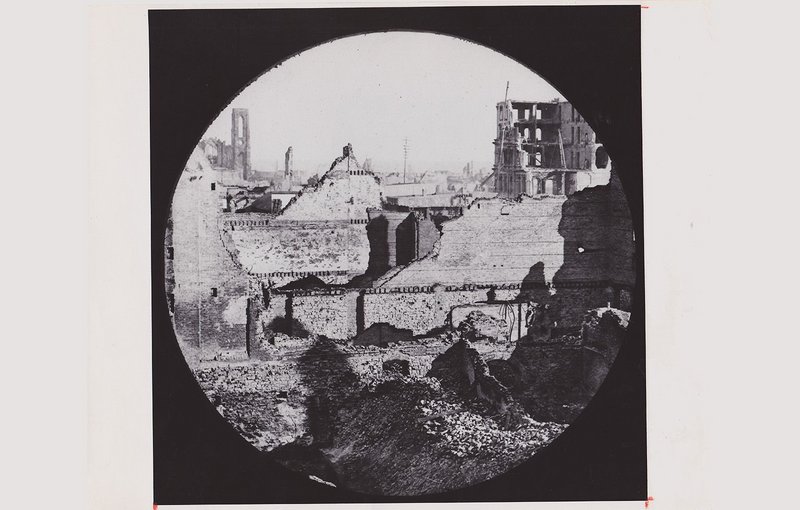 What was left of the Court House at Dearborn and Randolph, 1871.

Credit: Chicago History Museum
It hasn't been a conventional retirement so far for Yasmeen Lari, the first woman to qualify as an architect in Pakistan back in 1963. Rather than relaxing and writing books as intended, she's spent the last 10 years as a humanitarian architect, helping communities re-build after natural disasters such as floods and earthquakes. Her work has yielded 25,000 homes for disaster victims in Pakistan plus vital infrastructure such as flood escape platforms. All are characterised by an emphasis on true collaboration with the community. Rather than simply providing new homes and facilities, Lari supplies the technical knowledge and training to help people help themselves – and their neighbours – using local materials and labour.
This sustainable, community-led approach to disaster reconstruction is one of the themes explored in Creation from Catastrophe: how architecture rebuilds communities, a new exhibition at the RIBA. As extreme weather conditions become more prevalent worldwide, it's certainly a timely subject. The exhibition takes a broad brush, starting with the Great Fire of London of 1666 and the subsequent, largely unrealised, plans by Christopher Wren et al to rebuild the city. These raised issues that remain pertinent throughout disaster reconstruction – whether to seek to rebuild a hopefully more resilient version of what went before, or to use the tabula rasa as a chance to start anew with a fresh vision altogether. While Londoners mainly rebuilt their houses on the same plots in better materials, after Lisbon's catastrophic 1755 earthquake the city introduced a completely new street pattern of large squares and wide streets. The Great Fire of Chicago in 1871 prompted innovation in more stable, fire-resistant building design including high rises by Louis Sullivan.
While historically this is all very interesting, it's the more contemporary examples that strike a chord and raise pertinent questions about sustainable and democratically-led ­reconstruction and the role that architects take on as they respond to disasters. Curator Jes Fernie has included several projects where architects have been instrumental in delivering a more inclusive response than the traditional 'top-down' disaster relief.

Photomural– Reruined Hiroshima, project by Arata Isozaki.

Credit: MOMA
'A lot of the examples are about a democratic decision process that gives local people the tools and knowledge to build their own houses. It's a changing model and idea of the architect as someone who presents opportunities for participation,' says Fernie, adding that the show will raise questions about the role of architects in the 21st century.
On the ground
A significant few architects are already coming up with new modes of operation including Toyo Ito, one of five architects who set up the Homes-for-All initiative after the 2011 Tohoku earthquake – and also feature in the show. 'Contemporary architecture has become a tool to visualise capital in a global economy… this is the moment we need to reconsider what architecture should be,' he says in the exhibition.
Shigeru Ban, well known for his innovative disaster relief housing made from cardboard tubes, has worked with local residents to construct housing for victims of the 2015 Nepal earthquake. In Chile, Alejandro Aravena's practice Elemental presented residents of Constitución with three options for making their city more resilient to tsunamis following the earthquake and tsunami of 2010. They chose a radical option to turn part of the city into a buffer zone, despite the need to relocate hundreds of residents.
Then there's Lari's work in the flood-devastated Darya Khan area of Pakistan, which epitomizes the 'bottom up' rather than 'top down model. She advocates a 'barefoot architect' approach where the architect truly engages with the communities they are trying to help to really understand how they work and what they need.
'All of us architects have this tremendous ego problem – it's very difficult to bring about a certain humility of approach. You do this by working with people and learning what their communities are about.'
She encourages architectural students to come to her research base and learn the necessary design principles and hands-on building skills for themselves so that they can build disaster-resilient houses using lime mortar, mud bricks and bamboo in tandem with the people who will live in them, and so disseminate the knowledge through the community. It is, she says, a kind of 'anti-architecture', and a world away from starchitects and iconic design – architectural authorship isn't on the agenda.
'You have to be very low-key and modest. The people are the creators,' she says, adding that it's not what she designs that matters but how the people embrace this 'blank canvas' and take it on.
Good design, she says, remains more important than ever in the aftermath of disasters in order to make the most of meagre resources. 'If there is a deficit of any sort you need more design not less, and people with imagination and vision.'
Now in her mid 70s, Lari shows no sign of slowing down in this second architectural career. 'You start doing this work and you can't stop… I'm having fun now. I'm enjoying myself,' she says.
Creation from Catastrophe: how architecture rebuilds communities, until 24 April, The Architecture Gallery, RIBA, 66 Portland Place, London W1B 1AD
---