Stirling and Manser shortlisted for its famed Astley Castle, Witherford Watson Mann seems to have arrived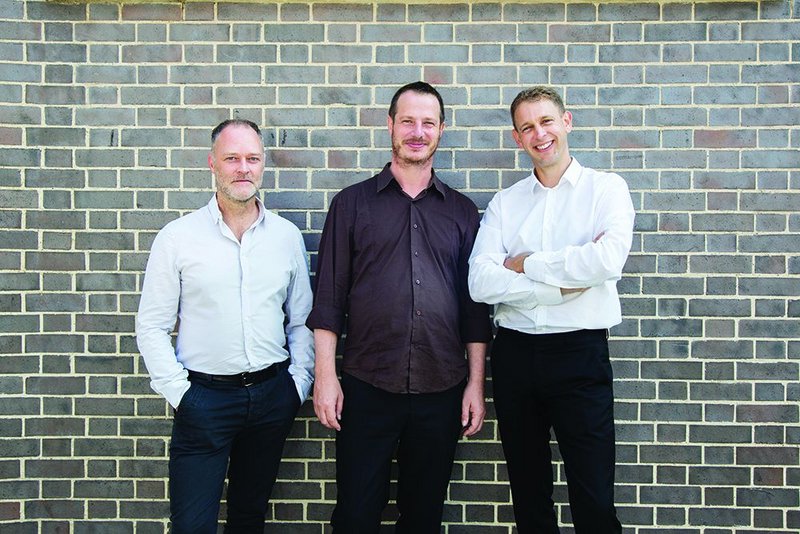 From left: Christopher Watson, William Mann and Stephen Witherford outside their Amnesty International base in East London.
When I suggest meeting in London, Wither­ford Watson Mann's home city, William Mann directs me to the Island Café in Flat­iron Square – though he warns it's nothing like the practice's Stirling Prize and Manser Medal shortlisted precious, historic Astley Castle. Sitting under the café's new canopy, designed by the firm, Stephen Witherford is resigned about the now-varnished timber of the structure, and the cup of strong hot tea he is given rather than his ordered cappuccino. 'It shows Michael [the owner] is caring for it,' he consoles himself. 'That's what my dad would do.'
Caring is something the practice is pretty expert at itself, from the detail of the Whitechapel Gallery, as executive architect to heroes Robbrecht and Daem, to its ambition to build for the public in housing and urban realm. The three directors set up in practice in 2001 on the back of a European housing competition win, though that didn't proceed. Its first housing scheme, in Gistel, Flanders, will only complete next year, but another residence, Astley Castle, has brought it attention.
But back to the Island Café, which, like the square it sits in, is part of an ongoing project, Bankside Urban Forest. You don't need an architectural pass to feel comfortable here, there are builders, workers, a couple of young mums. The quietly dynamic paving elevates the sometime shabby square, chequerboard coding it, with triangles intersecting in a angular figure of 8. Witherford calls it an 'urban interior'. It is just one of several projects in this part of south London that the Urban Forest has given a helping hand to. It gave a narrative to this area in rides and a stream and clearings, identifying opportunities and encouraging communities and landowners to realise them.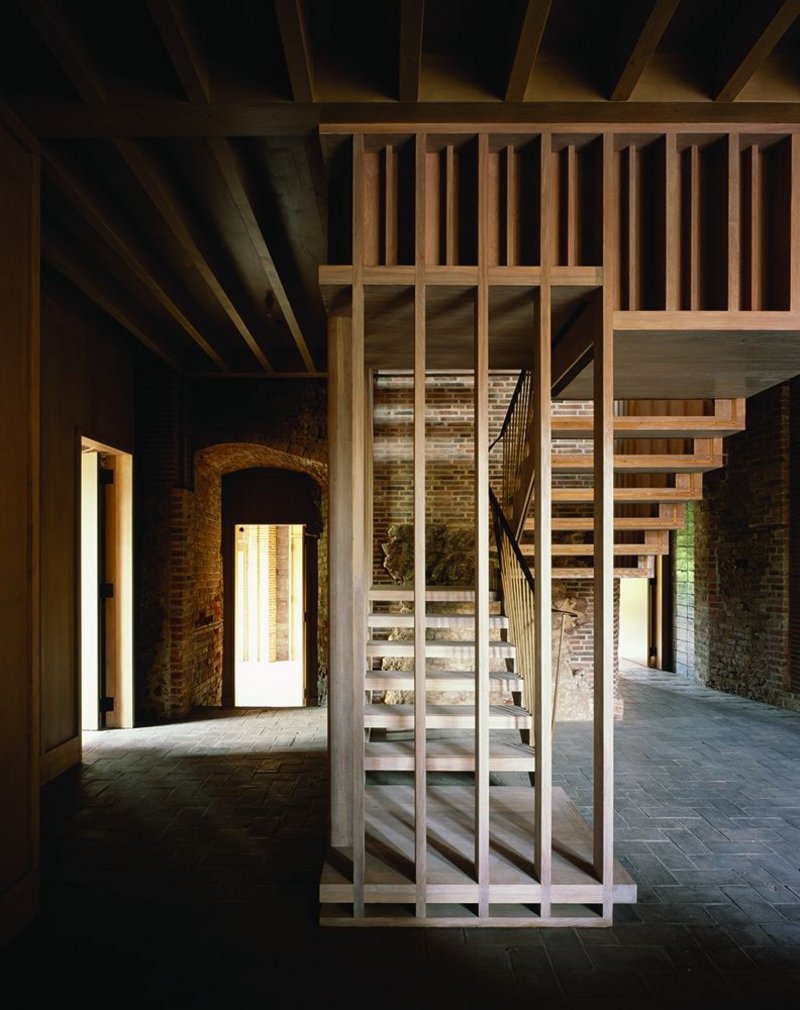 Much time was spent testing out configurations for this staircase at Astley Castle.
The word 'negotiation' keeps surfacing, not quite accompanied by a sigh. 'Public space is the most difficult to pull off,' says Witherford. 'It is just the amount of time spent nego­tiating, even beyond completion. In public space no one person has a clear mandate.' As we walk around Southwark he and Mann show the results of those hours – sometimes nothing, as the partner has pulled out. Along the Thames the story changes: negotiation for the Greater London Authority was given added impetus by the London 2012 Olympics as the practice reworked £4m of public landscape. Here negotiations paid off: one win was the Oxo Tower agreeing to change its staircase configuration and make more space for the thronged Thames Path – avoiding the expensive alternative of building out over the river.
'Does Bankside work break even?' I ask tentatively. 'Flatiron haemorrhaged money,' responds Witherford with a certain nervous glee. The Thames Path, for the GLA, was more rewarding – there is only so much negotiation you can do when the clock is ticking. Mann is more measured: 'We never lose too much, we never make too much.' But it is actually third director Chris Watson who they ­credit with having his 'head on the finances'. As with everything from design to competition, Witherford, Watson and Mann collaborate closely in their 12-person practice. The three directors had known or known of each other at Cambridge but then went their separate ways, including to Tim Ronalds Architects (Watson and Mann) and Eric Parry Architects (Witherford). By 2003 they were Witherford Watson Mann and working on the White­chapel Gallery extension, won with two other schemes in just six months. That could have been overload disaster for the small practice but it managed. The housing in Gistel is still moving slowly, but Whitechapel and Amnesty International's London office have been winning awards for some time.
The practice has always done competitions – although sometimes that means setting the bearing for design on very limited clues in a brief. The partners decided from the outset not to do single homes, or teach, immediately. They have a sense of the practice being like a studio. 'We want to be intimately involved,' says Mann. 'And we go and see things together.' Recent visits include Alvaro Siza's housing in The Hague, Hertzberger's Central Library in Appledorn and Peter Zumthor in Kolumba (the north European tendency is due to Mann's weekend base in Brussels).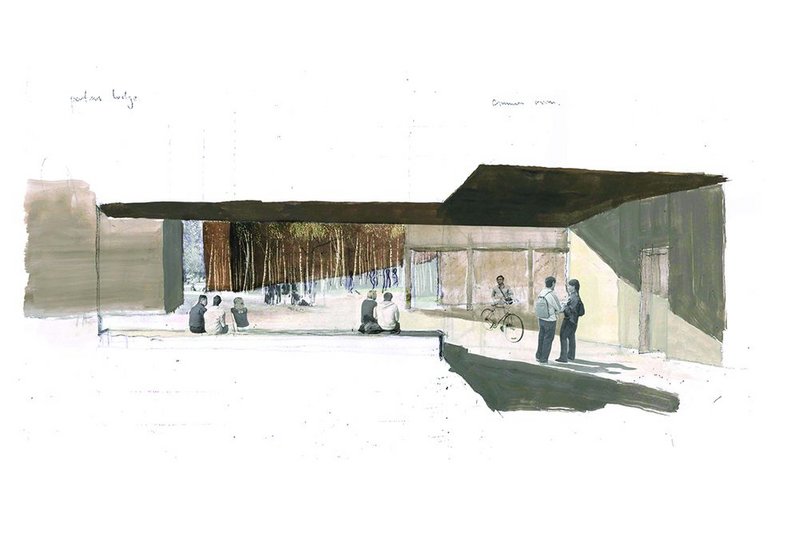 Ideas for north west Cambridge – part of the practice's beautifully drawn storytelling.
Thoughtfulness and exploration are defining features, with many competitions spawning ideas before they ever get built
With 6A and Jamie Fobert, Witherford Watson Mann is one of the talented prac­tices of this generation which the recession has prevented from building a significant volume of projects. Mann can date the almost-move to the big time to a scheme of 70 houses in Booischot, Flanders – rural, generous yet compact – had the practice won it. Instead Witherford Watson Mann has existed on a diet of smaller projects. 'With these we have maintained the authorship relationship. Big projects roll away from you too quickly,' says Mann. Less tangible processes and projects have replaced the business of managing a growing office. Thoughtfulness and exploration are defining features, with many competitions spawning ideas before they ever get built. Thoughts from the Booischot housing have resurfaced in 27 homes in North West Cambridge where it is collaborating with Maccreanor Lavington.

Planes of canopy and paving at Flatiron Square in London's Southwark, now realised.
In its east London office, the practice tests and retests its ideas with models of many components. There is Astley Castle, a complex jigsaw of elements that allowed the firm to try out less obvious solutions, and another with scaled brick and stone surfaces to 'see' the space and convince the client. In pride of place at the entrance are beautiful miniature sculptures of laser-cut granite samples, the method already proving itself on site for a Roger Hiorns' sculpture in Bristol's Temple Quay. Neighbours and occasional lunch partners from Caruso St John pop in to make use of the brick library. A model of a north London pumping station sits with viewing balcony and dovecote – a gesture to a lost tower. 'The thing with refurbishment,' explains Mann, 'Is that people still want transformation, something that wasn't there.'
And so it was with the reworking of the entrances and studio spaces of the Royal ­Opera House, where the practice wanted to be truly radical and make people feel at home. An exceptional list of architects boiled down to two last winter and Stanton Williams and Witherford Watson Mann were subject to a second competition with a more refined brief. The practice treated the issue as a question of retention of audience, rather like at Amnesty, its first building. 'It was a huge step up for us,' they say, sanguine about not winning. And if clients sometimes like the destination but not the route, the practice wants to take them there with drawings, sketches and storytelling.
It's getting a little easier now. Being invited to competitions is a start and the Stirling shortlist has vindicated clients who took a punt on the practice, as well as giving a fillip to the office, and sending out a message to other architects. 'You have to exist for a long time for people to have confidence in you,' says Mann. Now, 12 years on, the quality of the work is starting to speak for itself.