Visionary and meticulous drawings by Jan Kaplický of Future Systems are on show in Greenwich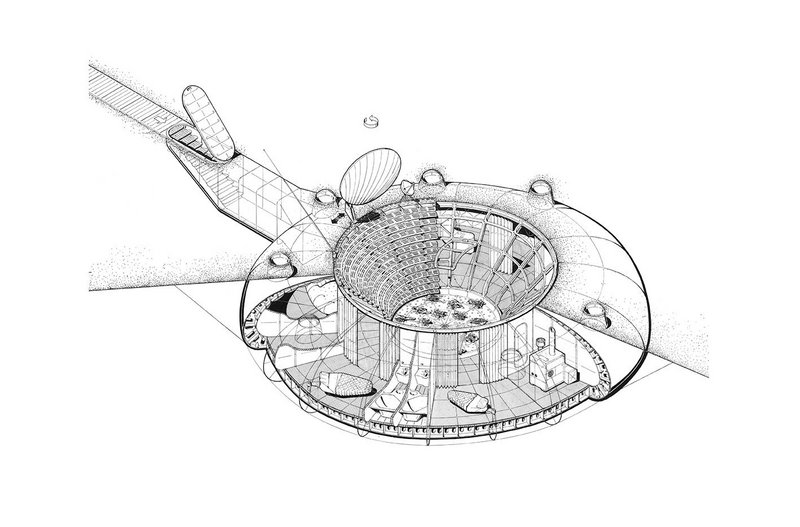 Doughnut House, Jan Kaplický, 1986.
As a student in the 1980s, Nic Clear loved tackling cutaway axonometrics and other complicated drawings and was attracted by the brilliantly executed drawings of Future System's Jan Kaplický (1937-2009), then something of a cult figure.
Now head of Architecture and Landscape at the University of Greenwich, Clear has staged an exhibition of Kaplický's compelling work using material from Jan Kaplický, Drawings, a book published last year by Circa Press.
Clear particularly enjoys Kaplický's meticulousness, and the extraordinary care that he took over every line.
'At a time when there is far too much irony and detachment (especially in student work), you get the feeling that Jan didn't ever draw a line he didn't mean,' he says. 'That's not to say he was never playful, but even when the work was fun, it was also serious.'
Although none of the drawings are originals, this show nonetheless looks great in the spacious Stephen Lawrence Gallery. Clear has sought to get away from a conventional drawings-in-frames approach through the use of light boxes, collages printed on acetate and projections of images that Kaplický found inspiring and influential. Both natural and man-made, these range from starfish to military technology and are shown alongside both built and unrealised examples of Kaplický's and Future Systems' work.
For many students, this might well be the first time they have studied Kaplický's work – Clear says it remains unfashionable. This is a good introduction, presenting 30 years of designs from the 70s onwards, often in collaboration with Future Systems' partners David Nixon and Amanda Levete. Kaplický's futuristic style is described as formed from the 'intersection of Czech modernism, the sweeping lines of the baroque and the intricacy of the exploded diagram', carrying him beyond hi-tech.
These visionary and utopian projects are highly engaging, including House for a Helicopter Pilot (1979), with its own landing pad on the roof, Co-Existence Tower (1984) and Doughnut House (1986), described by Clear as 'a domestic house drawn as a weird subterranean machine'.
It's certainly been an eye-opener for Clear's students, who can scarcely believe, he says, that such accomplished drawings were created without the aid of computers.
Jan Kaplický, Drawings, until December 16, The Stephen Lawrence Gallery, 11 Stockwell Street, London SE10 9BD
---