David Gutierrez photographs morning exercise with a view at Garden Hill, Hong Kong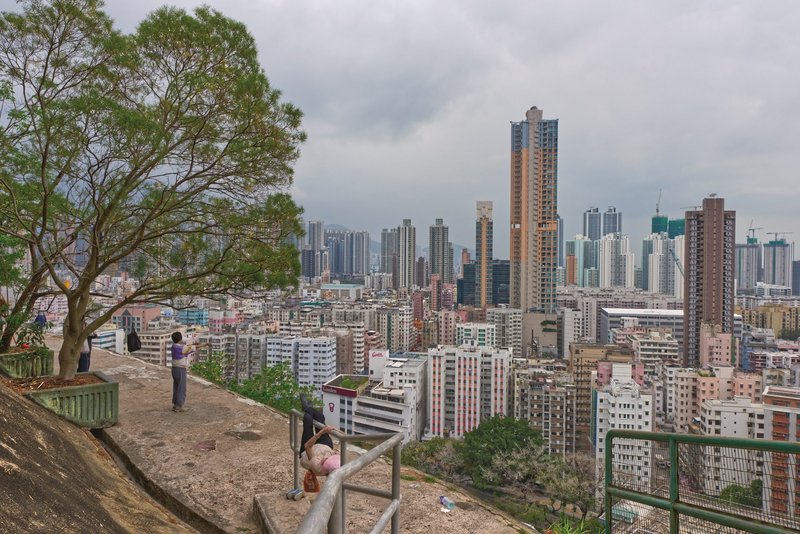 Credit: Photograph by David Gutierrez
While tourists and ex-pats flock to Hong Kong's Peak for their classic shot of towers set against the blue of Victoria Harbour, locals on the mainland side are more likely to view the same strait - via a steep climb, using steps that wind up amongst Kowloon's towers and office blocks - from the summit of Garden Hill.
Here, by night, armed with the latest cameras and tripods, budding photographers gather like puffins with Leicas on Jiadun mountain, whose concrete-reinforced escarpment drops vertiginously to sea level down past the roof of the colonial-era Garden Bakery to the Sham Shui Po business district, and glimpsed flashes of moonlit water beyond its wall of ten thousand windows.
In preparation, photographer David Gutierrez sought out the spot at first at day's break, a few hours after they had left, when it was populated with a wholly different diurnal demographic. And though usual appurtenances of health and safety- like guard rails- were clearly not evident in this setting, it seems this culture of endless dynasties was taking a more philosophical view on the matter.
The real subject, says Gutierrez, was the octogenarian woman performing calisthenics, hanging frozen from a balustrade, the singularity of her stillness only heightened by the slow, measured Qigong moves of those around; all passing gestural hands through air as if to usher away the sights of the real world and concentrate on the view within.