Ben Stephens has to work differently – and harder – than his hearing-unimpaired peers, but he has no intention of letting that hold him back
'My experience of being a Deaf person in life is that we have to work two, three or four times harder than anyone else to get where we are.'
Ben Stephens' observation of the effort required in every aspect of a Deaf person's life is no understatement. In preparation for our interview, he firstly responded in full to all my questions in writing. Then he organised a text interpreter to attend our online call, providing live captions for his understanding and a final transcript for my benefit. Unlike so many of his peers, he does not have the option to rock up and give spontaneous answers off the top of his head. However, the groundwork required is no barrier. Ben is vivacious and articulate in conversation and refreshingly honest in his responses.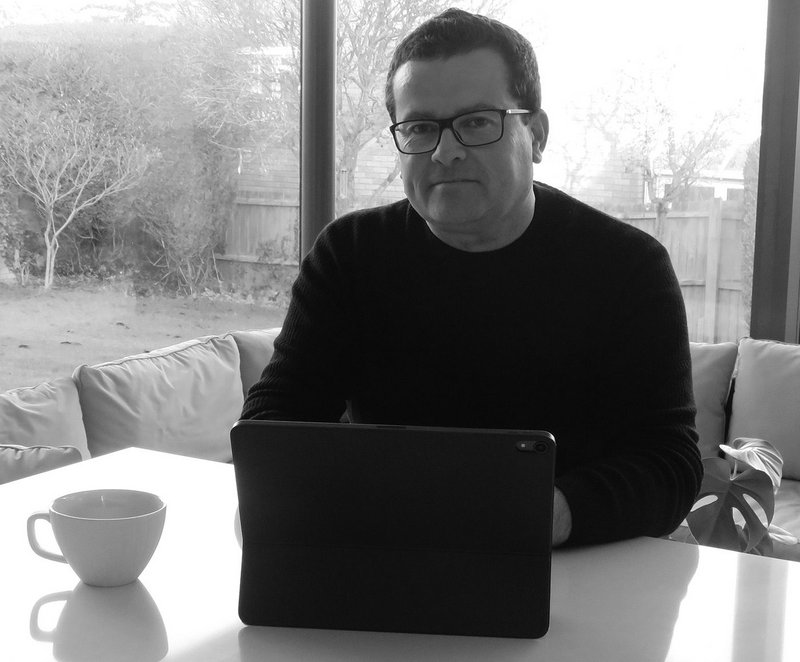 Ben Stephens of PASTE Architects, working from home in the kitchen-garden room extension he designed.
Early development
Hard graft started early in life for Ben, enabling him to acquire the communication skills that most of us take for granted. He was born profoundly Deaf, the result of a complicated birth. His late mother 'a teacher with an intelligent mind' was determined that he was to have a 'future where he was able to communicate with as many people as possible'. Beyond the mechanics of hearing and speaking, 'spoken words rely heavily on sound to allow you to develop speech and an understanding of vocabulary'. Like Helen Keller (US author and disability rights activist), Ben was taught by his mother 'to understand the alphabet by feeling air form the mouth to the top of the hand as well as lip movements'. Between the ages of 3 and 8, Ben's mother worked with him tirelessly. Everyday they created diary entries, 'writing and drawing sketches about what happened today and what we are doing tomorrow'. Ben explains that 'tomorrow', as an abstract concept, is one of the hardest words for a Deaf child to understand in terms of meaning.
Ben attended primary schools in London and then Leicester with hearing support departments before joining Oakham School, an independent school in his local town in Rutland. Oakham had the advantage of small class sizes and lots of sports and extra-curricular activities. It was at Oakham that Ben developed his love for both rugby and golf. Rugby helped Ben to develop team skills, but as 'the calls became more complex and the game became faster I struggled'. Despite this, he continued to play until university. It was, however, in golf that he discovered his metier. He played for his school team, which reached the national finals twice. He was selected for Leicestershire and Rutland Boys and played at university level. He has represented the England Deaf Golf Team, playing all over the world.
Oakham School also had a very good art and design centre, which enabled Ben to pursue his natural aptitude for drawing. As he says, 'my art teacher still says to this day that she didn't need to teach me'. When at 15 he completed a careers questionnaire, graphic skills combined with an ability in maths threw up architecture as a suggested future profession.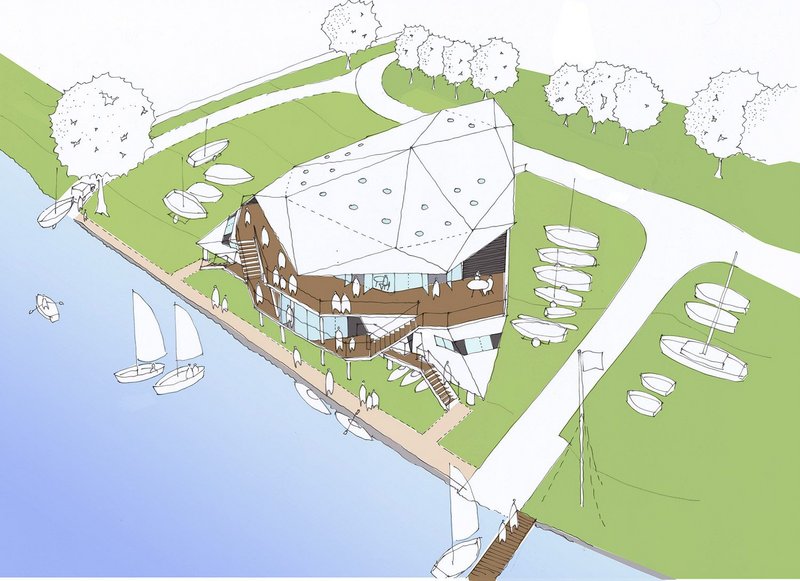 Hand-drawn sketch by Ben Stephens: a bird's eye view for yacht clubhouse proposal
It was as Ben entered his teens that he became more aware of the social impact of his disability. As he describes: 'It wasn't a smooth ride. I had my ups and downs. Some people were really understanding of my disability at school and others weren't. Fortunately, I could look after myself most of the time. I was never bullied. However, I was hassled at times by people making fun of me behind my back. Did it bother me? Only a little bit. It was more that they were being idiots, showing a lack of understanding.'
Architecture school and the profession
Ben undertook his Part I at the University of Dundee and Part II and III at Nottingham. He found the course work suited him well and both fellow students and lecturers were supportive. He had good friends, for instance, who shared their lecture notes with him. He won awards for his work in his first and third years at Dundee. This resulted in an invitation by Will Alsop to visit his studio: 'That was an experience I will not forget, as it was an eye opener for being a future architect. We kept in touch on Twitter before he passed away.'
It was also in his early 20s that Ben had a cochlear implant. This was life changing for him: 'I was able to hear high pitch sounds for the first time – hearing water flowing, wind, birds tweeting, the different between a man and a woman's voice and also the sound of my own voice, which helped me to control the volume of my speech better with further speech therapy.'
The early years in practice were 'challenging from a communications point of view'. This made it difficult for Ben to progress. In the early 2000s when email was still in its infancy, his boss told him 'that I would never project manage a project because I was unable to communicate over the phone'. However, advances in technology, such as use of email, text messages and video captions on calls, worked in his favour. Employed by one of the UK's largest practices, he found himself working on multimillion-pound projects, such as an arts centre in North London and landmark IKEA stores.
When Ben left to join Marchini Curran Associates, a medium size practice in Nottingham, he found it 'a more comfortable environment to work in' as 'you got to know everyone there'.
After the financial crisis, Ben found himself looking for a job again. It was then that the prejudice attached to his disability became apparent to him. When he sent his cv out to a hundred companies mentioning his deafness, he did not receive a single reply: 'Then as an experiment I took the Deaf element out of my cv and sent it to 20 practices – three replied asking me to come to interview. As he explains: 'There is still a stigma out there – not only in architecture – Deaf people are a no-no. Employers would rather employ someone with lesser skills but better skills hearing wise.'
Founding a practice
In 2010, Ben set up in practice on his own as Ben Stephens Architect. For him sole practice has been liberating, despite the pressures of working long hours for his livelihood rather than a 9 to 5 job. He found working in a bigger organisation more tiring as it required extra effort to communicate in the studio and in meetings. At home he can work undistracted. As the director of his own practice, he has embraced 'learning other aspects of the business', such as 'accounts, marketing, finding new clients/projects competing against other small companies, fee setting, potential pitfalls of non-payment/client threats, how to protect the company, setting up strategies on how to win work and how to get paid upfront to ensure the cashflow is coming in'.
In 2019, Ben reformed the practice as PASTE Architects with another talented Deaf architect, and they worked together well for a year before his partner accepted an offer that he could not afford to turn down as creative director of a London practice. Continuing under the PASTE Architects name, Ben has added PASTE Golf Design and recently become a full member of the European Institute of Golf Course Architects (EIGCA). Ben has been working on golf design projects since 1999. Recently, he has been invited by the EIGCA and the R&A to develop and write a golf course design guidance for golfers with a disability.
The main focus of Ben's work at PASTE is high-quality residential work. Currently, he is working on 'a partially sunken modern extension to a grade II listed house, reworking the internal layout of a holiday home with a detailed bespoke staircase over three floors and two houses on a plot of land'. Most of his clients are homeowners in his local area that reach him via word-of-mouth recommendations. For instance, he is currently working on adding rooms to roof space and new stairs for a neighbour's holiday home. After we met, he was going out to meet a new client to discuss converting an old stable block into a meeting room for a local catholic church: a job that came through a referral from a friend in local pub. Another source of enquiries is RIBA Find an Architect.
Paste Architects is on Twitter, Instagram and LinkedIn. The practice also has its own website, which a friend built and developed, and Ben is now adding to over time. He also does marketing for PASTE Golf Design on separate Twitter and Instagram accounts.
Most of Ben's communications with clients take place by email or face to face, supplemented by What's App and video calls. It is a struggle for him to understand clearly what another person is saying on the phone. He can lipread in one-to-one meetings. Group meetings are more challenging, as it is difficult to anticipate which person is going to speak next. This can be overcome through live captioning by a speech to text interpreter on his iPad during group meetings or conference calls with good wi-fi connection. Access for Work provide vital funding for text interpreters.
Not every Deaf person is like Ben. Some communicate with sign language or are bilingual – both signing and verbal. Few are profoundly deaf and speak as clearly as Ben. Having learnt sign language relatively recently, Ben can speak in basic sign language. He aims to improve it further in the future.
A project that is close to Ben's heart, but is currently on hold, is the development of designs for Deaf Extra Care, as no bespoke designed facility exists in the UK.
Raising awareness for change
Ben is now using his experience of education in the profession to influence others. As a mentor for students at Loughborough University via RIBA East Midlands, he 'is helping students to be aware of what it is like working in architectural practice, my experience, the pros and cons'.
Through Ben's connections at England Deaf Golf, he was invited in 2013 to be a Trustee on the Board of Directors at Action Deafness, 'where there are more female than male trustees and more Deaf than hearing people on the board which makes it very interesting. At our board meetings we have sign language interpreters as well as speech to text captioners – in live (face to face) and Zoom meetings.' This has introduced him to basic sign language, 'which I have found to be a beautiful and expressive language'.
As Ben's experience demonstrates architecture is a viable profession for Deaf people. As he highlights, changes in improvement in communication have supported this. However, he warns that 'society has not adapted at the same rate to and for people with disabilities. To this day, I still see so much discrimination against people who are Deaf, as well as disabled people. We must persevere in raising awareness and improve standards to be more accommodating for disabled people.
---
Note 'Deaf' appears throughout the text starting with an upper case letter. This is to respect the wishes of Ben and the Deaf community. Ben explains: 'Deaf people tend to phrase "Deaf" with a capital/upper case first letter as it is important to them. It's become a habit of mine since learning and understanding sign language.'
---
Helen Castle is publishing director at RIBA and chair of the RIBA Enable community group, representing staff for disabilities and neurodivergence