Tributes paid to the founder of View Pictures by Yvonne Farrell and Shelley McNamara of Grafton, Cindy Walters of Walters & Cohen and fellow photographer Edmund Sumner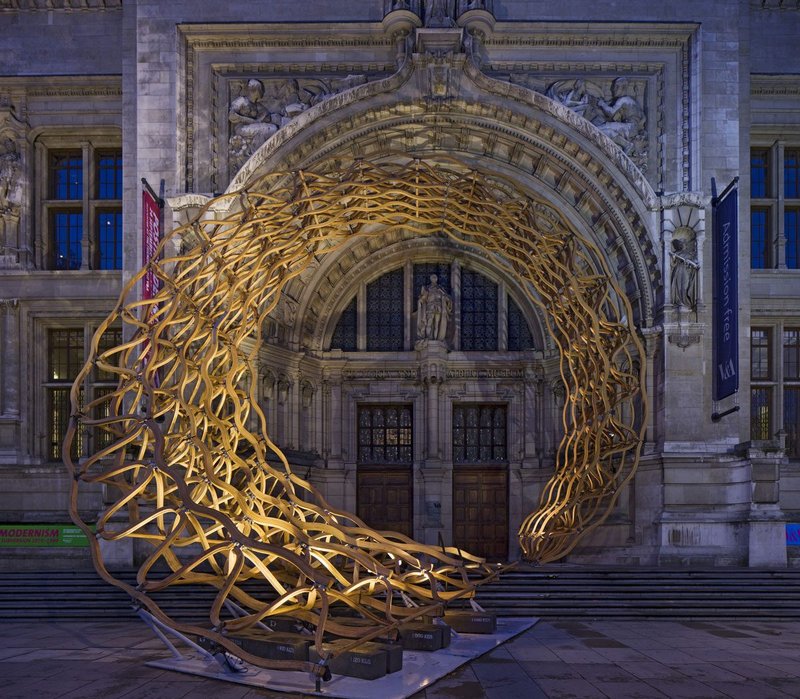 Timber Wave installation for the 2011 London Design Festival by AL_A.
Dennis Gilbert, who has died aged 70, was a leading architectural photographer, founder of the photographic agency View Pictures and an Honorary Fellow of the RIBA, elected in 2005.
He grew up in South Africa, studying electrical and electronics engineering at the University of Natal before leaving in 1975 to spend a year exploring South America. Friendships made on the road led him to California, where he studied photography at CalArts in Los Angeles, graduating with an MFA in 1980.
Moving to London in 1983, he began to work as an architectural photographer. Ten years later he co-founded the image archive View Pictures, which went on to represent more than 50 photographers working in the same field, and which he headed as director until the beginning of 2021.
His work was widely published in the UK and internationally, and he enjoyed long-term relationships with institutional clients such as the National Trust as well as with many leading practices.
Three of those clients – Yvonne Farrell and Shelley McNamara of Grafton Architects and Cindy Walters of Walters & Cohen – recall their collaborations here, alongside a tribute by fellow photographer Edmund Sumner.
The photographs reproduced here have been selected by Dennis's partner - and managing editor of View Pictures - Susan Bockelmann.
Cindy Walters, partner, Walters & Cohen
I first met Dennis Gilbert when I was working at Foster + Partners and he was photographing the new Sackler Galleries at the Royal Academy. We were instantly united by our despair at what was going on in South Africa in the early 1990s, but also our love of the intense light and astonishing beauty of the country, which we both missed deeply.
When Michál Cohen and I started Walters & Cohen in 1994 it never occurred to me to ask anyone else to photograph our strange collection of early projects: some loft apartments on the King's Road, a few health clubs and endless back extensions to friends' houses.
Our first proper building was a tiny art gallery in Durban. Dennis happened to be on holiday in South Africa and took a detour to capture the most mesmerising photographs of it, which ended up in our first ever published article. The rest is probably history.
Up to that point – which was several years after we started the practice – Dennis had not sent us an invoice as he knew we couldn't afford to pay for his services, but he believed in us and he knew we would pay as soon as we could, which of course we did. This act of faith and friendship was typical of Dennis.
Since then, I have lost track of the number of times a new batch of Dennis's photographs of our latest project has landed in my inbox, usually at 4am, always like Christmas and a birthday combined. I have so many happy memories of savouring each new picture, marvelling at how they captured the spirit, essence and soul of what we do with such clarity and wisdom.
I can no longer separate our work from Dennis's beautiful photographs; they exist in my mind as one reality. Every article published, every award won, every new job relies almost entirely on his work. Every time I am surfing through our archive of many thousands of Dennis's pictures, looking for the right image to tell the right story, I am blown away by the depth and breadth of what Dennis gave us.
Try as I might, I can't think of anyone who has been as much of a constant in our 25 years in practice, and I am thankful to have shared Dennis's humour and his gentle, quintessentially artistic spirit throughout this time.
Edmund Sumner, photographer
In the mid-1990s I was a keen amateur photographer but didn't think of it as anything other than a hobby. Reading architectural magazines, I began to develop an interest in architectural photography as a genre and to recognise certain photographers' names and styles. I liked the work of Chris Gascoigne and Richard Bryant but it was the work of Dennis Gilbert in particular that fascinated me.
The idea of being an architectural photographer took root and, while I had no formal education in either photography or architecture, I had heard about the assisting system, whereby you offered yourself as a 'bag man' to established photographers in return for work experience and a small fee.
Dennis was one of the few who replied to my enquiries and, seeing that I lived near to him, offered me a few days' work. Our first shoot was of Stratford International station. He picked me up at 5.30 am, we were on site by 6.15 and finished by 11.
Dennis was a quiet man with a highly analytical brain and a sense of humour so dry it took me a while to realise that some remarks were actually jokes. I didn't understand anything about the technical side of the images he was making, but I more than understood the mood they communicated, the optimism they represented, and the power they had as advocacy for talent that deserved promotion.
After a year or so I started to take on my own commissions. When I got my first magazine cover he called; I feared I might have overstepped the mark somehow, but he was ringing to congratulate me. A while later he invited me to join his agency, View Pictures, and for years after he would often call and congratulate me when a decent feature was published. Looking back, I wish I'd reciprocated more often; I wouldn't have had the career I've had without his support and encouragement.
As I grow older, I realise the true mark of success – particularly in the creative fields – isn't financial, but is about the legacy you leave behind: the work itself, and the lineage of creatives who were inspired by it. Dennis was selfless in this regard, and I know I speak for many in the architectural photography community when I offer him thanks. He will be greatly missed.
Yvonne Farrell and Shelley McNamara, directors, Grafton Architects
He stood tall. He emanated a sense of calm and silence. His voice was soft, his eyes clear. He understood light, space, architecture. Dennis Gilbert knew how to capture the experience and emotion of space. He anticipated, foresaw and waited for the moment when the life of a surface, a form or a confluence of angles and views would come together and the composition would reveal itself.
In 2013, Dennis spoke at a photography conference called Constructing the View, organised by Hugh Campbell and Alice Clancy. We had never seen him speak in public before, and he revealed a side of himself we never knew. He showed images by Walker Evans and Robert Adams and many photographers whose work he admired. But what was most telling was how he described himself, in a somewhat ironic tone, as being 'a farm boy at heart'. Having studied abroad he went back to his parents' farm in South Africa and photographed the house where he had grown up, as well as the workers on the farm. These were beautiful, quiet images with a real sense of feeling and emotion.
One of our most recent communications with Dennis was in July 2020. He suggested that he would like to photograph the Marshall Building at the London School of Economics, under construction, which he did, in the gaps between Covid restrictions. We were astonished at the result and sent him the following message, which perhaps describes the importance to us of receiving his powerful images at a stressful time when we could not visit this building ourselves.
We wrote: 'Dennis, a note to say how marvellous your LSE photos are. Receiving them has lifted all our hearts and given us the energy to persevere! Sometimes our spirits flag a little under the pressures we come under, and seeing your images gives us back our own work in a truly refreshing way.'
This was less than one year ago, which is why all of us at Grafton Architects are so shocked and saddened by his death. We are sure that all our colleagues who had the good fortune to work with such a uniquely sensitive man, and a great photographer, will share our sense of loss. He was a highly valued and admired resource for all of us. He offered praise, support, understanding, and most of all, recorded beautifully the buildings and spaces of so many varied architects, with authenticity and truth.