A new exhibition shows us the highly designed future of transport across London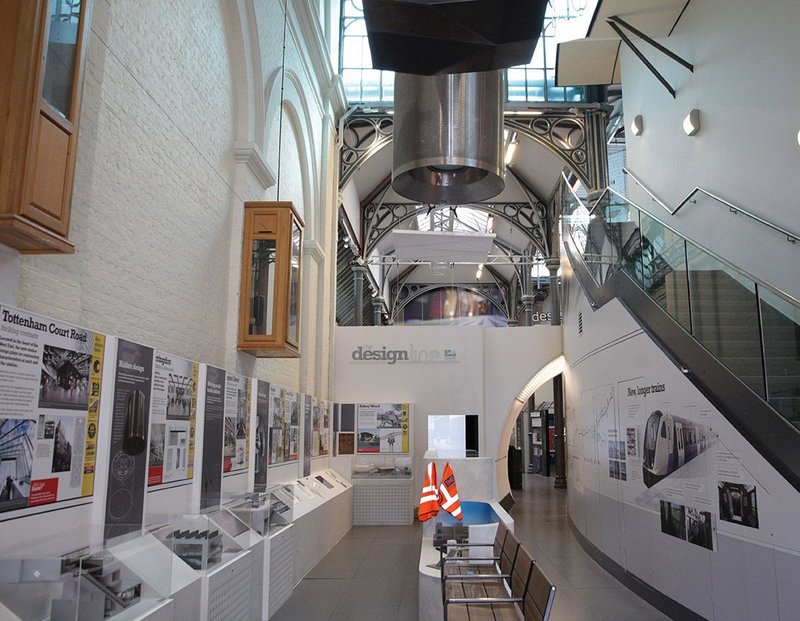 If you'd like a glimpse of what's around the corner for London's Elizabeth Line, head to London Transport Museum's new Crossrail exhibition, where access to the gallery is round a distinctively curved tunnel entrance. Julian Robinson, Crossrail's head of architecture, and Grimshaw Architects' Graham Gibbon walked me through the exhibition as they oversaw the final exhibits installed. They explained how sprayed concrete lining technology gave rise to this characteristic feature: smooth, spacious and acoustically optimised tunnels will allow brisk-walking Londoners to navigate the network with ease.
'Design line: stations, art and public space on London's newest railway' is a compact and informative exhibition for the general public. It includes diagrams, maps, architectural models, an interactive ipad app, and an interesting whistle-stop mini documentary film. Totem-pole wayfinding signs, lights from Tottenham Court Road and a platform bench form a handful of objects we will soon be using on our commutes.
The exhibition highlights the design challenges faced on a project of this magnitude – it is, after all, Europe's largest infrastructure project. (I won't mention here the £1.5 billion loan from the EIB to TfL or make any jokes about Londoners' future travel prospects being 'derailed' by their own ex-mayor…).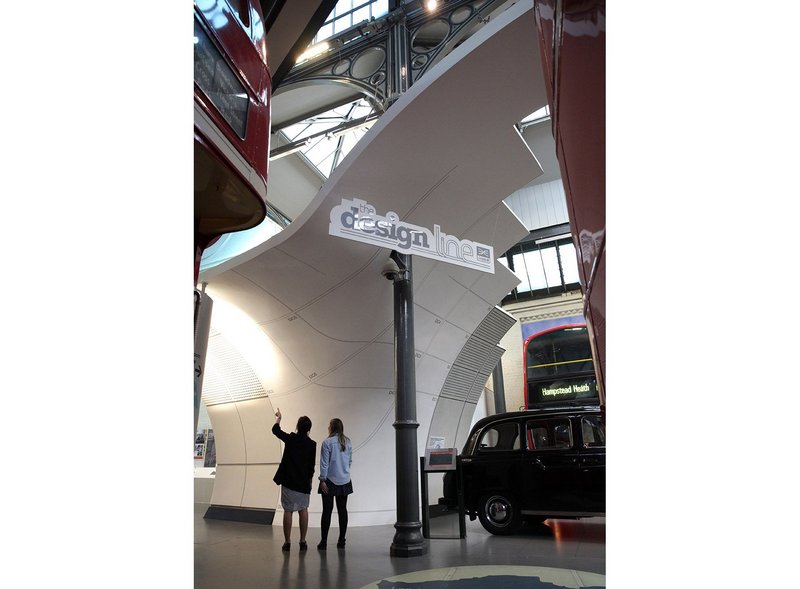 Focussing on the central and south-eastern section (central London and Docklands), the stations here differ wildly in their requirements. At Paddington, for example, Crossrail must integrate into Brunel's existing structure. Canary Wharf is surrounded by water, Whitechapel sits on top of intersecting Victorian lines, and Custom House is constrained on each side by power cables and the DLR.
So Crossrail's planners faced a conundrum: how to retain site-specific individuality while ensuring a consistent experience across the line?
The solution, explains Gibbon, was through an incremental approach to common line identity. As one enters the station, distinctively Crossrail-esque design elements gradually intensify until the commuter is physically in the tube and on the train. At this point the experience is completely consistent throughout the network.
The first stage of any journey is at street level. Here, station architecture is necessarily diverse, with nods to local context. It's sometimes overt: at Woolwich, for example, a bronze-clad facade directly references the foundry for the arsenal. Elsewhere this is more subtle – at Farringdon, the nearby jewellery quarter Hatton Garden inspired the diamond-shaped soffits. Many of these details will never be stated openly, but left to the passengers to deduce or invent. At Tottenham Court Road, lights and panelling in the ticket hall (or should I say box office?) evoke the feeling of being in a West End theatre, while the cross-sectional model of the escalators, to me, resembled auditorium seating. At Liverpool Street (banker central), Robinson joked that the angular ceiling reminds him of a pin-stripe suit, much to the consternation of its designers.
Crossrail, dubbed the 'culture line', will incorporate high profile artwork to lend cohesion to the architecture and prompt a more personal experience of travelling. Spencer Finch's 'Cloud Index' is one such piece – clouds printed onto Paddington's glazed canopy create a view of the sky which changes according to the direction of the sun. Here, art is the penultimate increment, conveying the passenger from the subterranean network and into the daylight.
'Design line' is educational and engaging, suitable for adults and older children alike. If it is hard to justify a trip to this exhibition alone, given the museum's entrance fee, there are plenty of other exhibits at the London Transport Museum to combine into a worthwhile outing. Clear thematic crossovers exist with 'Designology' and 'London by Design' (perfect for fans of Pick, Beck and Johnston) especially since Crossrail has integrated its identity with the equally distinct language of TFL. Architect or not, many Londoners will appreciate a sneak preview of their new transport system. I learnt a great deal – albeit from the most qualified tour-guides in the business – and would have welcomed more information on the Western and Eastern sections too. Material for a future exhibition, perhaps.
The Design Line: stations, art and public space on London's newest railway runs to spring 2017. London Transport Museum, WC2E 7BB
'Platform for Design', a book about the project, is also available from the museum
---