The Design Museum scores a winner with its exhibition of all aspects of design in football, from stadia to strips and its changing history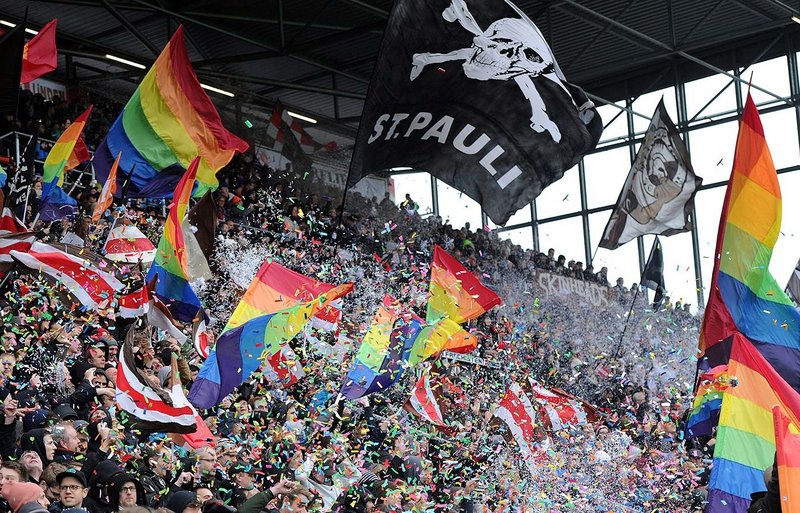 St-Pauli tifo LGBT support (2016). Witters/Tim Groothius. From Football: Designing the Beautiful Game at the Design Museum.
A design exhibition about football? For some (including myself), the Design Museum's new show Football: Designing the Beautiful Game promises to be a dream combination. Others with no love for the world's most popular sport may want to run screaming in the opposite direction.
But they'd be missing a treat. This broad ranging show is an engrossing take on the role of design in all aspects of the game, from stadia to kit through to training regimes, match day programmes and fanzines. Certainly there's plenty of nostalgia – George Best's teenage boots, a Lionel Messi shirt, a vintage turnstile, Panini sticker books – but there's a whole lot more. The exhibition also delivers broader insights into society, whether through girls' football boots from the late 19th century before the FA banned the women's game, the carbon neutral design of a stadium for vegan football club Forest Green Rovers, sports bras, or travelling supporters' calling cards. Designed to subvert popular logos, these were distributed to opposing supporters after awayday skirmishes.
According to assistant curator Rachel Hajek, the aim of the exhibition is to show football though a design lens and in doing so, make the impact of design visible. Exhibits show how design has met both the practical needs of the game in terms of equipment and venues, and how it has been used to improve performance, for example through innovations in the boot design, the condition of the pitch, and the training regime.
It's fascinating to see the large size of the first footballs in the 19th century and to learn about everything from the design of referees' whistles to early shinpads, made from animal hair-stuffed leather and worn outside the sock. How did red and yellow cards end up signifying bookings and sending offs? When did goalkeepers start wearing gloves? When were shirt numbers, and then player names, introduced? It's all here, along with explanations of different formations on the gallery walls and – particularly pleasingly – a large-scale photo of current England player Bukayo Saka leaping with delight into a swimming pool on an inflatable unicorn in the name of pre-game relaxation and team-building.
There could be a whole exhibition on boot design alone, as it evolved from the sturdy ankle workboot style of the late 19th century to the lightweight boots of today. Their form was originally driven by the need to support and protect the wearer at a time of treacherous pitches and harder balls, a priority that diminished as the quality of pitches improved and manufacturing techniques advanced. In turn, the use of boots as branding vehicles has accelerated. This has been around for quite a while – Puma patented its distinctive formstrip back in 1958 – but boots only began to deviate from black in the early 1970s. There's a great story of an early sponsorship deal coming to grief when England star Alan Ball was paid to wear white boots by manufacturer Hummel but wanted to keep wearing his favoured black boots. His rather naïve solution, to paint his old boots white, was embarrassingly exposed during a match when rain washed away the paint.
The exhibition also explores the role of design in creating the powerful feeling of community felt by supporters. There's a look at the role of football strips in creating team identity, highlighting the work of usually unsung designers – sportswear manufacturers apparently don't typically credit individual designers for their work. Fan graphics are well represented, from memorial banners such as a huge Liverpool example remembering the victims of Hillsborough – designed by survivor Peter Carney – to scarfs and fanzines as well as official match-day programmes. Some, such as John Elvin's designs for Coventry City in 1969-70, made particularly effective use of typography and imagery.
There's an extensive section on the design of the infrastructure needed for fans to safely congregate and watch a match through, namely the stadia. Routinely likened to cathedrals or temples, these offer not only a place to stand/sit but a shared experience with, we are told, 'a sense of procession, ritual and communion'. The big stadium design name of the early 20th century was architect Archibald Leitch, an experienced factory designer, who designed 20 venues between 1899-1939. There are plenty of stats on stadia size – it's interesting to learn that the world's biggest capacity stadium is in North Korea, and that Foster + Partners designed two of the biggest 10. Stadia too have changed with the times – from Zaha Hadid Architects' aforementioned all-timber, carbon-neutral proposed design for Forest Green Rovers to Herzog & de Meuron's Allianz Arena in Munich, which has facade with ETFE panels that can be digitally controlled to change colour.
Towards the end, there's more nostalgia with a display of the many spin-off games, from Subbuteo and table football to the very much non-Covid compliant Blow Football, that was hugely popular in the early to mid 20th century – right through to Esports.
Yes, football is a huge commercial business – it was worth £22 billion in 2016 – but this is enabled by the emotional connection that fans feel for the game all over the world. Perhaps it's the filmed footage in the exhibition that expresses this connection best, from youngsters discussing how football allows them the freedom to be creative to the extraordinary exuberant footage of a carnival-like atmosphere at a match in South America. It's certainly illuminating to explore design's role in the development and continuing appeal of football. But then as any true fan knows, it's always been far more than just a game.
Football: Designing the Beautiful Game, until 29 August 2022, Design Museum, 224-238 Kensington High Street, London W8 6AG