The architect's endless quest to design the best building is inevitable, essential and important. Stick to your guns, urges Eleanor Young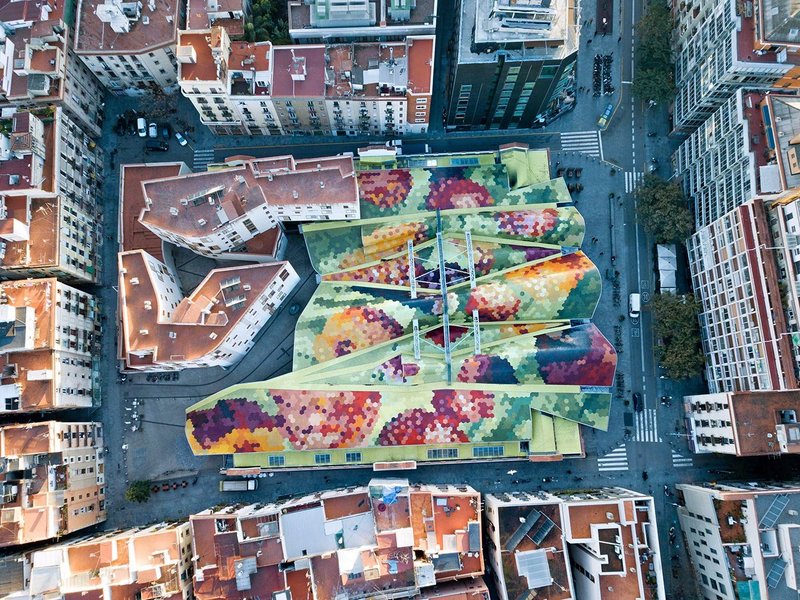 Santa Caterina Market, Barcelona, designed by Benedetta Tagliabue – EMBT.

Credit: Chen Zhang / Alamy Stock
Which buildings are close to your heart? A recent talk from Barcelona architect Benedetta Tagliabue started with her own home, and moved via the Scottish Parliament to the colourful Santa Caterina Market and the protected gardens of a cancer care centre back in Barcelona. Preparing for the event I had been reminding myself of her practice's work. I had studied EMBT's glass towers for Gas Natural Fenosa and, in China and Taiwan, major campus and tower projects; but Tagliabue avoided commercial work, focusing in Asia on EMBT's calling card to China, the wicker-panelled Spanish Pavilion at Shanghai Expo (2010).
We all have work that is just business as usual, things we don't want to trumpet or projects that turned out less well than we hoped. You can see how major practices promote and submit certain buildings for awards while others are quietly completed and put to use without another word. Perhaps the hardest to take are the projects that promised so much but then shrank to a shadow of their former selves. Those experiments with materials that had to be dropped, the beautiful staircase turned banal, the fit out dominated by the worst of the corporate colours.
Over the years I have talked to many practices about their best projects, which inevitably segues to their best clients. That is a common thread. But there are other ingredients. Usually the clients have bought into something about the practice – its sustainability ethos, the straight talking or ideas of the director, a particular site strategy. That can emerge through marketing, networking or a competition or interview but it has to be authentic. It must allow the client, whether end user, developer or contractor, to trust in the team.
Architects have to remember why a decision was made and why it is fundamental to the project
That is all very pleasant. But the other common thread seems to be the ability to fight. Not with fists but with words, drawings and design, constantly making the case for the better way of doing things. Showing that it will work. Architects must push and challenge themselves, as much as others, to be one step ahead and have tested the options. They have to remember why a decision was made and why it is fundamental to the project. It's not easy.
Since the fire at Grenfell Tower, just over five years ago, the idea of a golden thread through projects has become established as a concept if not a working model. The Building Safety Bill will nudge construction further in that direction (see page 46). Architects have also long understood themselves to hold the golden thread of design, sometimes against the contractual odds. For better buildings, from house extensions to train stations, architects must keep battling, making more buildings to love, more buildings you can be proud of.
Watch out for Benedetta Tagliabue's RIBA + VitrA talk, coming soon