HfG Ulm soon lost its Bauhaus influences in the post-war drive for mass production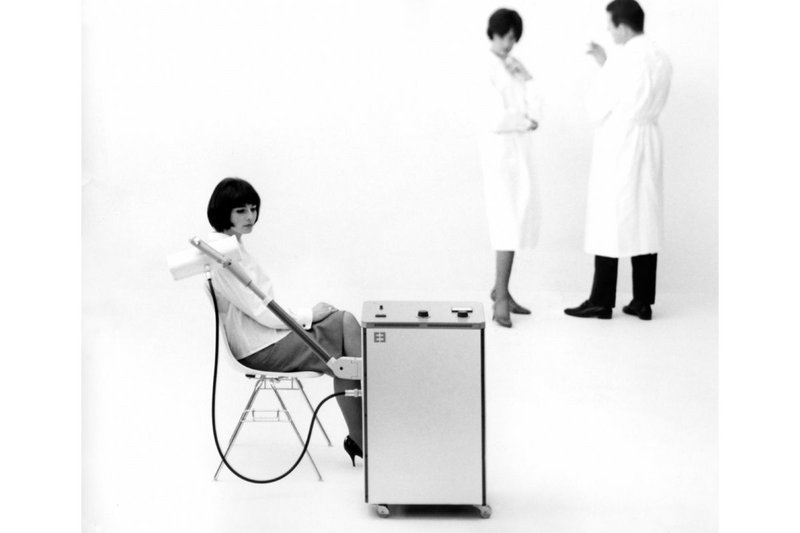 Advertisement for Erbotherm, heat therapy unit designed by Tomás Maldonado with Gui Bonsiepe and Rudolf Scharfenberg
, 1962, for manufacturer Erbe Elektromedizin. Photo: Wolfgang Siol, courtesy HfG-Archiv/Ulmer Museum.
The most influential design schools have often been the shortest-lived. So it was with the Bauhaus (1919-1933), whose turbulent history and star-studded alumni are well known to all art, design and architecture students. Rather less famous however is another German school of design, the HfG Ulm (1953-1968), which is the subject of a new exhibition at the Raven Row gallery in London's Spitalfields.
There were plenty of links between the two. Former Bauhaus director Walter Gropius made the keynote speech at Ulm's opening and its first director was Bauhaus alumnus Max Bill, the Swiss architect, designer and artist. Tutors initially included former Bauhaus instructors Josef Albers, Johannes Itten and Walter Peterhans.
But at a time when the focus in Germany was on reconstruction and mass manufacturing, this was no Bauhaus ♯2. The approach at Ulm was quite different, moving away from the earlier design school's celebrated emphasis on striking a balance between art and industry, according to curator Peter Kapos.
'It was replaced with an understanding of the designer as an essential, but no longer primary, co-ordinating point within a complex and communicative production structure that might also involve semioticians, logicians and engineers,' he says in the informative exhibition guide.
The resulting Ulm Model pursued this highly functionalist and systematic approach through inter-disciplinary collaboration between its departments, which included film, information and visual communication as well as product design and industrialised building. We learn that the school was never full, with staff/student ratios fluctuating around just seven to one, in sharp contrast to today's design courses.
There was considerable strife throughout this experimental school's short life, with academic in-fighting and funding difficulties leading to frequent personnel changes including Bill's resignation in 1956 over academic differences. HfG was renamed Karl-Marx-Schule by its students in 1968 and the design school was shut down by its teaching staff later that year shortly after the local authority withdrew financial support.
Despite its difficulties, Ulm's achievements were considerable, with the school's particular ethos leading to successful collaborations with companies such as Braun, Lufthansa and Olivetti. These are the star turns in this generously-staged exhibition, which uses objects and products designed by staff and students to tell the story of Ulm's brief flowering. These are displayed on exhibition structures designed by David Kohn Architects.
Encountering everything from parking meters and traffic signs to a heat therapy unit is an enjoyable, if slightly surreal, way to explore the many galleries at Raven Row, designed by 6a in two 18th century former silk mercers' houses. It's a pleasure to come across the TC 100 stackable tea-cups and other crockery designed by Hans Roericht. Manufactured by Rosenthal for many years from 1962, these found particular popularity with UK architects of the time. We can also enjoy the rigour of the Lufthansa visual identity design and on-board tableware, and examine the non-grammatical sign system of symbols commissioned by Olivetti in 1961 and designed by Tomás Maldonado and Gui Bonsiepe. Semiotics were a particular interest at the school, and Ulm co-founder Otl Aicher was to go on to design the famous pictograms at the 1972 Munich Olympics.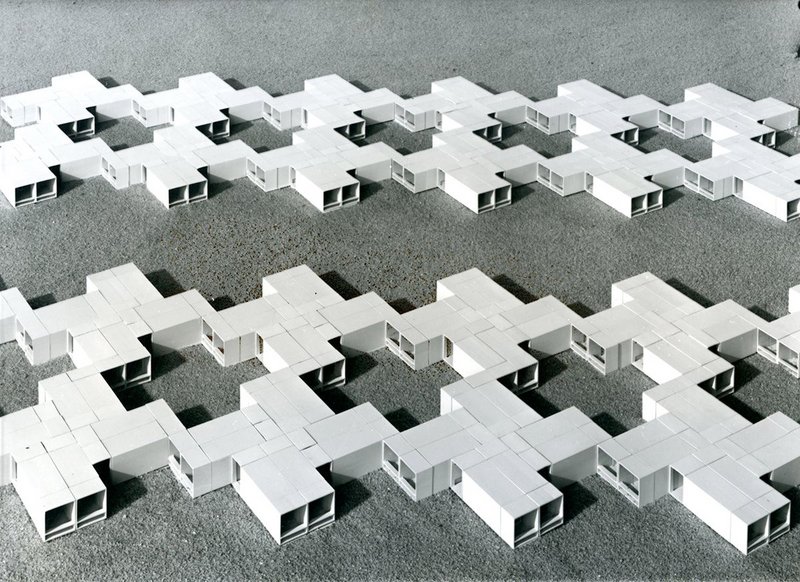 Space units for residential buildings, designed by industrialised building students Bernd Meurer and Willi Ramstein, 1961. Instructor: Herbert Ohl. 
Photo by Roland Fürst
, courtesy HfG-Archiv/Ulmer Museum.
There's also the first slide projector to use a rotating carousel, designed by Hans Gugelot for Kodak in 1963, as well as several audio products for Braun – another highlight. Designed in the 1950s, these radios and record players display a starkly modern aesthetic for appliances a world away from the bulky furniture of earlier audio systems. These products are displayed in the last surviving units of the D55 flexible exhibition system, designed for Braun in 1955 by Otl Aicher and Hans Conrad.
Next month, the Design Museum will give design a larger public platform than ever when it re-boots in its new Kensington High Street home. Until then, this unassuming exhibition offers a diverting snapshot of that other influential German design school.
The Ulm Model, until 18 December, Raven Row, 56 Artillery Lane, London E1 7LS
---