From vegan wool to multi-functional public loos, Central St Martins graduate exhibition is a positive response to climate change issues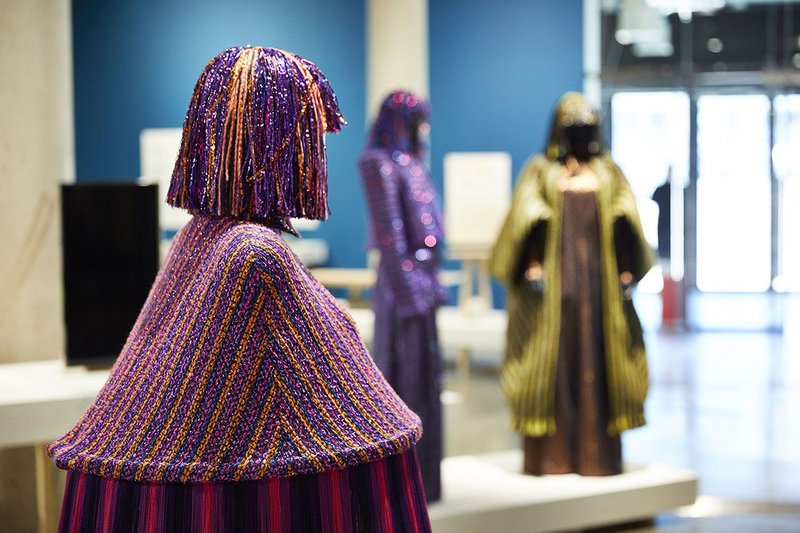 Installation shot of Designing in Turbulent Times, showing Benjamin Benmoyal's textiles created from VHS cassette tape and leftover wool.

Credit: Paul Cochrane
Designing in Turbulent Times, the new exhibition of graduate work at Central St Martins, offers a refreshing insight into how emerging designers are tackling today's social and environmental problems.
From vegan wool to high-end fashion made from discarded VHS cassette tape and a new generation of multi-functional public toilets, it's both an impressive and uplifting display.
'We need to be optimistic about this. We need to face the real issues. And we need to use our lateral thinking and creative ideas to find new ways,' says co-curator Professor Carole Collet, director of CSM's LVMH Maison/0 sustainable innovation programme.
According to Collet, students have been energised by the recent activities of Extinction Rebellion and other activists. CSM's role is to help them create the right mindset to address sustainability in their own work.
'We have to show them the facts, but make sure that they aren't overwhelmed by the critical state we're in, and are instead inspired to use their creativity to address these issues.'
Judging by this exhibition, these young designers are well on their way to doing just that. The Designing in Turbulent Times theme emerged in response to the nature of the work created by the 28 designers who were nominated as the best across the CSM disciplines at the end of the last academic year. These are arranged within the exhibition into six sub themes: designing alternatives; designing with abundance; designing with communities; designing with time; designing for biodiversity; and designing for conversation.
Several designers have created quirky yet beautiful new materials from unlikely sources as they embrace the potential and intrinsic qualities of various waste products.
Nathalie Spencer's Wool Re-Crafted, a vegan alternative to sheep's wool, starts off as pineapple leaves discarded from the top of the fruit. The fibre is then extracted from these, spun into yarn and woven to create an impressively fine wool that is washable, biodegradable and compostable.
Leftover turkey and goose feathers were appropriated by Jing Jiang as the centerpiece of elegant silver jewellery – a sustainable alternative to the Chinese tradition of incorporating kingfisher feathers in ornaments.
It's not only abundant natural waste materials that are re-purposed. Benjamin Benmoyal has found a new use for the obsolete technology of VHS cassette tapes. In his project It Was Better Tomorrow, these are woven in combination with left over mixed yarns to create strikingly beautiful garments.
Qiang Huang responded to the problem of discarded bicycles from urban bike sharing schemes in his quirky range of Bike Scavengers furniture. This includes bicycle seats grouped together to form bench seating or high stools, storage made from bicycle frames and lights fashioned from wheel guards.
I enjoyed Eunhye Ho's Crafting Industry project, which aimed to question the growing consumption of electronics. In this, the plastic of household appliances was replaced by ceramics and willow to create a completely different aesthetic for technology – certainly the first time I've seen a wicker vacuum cleaner.
In the time section, materials are studied for, variously, their longevity and ability to degrade. Morgane Sha'ban explored ideas of permanence and transience in the Tales of the Untamed public space. In this, the trees are the permanent infrastructure while the built infrastructure – made from rammed earth, mycelium bricks, willow weave – is designed to perish and nurture the soil.
Making the most of local resources was a recurring theme. Architecture student Olivia Page's impressive project Recipes of North Portugal caught the eye. She created a building materials palette to increase biodiversity and reduce landfill in a 50km radius around Porto, at the same time decreasing the use of petroleum based and high-energy toxic materials. This included use of coffee and seaweed density board, acacia glulam frame and mycelium. She also carried out research into the use of indigo dye in the production of Hempcrete, an alternative to traditional insulation and concrete
Throughout, important messages on sustainability are communicated in engaging ways. These include Chekii Harling's TRASHMag, which aims to change how sustainable fashion is written about, and Sky Ladfah's use of Jenga in the Too Many Have Taken Too Much project to convey the catastrophic impact of disruption to various ecosystems.
I liked the humour in Peckham's Convenience by architecture student Mark Freeman, which promotes the civic value of toilets in a new range of sustainable public loos, supported by on-building advertising. These incorporate spin-off benefits such as rainwater harvesting (Waterloo), dry composting (Poo Loo of Peckham) and urine recycling (UrineLuck).
Fittingly, the exhibition installation itself was zero waste, and has screen-printed graphics created in a palette devised from leftover ink. This 'best of' display is well worth a visit – there's a lot to learn for us all.
---
Designing in Turbulent Times, until October 27, 2019, Lethaby Gallery, Central St Martins, UAL, 1 Granary Square, London