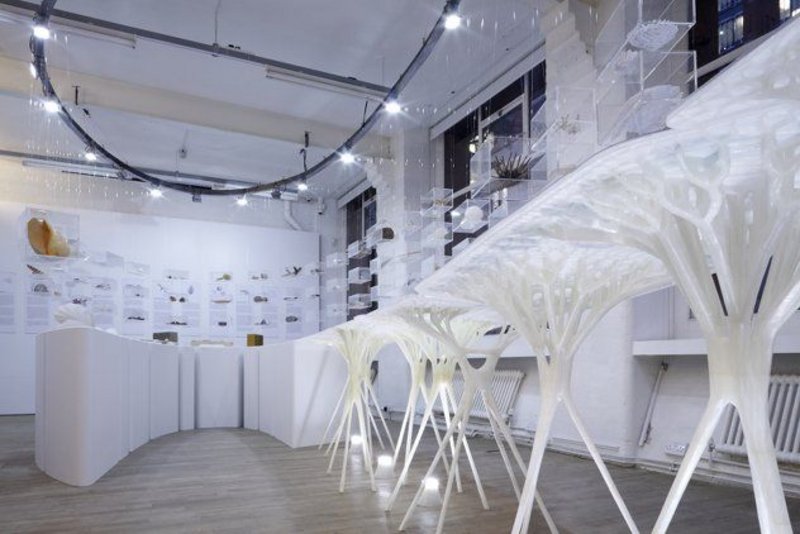 Designers have long looked to nature for inspiration. But the Architecture Foundation's new installation Designing with Nature is rather more complex than merely burrowing form. Instead, this challenging exhibition is about biomimicry, an emerging discipline that studies how functions are delivered in biological forms and translates these into new design solutions

This is presented through the work of biomimicry practitioners Exploration Architecture, who believe in looking to nature's '3.8billion years of evolutionary refinement' to help solve complex problems such as climate change, loss of bio-diversity, and pollution.

According to Exploration founder Michael Pawlyn, biomimicry offers an alternative approach to sustainability: "Rather than merely mitigating negatives, we need solutions that optimise positives and create a new paradigm of restorative design."

There's a lot to get your head around here. Four of Exploration's projects are explained in detail, each fascinating in their potential to harness particular ingenuities found in nature.

The Sahara Forest Project, which aims to create green growth in deserts using less water or sea water, learns from a particular desert beetle that is able to harvest is own freshwater by collecting condensation on its shell.
Inspired by shells and mathematical forms, the BioRock project 'grows' a structure in sea water by passing a low level electrical current through a wire frame so that minerals accumulate around it. The hope is to create a full-scale pavilion for spoken word performance.

Another project, Mountain Data Centre, takes lessons from both borrowing creatures and the bronchial tree of our lungs in designing the layout of coolers in an underground data centre.

As well as detailed explanation of Exploration's projects, there are references to plenty more areas of research into technology transfer from nature to the built environment. We read how the Emperor Penguin's feather structure has inspired a new building envelope system, and how research into a fire-detecting beetle might benefit smoke detecting technology. The fantastic climbing ability of the gecko, courtesy of the particular design of their feet, has already led to the development of an adhesive-replacing backing for flooring. The Resurrection Plant, which produces a sugary substance to allow it to go dormant in times of drought, has prompted the development of a preservative for vaccines.

This feels like important, pioneering stuff and is well worth a visit.
---
Designing with Nature, until 15 March. The Architecture Foundation, 136-148 Tooley St, London
---