The Design Museum's annual Designs of the Year show is always a curious mish-mash of an exhibition, but in a good way. Although definitive in its reach across the design disciplines from fashion to architecture, transport to digital, the system of nomination by design commentators yields both usual suspects and a number of curious left-field inclusions that certainly wouldn't make it into more conventional best-of-year awards.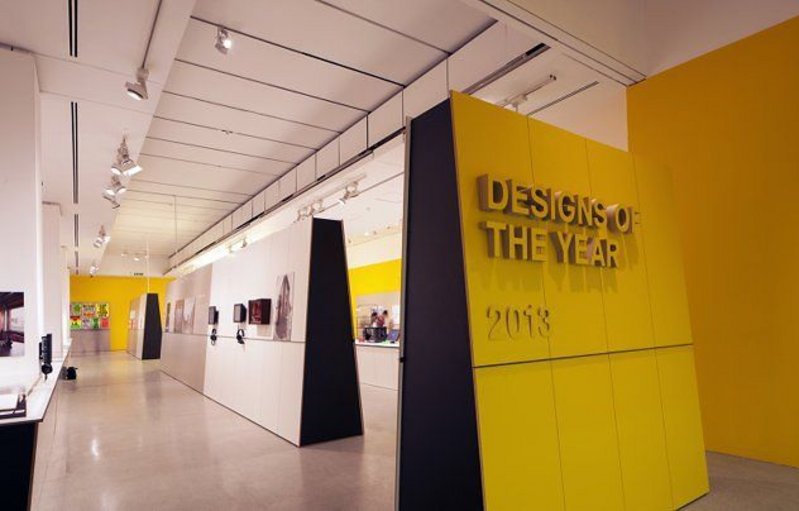 Take the architecture category, won by Lacaton and Vassal's rejuvenation of the Tour Bois-le-Pretre housing block in Paris. Here the 17-strong shortlist includes shiny brand new buildings such as Renzo Piano's Shard, MVRDV's Book Mountain and Studio Egret West's Clapham Library plus some careful integrations of old and new including the winner and, rather more poetically, Witherford Watson Mann's Astley Castle, which retains the ruins within a new structure to create an atmospheric holiday let for the National Trust. There were also a few conceptually-led installations such as David Kohn's collaboration with artist Fiona Banner on the Artangel commission A Room for London at the South Bank, which appealingly mixed inspiration from the boat Joseph Conrad used to explore the Congo prior to writing Heart of Darkness with the spire of Hawksmoor's Christ Church Spitalfields. Two more nominees stretch the interpretation of architecture - Museum of Innocence was a visual portrayal of scenes from Orhan Pamuk novel of the same day within a building in Istanbul. Ikea Disobedients, a performance piece involving incorrectly Ikea furniture that challenged conventional notions of the home. There was also room for the Superkilen public space in Nørrebro Copenhagen, whose design was inspired by the 57 nationalities living in the area.

Architecture, as ever in such exhibitions, suffers by comparison with the other design disciplines from the usual difficulties of how to easily convey a building in a short exhibit, though I really think more could be managed than a single photo, as in the case of The Shard, and the rather questionable assertion that this has 'set the standard by which future construction in the city will be judged'. Likewise Farshid Moussavi Architects' Museum of Contemporary Art in Cleveland, clad in 1354 panels of mirrored steel, looked harsh but intriguing from the photo, but that's all we get. Kohn's A Room for London did far more – photos, objects, visitors' log, a film of musical performances in the boat and was all the more engaging for it.

But I think there's much more fun to be had elsewhere, notably in the furniture and product sections. Printers are a hot topic, especially 3D printers. I love the Kiosk 2.0 mobile 3D printer designed by Unfold Studio – a bicycle with an ice-cream stand-like cart attached, its familiar form lending a friendly face to this progressive technology which allows the creation of small 3D objects including – controversially – copies of existing designs. To make the point, classic Aalto vase was shown being copied. It was also interesting to see Replicate, the first desktop 3D printer for consumers which offers 30,000 open source files, and the Free Universal Construction Kit which uses a 3D printer to create toy play bricks that work across branded product systems. The furniture section threw up some interesting explorations of material as well as form including Sea Chair, made of recycled plastic waste from the ocean and designed by Studio Swine & Kieren Jones, Gravity Stool by Jolan Van Der Wiel, which created form out of resin and magnetic filings using magnets. Pinwu's Tie Paper chair was made from multiple layers of pressed bamboo paper, left raw at the edges to give a delicate, flaky texture. Visually, these were not so attention-grabbing as Zaha Hadid's alluring limited edition Liquid Glacial Table, but were far more interesting. There were also two furniture reclamation projects – Marni's 100 Chairs were created by ex prisoners weaving PVC coverings onto salvaged frames with proceeds going to charity, while Studiomama's Re-imagined Chairs powder-coated and reupholstered unwanted frames in a distinctively styled range.

Design's ability to solve problems and improve lives was inspiring. A huge amount of expertise had gone into the ingenious anti-diarrohea kit, which slots into gaps in a drinks crate for easy distribution and multi-tasks as packaging and measurable receptacle for dispensing the medicine. There were fantastic innovations to increase mobility such as Vitamins Design's folding wheelchair wheels (which won the transport category) and Priestman Goode's Air Access detachable wheelchair seat that slots into the frame of an airplane seat to avoid the need for transferring the occupant from chair to chair.

And there is so much more – including ingenious lamp-plug socket hybrid and switches, LED's that mimic candles, a chainless electric bike, some great graphic projects including an exploration of solar paper, and several products that explore how retro styling can improve the interface of cutting edge digital technology. And, of course, no awards would be complete without Thomas Heatherwick's Olympic Cauldron.

Rather than puzzling over the selection criteria or the effectiveness of the rather loose thematic cross-discipline groupings, visitors should just enjoy what's on offer. The overall winner was judged to be the website GOV.UK but there's an awful lot more here to impress and amaze and uplift.
---
Designs of the Year 2013, until 7 July 2013, Design Museum, Shad Thames, London