An intriguing show in Rotterdam bursts out of the borders to consider high-tech farming, the rise of leisure parks and how we might 'terraform' Mars for human habitation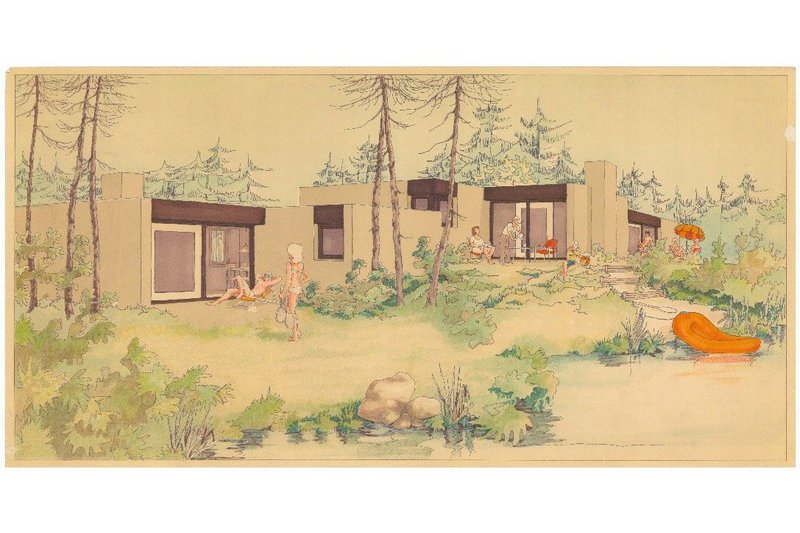 Van den Broek & Bakema. Eurostrand, Valkenswaard, commissioned by Sporthuis Centrum, 1976. Collection Het Nieuwe Instituut, BROX 2282 t7. From Pleasure Parks, part of the Dissident Gardens exhibition programme at the Het Nieuwe Instituut in Rotterdam.
Dissident Gardens, the new programme of exhibitions at Rotterdam's Het Nieuwe Instituut, is nothing to do with unruly borders or radical planting strategies. Instead, the notion of gardens is explored in a far broader sense as a potential zone of conflict and collaboration where mankind seeks, with varying motives and degrees of success, to control and tame nature.
It is an intriguing and stimulating subject, taking in everything from the design of holiday landscapes to high-tech farming and approaches to cultivation on Mars. This is not about Dutch stereotypes of windmills and tulips; there's not a clog in sight. Instead, the Smart Farming exhibition is informed by Holland's position as the fourth largest exporter of agricultural products. This goes beyond the creation of polders for cultivation to the introduction of 'smart' high-tech farming.
'Holland is the Silicon Valley of agriculture, completely technically driven,' says Guus Beumer, general and artistic director of the institute, which aims to facilitate debate and appreciation of the social and cultural significance of architecture, design and digital culture.
Much high-tech farming is carried out in controlled environments hidden from view rather than out in the meadows, so there are huge consequences for the aesthetics and identity of the agricultural infrastructure within the landscape. These farmers are not outside working the land in the traditional way: they are inside, directing the driverless tractors and monitoring machinery informed by drone-collected data.
'These new spaces exclude people fundamentally. We are looking at a transformation of the landscape,' says Beumer, adding that this new farm typology of super efficient yet inhospitable, non-human-scale spaces has become of increasing interest to architects.
The Biotopia exhibition considers the development of biomaterials such as mycelium fungi with designers taking on what could be thought of as a farming role in their research into the potential application of such materials in design. Gardening Mars envisages numerous approaches to 'terraforming' the Martian landscape to make it suitable for human habitation. As well as the Noah's Ark scenario, where Mars is a refuge from disaster, this considers the red planet's use for scientific study with the landscape kept intact, its potential as a techno-utopia and its exploitation as an expansion of Earthly capitalism. Or perhaps there is a new Martian, rather than Earthly, perspective to be developed.
The Human Insect: Antenna Architectures 1887-2017 is intriguing but bound far more loosely to the programme theme. Curator Mark Wigley draws links between the importance of antenna for insects and the impact first of radio antenna then satellites, smartphones and sensors, in creating a different, technified kind of space.
We're on more familiar territory with Pleasure Parks, which draws on archive material including drawings by Gerrit Rietveld, Jan Gratama, Jan Verhoeven and Aldo van Eyck to explore the idea of the leisure landscape, where nature is controlled not for food production but for pleasure. We learn that the Netherlands has more than 1500 holiday parks, the highest density in the world. The exhibition traces the creation of idealist camps in the 1920s to later developments based on comfort and luxury, including the emergence of a new typology of lifestyle holiday house that wasn't simply a smaller version of a city house. Increasingly, the natural landscape was no longer just celebrated, but was sculpted to create the ideal view, while the more recent eco-park designs seek to stimulate biodiversity. The social implications of such places are also explored, from their idealistic beginnings to recent projects such as the repurposing of a holiday camp as housing for refugees.
Finally, visitors can experience the Instituut's own dissident garden – an urban green space where nature is allowed managed free rein in the pursuit of greater biodiversity than normally found in the city.
---
Dissident Gardens, until 23 September 2018 at the Het Nieuwe Instituut, Museumpark 25, 3015 CB Rotterdam. Exhibitions include Biotopia, Smart Farming, Gardening Mars, Pleasure Parks and The Human Insect: Antenna Architectures 1887-2017.