Technology has liberated architectural drawings from the constraints of mere scale and information delivery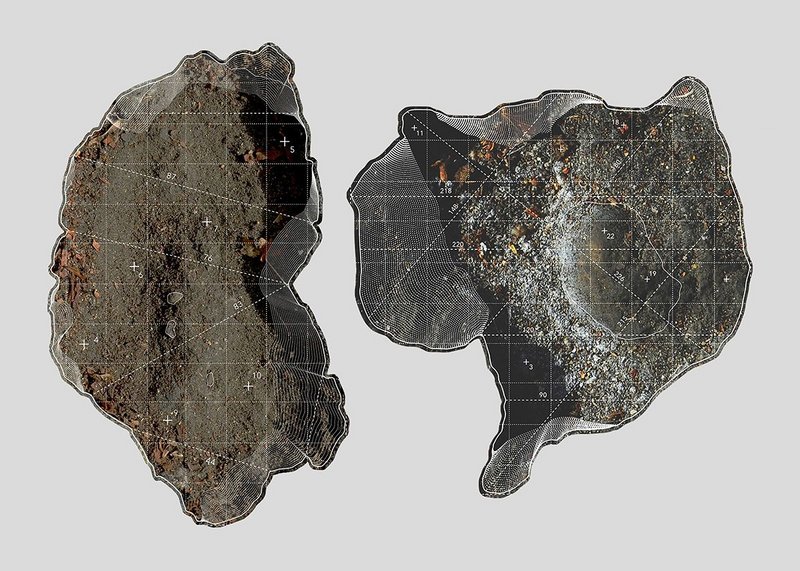 Topographic Survey of Two Sidewalk Holes in Downtown Los Angeles, 2016, by Zachary Tate Porter, University of Nebraska-Lincoln.

Credit: From Drawing Attention – The digital culture of contemporary architectural drawings at Roca London Gallery
Drawing Attention, the new exhibition at Roca London, sets out to explore the nature of architectural drawings in what it describes as the 'post digital' era. Given the ubiquity of the digital model in the design process, it asks whether 2D drawings are now 'liberated' from the purpose/burden of communicating information, and if so, what role and form they may take instead.
The exhibition is the idea of Jeremy Ficca, Amy Kulper and Grace La, professors at Carnegie Mellon University, Rhode Island School of Design and Harvard GSD respectively. The curators had noticed that the drawings of their students were significantly different to those of their own generation and also, says La, much more 'exploratory in terms of imagination'. Kulper talks of how the digital environment has encouraged the creation of different narratives and atmospheres, especially since its ability to zoom in and out in an instant means it is in effect 'scale-less'.
'Contemporary drawings are exceptionally juicy,' says La. 'There used to be a particular dryness to architectural drawings because of their burden to communicate scale. Now there's a real mandate for architects to be able to communicate far beyond that particular moment.'
The exhibition explores several themes: Drawing as world-making; Drawing limits; Drawing instrument; Drawing environments, and Drawing omniscience. With 70 drawings, it is an extended version of an exhibition first shown earlier this year at the Carnegie Museum and Carnegie Mellon University.
The curators wanted to explore how today's young architects, as digital natives, can capitalise on computer science and move between many different processes with ease – many of the drawings on display in the exhibition have been through more than 10 pieces of software.
'Analogue and digital are so intertwined,' says La, adding that there is a now a fluidity between the two. 'The new generation has no problem spanning tools of all kinds.'
Ficca points out how architects as the authors of the drawings are increasingly taking control over the software – either by designing their own or hacking what there is.
'This allows for much more authority and greater flexibility by not being constrained by the sensibilities of those who created the software,' he says.
There's even a sub-section on the use of the glitch as an aesthetic driver.
The digital drawings in this exhibition are not sterile. To the contrary, many have a particular atmosphere. Ficca's Drawn Ductile drawing of a metal forming process allows what he describes as 'a flicker between 3D and 2D' by exploring how the moiré effect drawing might be able to speak of the shimmering quality of the resulting metal bowls themselves.
Carl Lostritto's contribution is Storm, an atmospheric drawing of a simulation of a storm, executed by a machine-code driven vintage pen plotter. While this has no truthful allegiance to the realities of the weather, it is, he says, 'nonetheless tethered to nature through authored conditional impositions'.
Drawings are variously inspired by data relating to everything from political borders, airflow and waste. Jana VanderGoot's Olfactory cloud patterns, a complex representation of the experience of walking around a pond, combines a measured line of the path taken with a plan and section of the volumes and scents experienced along the way, all overlaid with watercolour and text descriptions of the scents. Other exhibits relate to actual projects, such as O'Donnell Tuomey's facade study for the V&A East museum, while others reside firmly in the imagined and the virtual – including Neil Spiller's sky garden, accessed in augmented reality above the site of an actual garden.
The Drawing Environments section looks at how the discipline is taking part in the discourse on climate change. Contributors include CJ Lim's Studio 8 Architects, whose Ocean Cleaning digital collage uses engaging imagery to highlight the need to address environmental change.
According to Lim, '…the persuasive childlike drawing, embedded with wit rather than statistical abstraction of scientific data, is more likely to capture the public's awareness and can help deliver change'.
'It's a model of architecture as a global citizen, positioning architecture in roles bigger than buildings,' says Kulpter.
The Drawing Omniscience category explores an architectural response to the impact of now ubiquitous global surveillance such as Google Earth in a series of top down, planetary perspective drawings.
There's certainly plenty to pore over in this show from bird's eyes, worm views, cross-sections, elevations, perspectives, and everything in between. Liberated from the burden of communicating information, it very much feels like a rich, multi-layered and juicy brave new world.
---
Drawing Attention – The digital culture of contemporary architectural drawings, until 11 January 2019, Roca London Gallery, Station Court, Townmead Road, London SW6 2PY