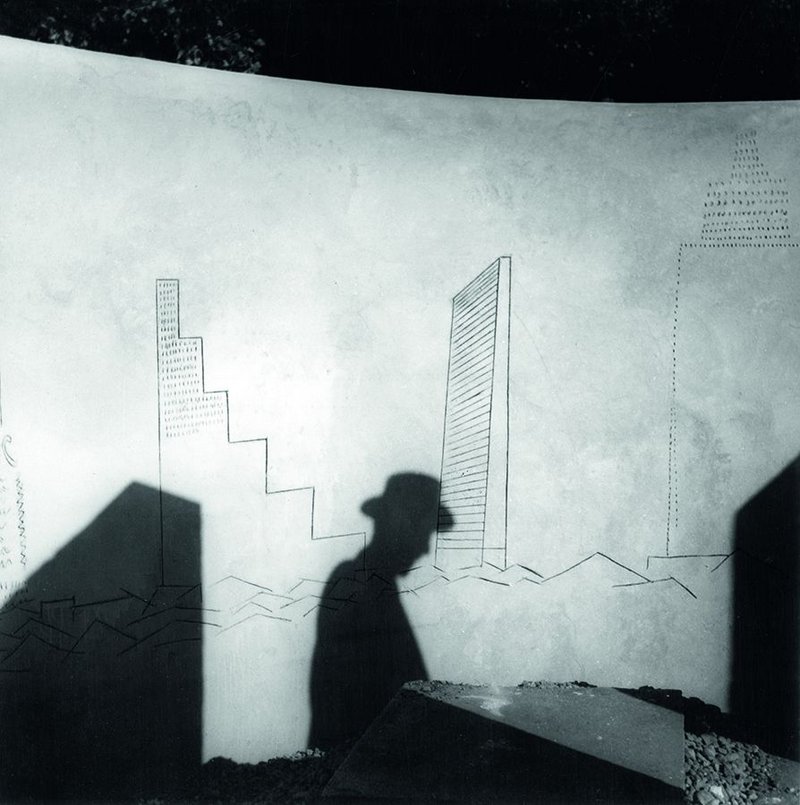 Credit: Ian McCallum | Architectural Press Archive | RIBA Library Photographs Collection
The children's labyrinth at the 1954 Milan Triennale was expressly conceived as a synthesis of architecture, painting and sculpture. The centre, designed by BBPR, was occupied by a mobile sculpture by Alexander Calder and the curved walls featured graffiti by artist and cartoonist Saul Steinberg, whose shadow can be seen in this photograph along with a detail of his work. The combination of architecture and the figurative arts was a constant preoccupation of BBPR which was very active in developing international contacts, especially in the post-war period.
Romanian by birth, Saul Steinberg had lived in Milan before the war, where he published cartoons for the humorous newspaper Bertoldo and graduated in architecture at the Politecnico. Forced to flee the country in 1941 following the introduction of anti-Jewish racial laws, he settled in the United States, where he became especially renowned for the cover images and illustrations he contributed to The New Yorker. However, Steinberg kept in touch with his fellow Italian artists and intellectuals throughout his life and returned to Italy several times to work and travel.
Architecture remained a constant presence in Steinberg's drawings, and in 1958 he created a mural for the US Pavilion at the Brussels World Fair.
---
More images at ribapix.com