Enter the prolific, varied and inventive world of Charles and Ray Eames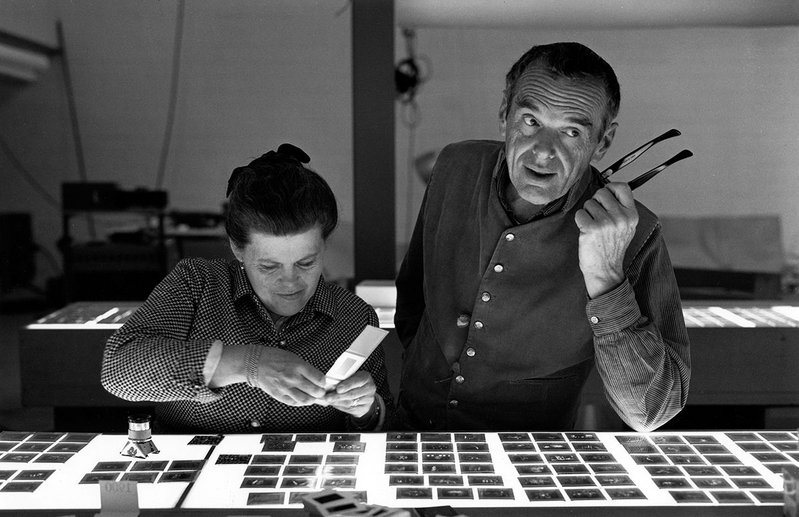 Charles and Ray Eames selecting slides.

Credit: © Eames Office LLC
One thing's for certain, no-one visiting the new Eames show at the Barbican will come away thinking of them as just furniture designers. From the moment they're confronted with the 3m-high nose of an experimental military glider on the way in, visitors will be hit with the full breadth of the duo's formidable creativity.
Charles (1907-1978) and Ray (1912-1988) Eames were prolific designers who turned their hands to whatever medium best suited the task in hand – film, architecture, design, furniture, products, graphics, multi-media installation, art... you name it, the Eames Studio probably tackled it during its 40 years of activity in post-war America.
For The World of Charles and Ray Eames exhibition, curator Catherine Ince had the fantastic if daunting task of trawling their archive and steering a path through this diverse oeuvre. She hopes the resulting show, which is the first major exhibition on the duo in 15 years, will sketch a picture not only of their joy in making and experimentation but of their deep interest in the world around them and the 'real philosophical depth' of their work.
'They had a curiosity about the world and how it works, drawing on all sorts of sources,' she says. 'Charles articulated it as 'everything is architecture', a philosophical viewpoint that facilitated that skill and ability to assess situations and look at different ways of tackling things.'
One of their most quoted maxims is their desire to 'provide the best for the most for the least'. They eagerly embraced challenges in many spheres, whether designing military products such as moulded plywood leg splints, stretchers, and aircraft parts, working for pioneering corporations such as IBM, designing the furniture they are best known for, or creating art installations for leading museums and galleries.
Through 380 exhibits, the show seeks to convey the inquisitive natures that the duo demonstrated through both commissioned and self-initiated projects. An important thread of the Barbican show will be an exploration of how they modelled ideas not just through physical models in their workshop, but in film. Screen imagery – both still and filmic – will be prominent throughout.
The exhibition will include a restored version of Think, the multi-screen presentation they made for their collaboration with Eero Saarinen on the seminal IBM Pavilion at the New York World's Fair in 1964-1965. Fascinated by emerging computing technology and its potential for communication, they designed an immersive multi-media experience – shown in the pavilion's astonishing egg-like, elevated Ovoid Theatre – as part of the pavilion's aim of explaining computing and data modelling to visitors. Comprising film, graphic, signage and exhibition design, it was the pair's biggest project to date. A time-lapse film edited by them of the IBM pavilion in action will also be on display, along with film presentations of the concept to IBM executives and staff.
In the Cold War era, other Eames films such as the 2000-image Glimpses of the USA montage for the American National Exhibition of 1959 in Moscow provided important visions of America for both domestic and foreign audiences.
The Barbican exhibition will also feature films by the Eameses on their own, hugely influential, Case Study House #8. Completed in 1949, this steel-framed house has been widely celebrated for what the critic Reyner Banham called its 'relaxed and unassuming modernism'.
Both versions of Powers of Ten will be screened – an innovative film from 1968 and 1977 that visualised the importance of scale by zooming out from a reclining man to the edge of the universe and back in again to the scale of a carbon atom.
'People are only just waking up to how interesting their films were,' says Ince.
There are also examples of the triple slide screen presentations they frequently used to communicate their ideas, including the Tanks presentation for the visitor experience of the unrealised marine biology study building designed by KRJDA in Washington DC, described by Ince as 'visually sumptuous but very meaningful and poignant'.
Ince has sought to convey the Eames' great attention to art directing and how their own work was presented including sets and tableaux created for photoshoots. Highlights include the recreation of 'An Exhibition For Modern Living', a room they designed in 1949 for the Detroit Institute of Arts, and a model of Toy House 4, a furnished doll's house based on their own influential home.
'This foregrounds Ray. She was the ultimate propmaster and stylist,' says Ince. 'Their attitude towards living wasn't about creating the pinnacle of modernism, but enjoying the richness of the material world.'
As well as examples of their work, the exhibition and book explore the world of the Eameses, their friends, their interests and their wide-ranging influence. All sorts of luminaries make an appearance from long-term friends Tony Benn MP and film director Billy Wilder, through to leading designers of the times including George Nelson, Buckminster Fuller, Isamu Noguchi, Alexander Girard, and in the UK, Alison and Peter Smithson, who edited a special Eames celebration issue of Architectural Design in 1966. The Smithson family has loaned an Eames chair owned by Alison and Peter for the exhibition.
Perhaps the last word should go to Banham; an excerpt of his film 'Banham Loves Los Angeles' showing him visiting Case Study House #8 is included in the show.
When writing about the Case Study houses, he described the Eames work as 'open-minded, experimental, hands-on, improvisatory, quirky' and a 'much-needed antidote to the cut-and-dried recipes of routine modernism then being taught in the schools.'
This new exhibition on the influential duo looks set to handsomely convey these qualities by turning a purposely-wide lens on their rich body of work.
---
The World of Charles and Ray Eames, 21 October 2015 – 14 February 2016, Barbican Art Gallery, London, UK. The accompanying catalogue is published by Thames & Hudson, £45
---