More than just the king of pop art, Eduardo Paolozzi's infinite variety gets a full airing in Whitechapel's show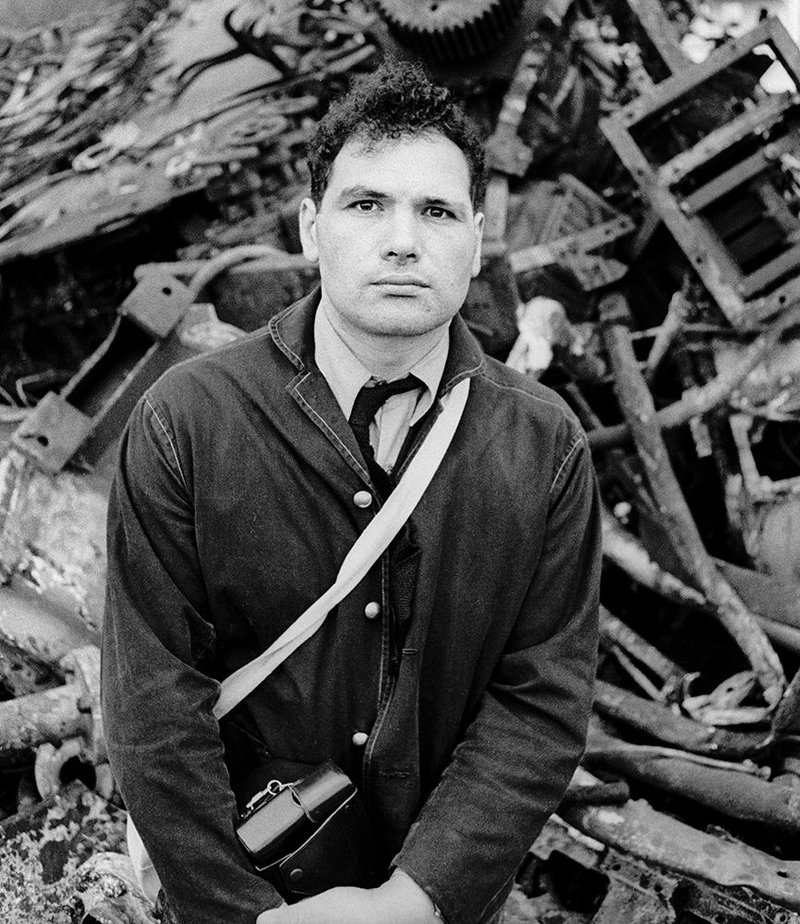 Eduardo Paolozzi at the Shipbreakers' Yard, Hamburg c. 1962.

Credit: Ulrich Mack
There's a famous photograph of Eduardo Paolozzi, taken with Alison and Peter Smithson and Nigel Henderson and used on the poster for the 1956 exhibition This is Tomorrow. In it, the artist looms large over the others as they pose dourly in a mundane London street.
What a contrast with the sheer exuberance of much of Paolozzi's work, from his Pop Art collages in the 1940s and 50s to later larger scale public work such as the Tottenham Court Road tube station mosaics. All this, and much more (including three heads of Richard Rogers), are to be found in the Whitechapel Gallery's exhilarating new retrospective on Paolozzi's hard-to-define oeuvre.
The son of Italian immigrant Edinburgh ice-cream makers, Paolozzi (1924-2005) studied in London and lived briefly in Paris before settling back in the capital. Here he experimented with his innovative collage works with their lively combinations of imagery from adverts for everything from baked beans to cars, to science fiction magazines and pin-ups of the day. The exhibition makes a good case for establishing Paolozzi as the godfather of Pop Art, a genre that the artist came to parody in later work.
What a shame there's no original footage of his famous Bunk! lecture at the Institute of Contemporary Arts in 1952, in which he bombarded his scant audience with these eclectic images without any commentary except, according to Henderson, the occasional grunts, sighs and heavy breathing. We learn how his work questioned issues of authorship and experimented with different methods of presentation. For the seminal This is Tomorrow group show, he collaborated with the Smithsons and Nigel Henderson to create Patio and Pavilion, a semi enclosed structure filled with found objects.
Paolozzi's 1950s print designs – created with Henderson for their design and home furnishings company Hammer Prints – are a revelation, ranging from abstract townscapes to dense Pollock-esque swirls.
He later published limited edition collections of images such as General Dynamic F.U.N. (1965-70), an experimental portfolio packaged in a bespoke Perspex case with an introduction by his friend and novelist J G Ballard. This was intended as an interactive artwork where the viewer took out the sheets to create their own arrangements and connections between the often baffling images, and generally 'marvel at their variety and weirdness', according to exhibition curator Daniel F Herrmann.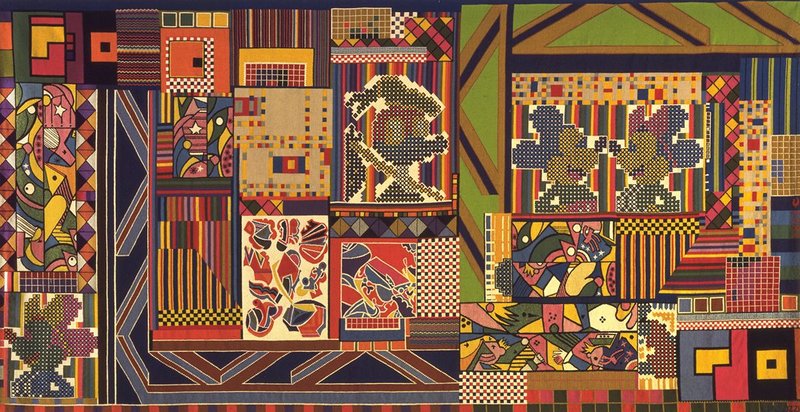 Eduardo Paolozzi, The Whitworth Tapestry, 1967, wool, linen and terylene
, courtesy The Whitworth, University of Manchester.

Credit: Trustees of the Paolozzi Foundation, licensed by DACS
By this time Paolozzi was producing vibrant and intricate abstract screenprints, a dizzying play of colour and form that veered towards the psychedelic by the end of the decade. Titles such as The Tortured Life of an Influential Modern Philosopher and Wittgenstein at the Cinema Admires Betty Grable hint at the meanings behind the work but primarily these can be enjoyed for the joy of their composition. It was a style that worked well across various media and scales – from tapestries to Lanvin fashions, from public art to Wedgwood pottery, all of which make an appearance in the show.
Paolozzi became best known for his bronzes, and these are well represented throughout the exhibition from St Sebastian (1957), cast from collaged wax-plates to create crusted surfaces of technological components, to more architectonic pieces such as Tyrannical Tower Crowned with Thorns of Violence (1961). We also see the influence of his interest in robots and science fiction in the part-human, part- machine aesthetic that he explores in work for portraits, their modified heads prompting associations with Cyborg-like baddies out of Dr Who.
While Paolozzi kept working until the end of the century, it is his intense period of diverse creativity in the 50s and 60s that most captivates in this exhibition. I don't feel we ever really get to know Paolozzi the man – but his vivid work speaks volumes.
Eduardo Paolozzi, until 14 May 2017, Whitechapel Gallery, 77-82 Whitechapel High Street, London E1 7QX
---