There's time to pause at The Higgins gallery's Architectural Elements exhibition of Eric Ravilious' associate Edward Bawden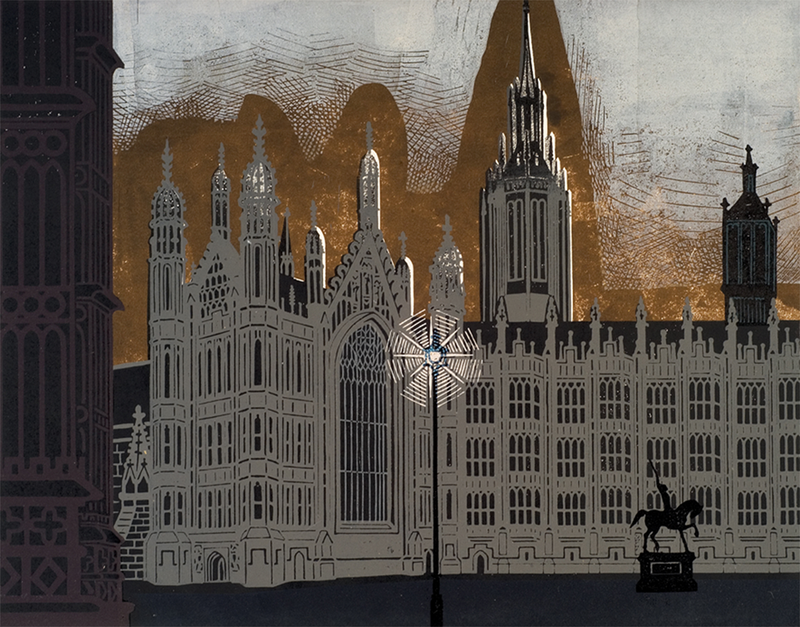 Edward Bawden (1903—1989) Nine London Monuments - Palace of Westminster, 1966. ©The Edward Bawden Estate. Courtesy of the Trustees of the Cecil Higgins Art Gallery (The Higgins Bedford).
It was a quiet…incredibly quiet…midweek afternoon that I dropped in on the Higgins gallery, Bedford. I found myself strangely alone in a truly interesting museum; converted by Buttress Architects from philanthropist Cecil Higgins' former brewery and house in 2010 to unite the collection in a new home.
I wandered in spectre-like solitude through the 'Dreams and Nightmares' exhibition – with paintings by William Blake, Picasso, Turner, Chagall and numerous pre-Raphaelites –until I reached the upstairs. Here a smaller gallery rotates the works of Edward Bawden (1903–1989), the prominent war artist, printmaker, illustrator, designer, and friend of Eric Ravilious, who, in the decade leading up to his death, donated over 3000 pieces to the museum.
The current exhibition, running until January 2021, is dedicated to Bawden's architectural artwork, and what it lacks in size it makes up for in number and range of works. For much of his career, Bawden worked as a commercial artist for Shell, Chubb, NatWest Bank, Fortnum and Mason, the BBC and others. His output includes press advertising, book jackets, linocuts, ceramics, wallpaper, a mural (for a factory in Battersea), and even the tiles at Victoria and Tottenham Hale underground stations. Bawden's style remains distinctive across this wide range; it betrays a keen eye for unusual details, an interest in bold pattern, and considerable wit. It is not surprising that architecture – with its repeated geometries, textures and intricacies (not to mention being a source of satire) – should capture his attention.
One largescale linocut (1966) shows the Palace of Westminster in a dark, early dawn setting. The facade's intricate details are illuminated by a street-lamp, like a negative, against which the statue of Richard the Lionheart cuts a lonely silhouette in a deserted scene. I probably looked like that through the door panel.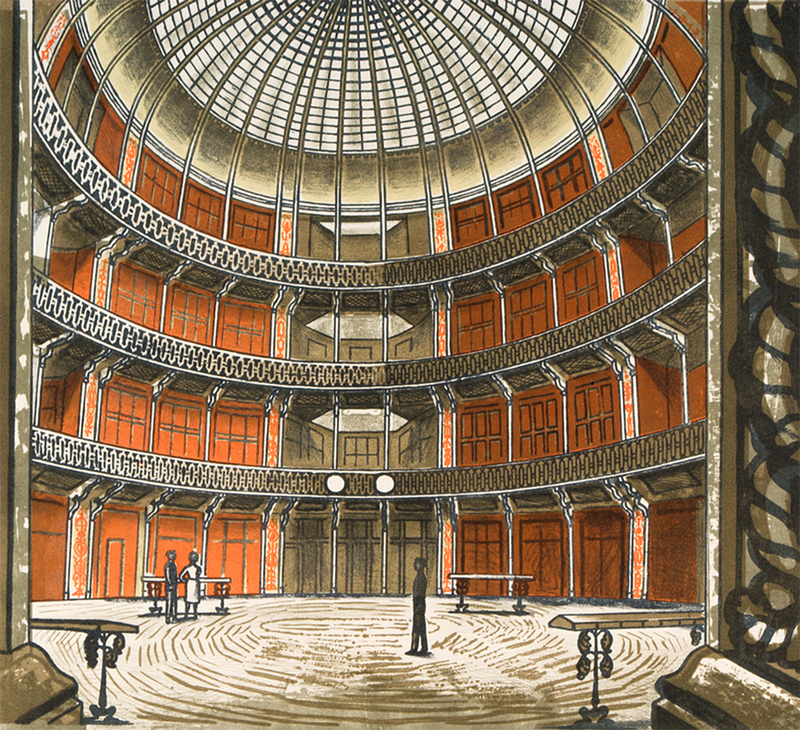 Edward Bawden (1903—1989) The Coal Exchange, 1963. ©The Edward Bawden Estate. Courtesy of the Trustees of the Cecil Higgins Art Gallery (The Higgins Bedford).
Other linocuts are cropped to frame unexpected architectural elements; Worstead Church, Norfolk (also 1966) for instance is heavily textured, drawing attention to the patterns in brick, stonework and flint walling. A poster designed for London Transport (1952) collates architectural details recognisable only to the most observant. Although St Mary le Bow, St Paul's, Tower Bridge and the Monument are all familiar, the more obscure components (an architrave of the Armourer's hall for instance) piqued sufficient interest that some commuters wrote to London Transport asking for help with identification. In a lithograph of the Coal Exchange (1963), Bawden uses a low vantage point to maximise the monumental impact of the rotunda and galleries. Despite being one of the earliest examples of cast iron construction in the world, the structure was demolished soon afterwards to accommodate a road; the print captures the building at a rare moment of emptiness.
Bawden's carefully penned line drawings share this fixation with the less obvious. In a leaflet about Stratford upon Avon, he eschews nostalgic Tudor houses in favour of Elizabeth Scott's Shakespeare Memorial Theatre on the River Avon (1932), the first major building in England to be built by a female architect.
A series of newspaper adverts for Chubb (1956) match humorous fictional anecdotes with imaginary architecture. These images are characteristically mischievous, bordering on parody. One reads: 'The offices of Artic & Solent Steamship Co. were designed by a fanatical marine architect. If the resulting illusion, of a liner sailing majestically between two bus-laden streets, is sometimes macabre, at least it is unforgettable'. The ship-shaped building, on a City intersection, is uncannily prescient of James Stirling's No1 Poultry (1997).
Another Chubb advert tells of a man who 'built a house with a flat roof with windows in unconventional places…in open defiance of planning authorities.' The fantastical structure genuinely resembles Zaha Hadid's Capital Hill Residence (Russia, completed 2019). Such commissions allowed Bawden's imagination to run riot, and it evidently ran in the direction of…the future.
I enjoyed this exhibition. It was little, but it was free. The solitary nature of my trip was baffling (and hopefully anomalous), as the Higgins clearly has a large number of high-quality and unusual pieces. Many of these relate to the history of design, including whole rooms of furniture by Gothic-revivalists Augustus Pugin and William Burges. If you've been jostled once too often at the BM or V&A, perhaps this undeservedly quiet museum is the place for you.
But back to Bawden. On the wall is a quote, saying: 'I only worked in advertising to make money…I like to have an inward laugh at what I'm doing'. I like this attitude.
Edward Bawden: Architectural Elements, until 24 January 2021 at The Higgins, Bedford