Historian Elain Harwood's new book Brutalist Britain presents a wide-ranging survey of architecture from the 1960s and 70s. Here she selects some of her favourite examples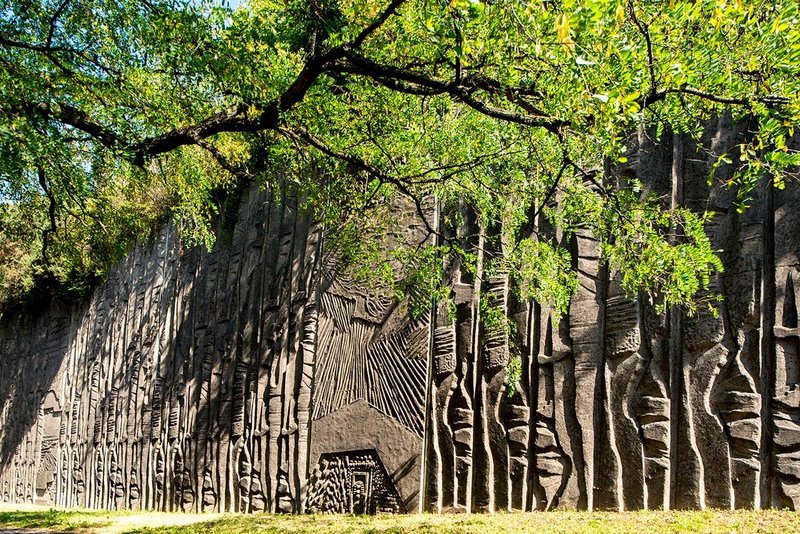 'Great Wall of Kidderminster' – a grade-II-listed sculpture by William Mitchell incorporated into the retaining wall of a new ring road, 1972-3.

Credit: Elain Harwood
A book on brutalism seemed a natural next step from a book on mid-century modernism, just as that had flowed from Art Deco which in turn came from post-modernism. That's not a logical order, but the links and contrasts are worth exploring. Explore was the operative word, for with foreign travel restricted in 2021 I put my bicycle on a train and went to see what was still out there. There was William Mitchell's powerful mural on a Kidderminster by-pass, or James Stirling's work in St Andrews which I'd only read about, and I could put old friends like Harlow's ground-breaking Bishopsfield in context. I was particularly intrigued by the network of new theatres across Wales, including Theatr Ardudwy at Harlech, now being restored. Seeing so many 1960s-70s buildings in a short time made me appreciate their complex planning and rich textures, and that there are more of greater quality than I'd realised.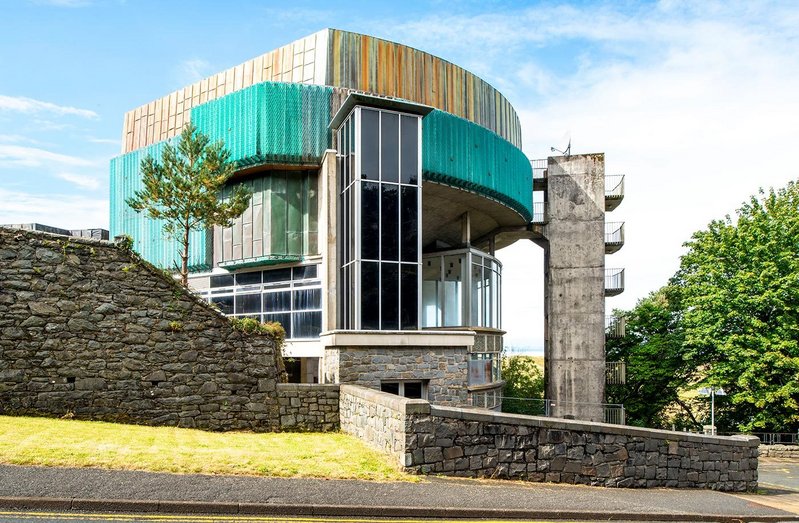 Theatr Ardudwy, Harlech; 1973-8 by Gerald Latter of Colwyn Foulkes & Partners.

Credit: Elain Harwood
Theatr Ardudwy, Coleg Harlech, St David's Hill, Harlech, Wales
1973-8, Gerald Latter of Colwyn Foulkes & Partners
Listed grade II*
Coleg Harlech was the 'college of the second chance', a residential centre for mature students founded in 1927 out of the Workers' Education Association. Thomas Jones, private secretary to Lloyd George, secured Plas Wernfawr, a house by the Arts & Crafts architect George Walton, to which Griffith Morris later added a library in 1938. In 1965 Thomas Jeffreys-Jones restructured the academic programme, introducing a two-year diploma course for students that was the college's greatest achievement. In 1968 Ralph Colwyn Foulkes built an 11-storey tower (linked to the hillside at its sixth-floor level) with 100 study bedrooms, only for Plas Wernfawr's great hall to burn down the same year. In its stead, Gerald Latter designed a 260-seat theatre that doubled as a community arts centre, which presented a mixture of local and professional drama productions as well as film shows.
The theatre's aesthetic is as tough as that of the castle that sits on the nearby crag, dominating the coast, and it is similarly vertiginous. Its stepped auditorium, an inverted cone, rises behind a concrete frame above a glazed foyer and offices, with projecting staircases treated separately. The interior, by contrast, is vibrantly colourful down to its terrazzo tiles. Coleg Harlech closed in 2017 and the site was sold on twice with (so far) vain promises that the theatre will reopen, though work is going on. However, the future for the totally derelict residential tower seems bleak.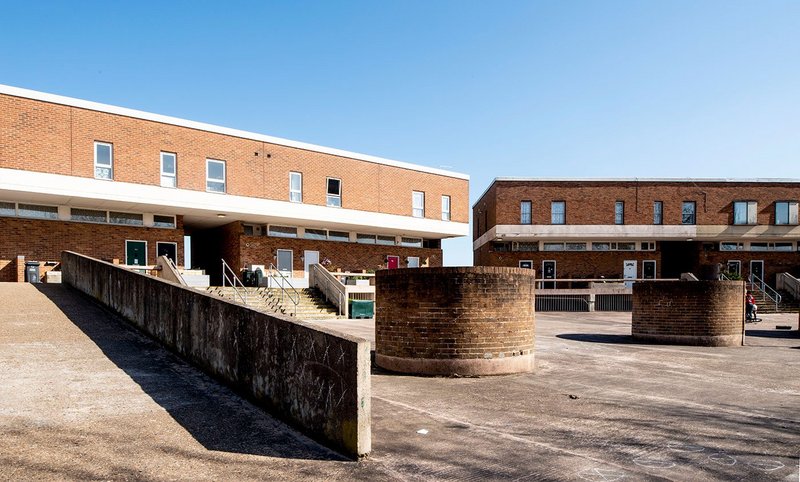 Bishopsfield, Harlow; houses and flats of 1963-6 by Michael Neylan of Neylan and Ungless.

Credit: Elain Harwood
Bishopsfield, Harlow
1963-6, Michael Neylan of Neylan & Ungless
The new towns struggled to create an urban character since most incomers wanted only two-storey houses and gardens. In 1960, Harlow held a competition for an alternative solution, won by Michael Neylan with a scheme of flats and single-storey patio houses, where the wall of one house shields the garden of its neighbour. He exploited a low hill by building a crescent of flats over garaging at the top, from which ribbons of houses step down in narrow alleyways that earned the development its nickname of 'The Casbah'. The layout saved on roads and separated traffic from pedestrians, with wedges of grassland between the housing groups.
A smaller development followed a similar pattern at Charters Cross next door. Neylan gave his inspiration as the crescents of Kensington, but the materials are brick and concrete rather than stucco and each unit has an open space.
The aggressive design made what Neylan considered 'a recognisable and definite place [which] from the inside has a comprehensible structure'. The interiors of the houses are delightful; they are 'L'-shaped around rear gardens with open plan living areas under high monopitch roofs. The influence of Jørn Utzon's patio housing in Denmark and Sweden is evident although such plans were widely 'in the air', as Neylan explained, citing Chamberlin, Powell and Bon's contemporary scheme at Vanbrugh Park, Greenwich. Two small blocks, one of bedsits, were demolished for a new road and conventional flats in 1994, when Florian Beigel carried out some refurbishment, but the scheme remains otherwise little altered.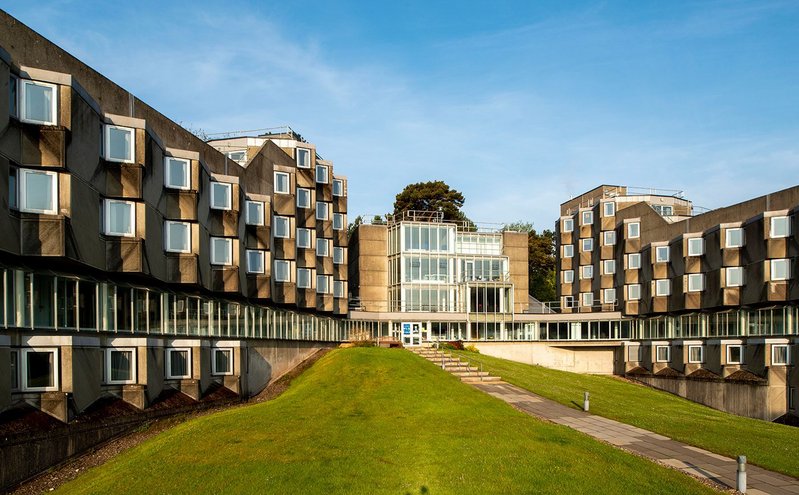 Andrew Melville Hall, St Andrews, Fife; student hall of residence, 1966-8 by James Stirling.

Credit: Elain Harwood
Andrew Melville Hall, North Haugh, St Andrews, Fife
1966-8, James Stirling
Listed grade A
Encouraged to expand, St Andrew's University needed halls of residence to be built quickly, and commissioned James Stirling after an academic committee visited new university buildings in England. Unusually for Stirling, the client remained a friend – despite problems with leaking windows and poor heating.
Andrew Melville Hall comprises two fingers stretching towards St Andrew's Bay, angled to give each study-bedroom a view of the hills beyond. Initial plans for rectangular rooms and cranked corridors gave way to a straight spine and cranked rooms. It was the first in a sequence of very linear buildings by Stirling, and the first to be prefabricated. He claimed there were neither local contractors nor bricks, so concrete panels were manufactured in Edinburgh. Their diagonal ribbing was inspired by the Leicester Engineering Building, where in-situ surfaces were ribbed to take tiles; here it controlled staining. Three-inch margins permitted easy handling and crisp corners. Had the six more fingers planned by Stirling been built there might have been economies in scale but the excessive cost of the first pair ensured this did not happen.
The site was a former cliff face stranded when the sea receded. The main entrance was originally at the rear (altered in a careful restoration of 2018) where a path led into town. Thence study bedrooms spill down the slope as well as up staircases from a promenade the length of the building at this level. At night this illuminated deck enforces the impression of an ocean liner moored at harbour.
Brutalist Britain by Elain Harwood. Batsford, 304pp, £25