How one eye-opening exhibition room at the Saatchi Gallery gave Eleanor Young a sudden perspicacious view of the blurry world of design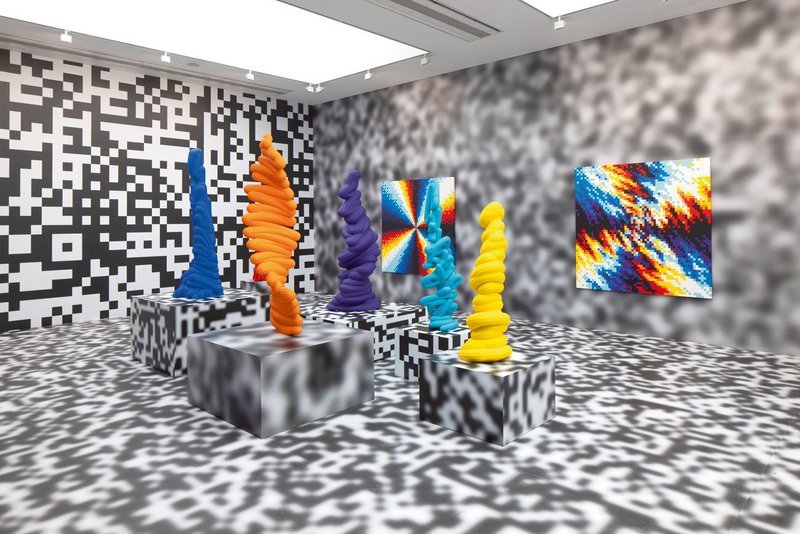 Felipe Pantone's installation was on show at the Saatchi Gallery's Beyond the Streets.

Credit: Stephanie Wunderlich Photo: Saatchi Gallery
This artist's room made me doubt my eyesight. And it made me think. It was like looking out of the side of my glasses, near objects blurry and unfocused, others crystal clear. The juxtaposition of black and white geometries with bright colour has something of the old TV test card about it. But we are generations of technologies beyond that, past the test cards replacement by CEEFAX, into the shapes of QR codes which send us off into the disorientating information jungle that is the web.
The blurry graphics are squintingly deliberate, you see them in many of Felipe Pantone's works. But you see a version of this same disjunction in many buildings, places of sharp design focus, places where that has blurred. It is about choosing battles, fighting for only what is important. Its roots are in contracts and client confidence, personal authority and how much you care. On many projects design focus blurs at the edge of the roof, in others at the loos (if you want to understand a building, to get an idea of its values, then examine the loos).
The easily-lost flash of insight will be the clear spatial focus and a guiding light – generating, connecting, unlocking the rest of the design
The unreal nature of Pantone's room is also a reminder of the way designs are realised, even before the making and construction. The earliest jostling of design ideas, the grappling with the parameters; site, room schedules, ambitions. The easily-lost flash of insight – like Pantone's squirts of colour – that if you can just hold onto it, will be the clear spatial focus and a guiding light generating, connecting, unlocking the rest of the design. The elements that come clear to the process and those that take working at, being revisited again and again.
Pantone's room has the brilliant dysfunctional confusion of M C Escher's work – though perhaps Pantone's QR codes do lead somewhere, unlike Escher's staircases. It has an all-absorbing, headache-inducing resonance with artist Bridget Riley's work, your brain cannot compute. Follow the train of thought to more architectural plays on space, distance and reflection – where scale and distance are confused to suggest something is far grander than it is, with follies like Bath's Sham Castle. Or the complex reflections in the tiny courtyards of Sanei Hopkins' Secret Garden in North London that take time to unpick. Or the layers of paintings in the Picture Room at the Sir John Soane Museum.
All this from one room in an exhibition. It is a reminder that a stimulus beyond our own discipline/ profession/ obsession fires up a different set of neural pathways. We need to get out more…