The Design Museum exhibition of machine powered music, its places and culture reveals the significance of the movement in all its glory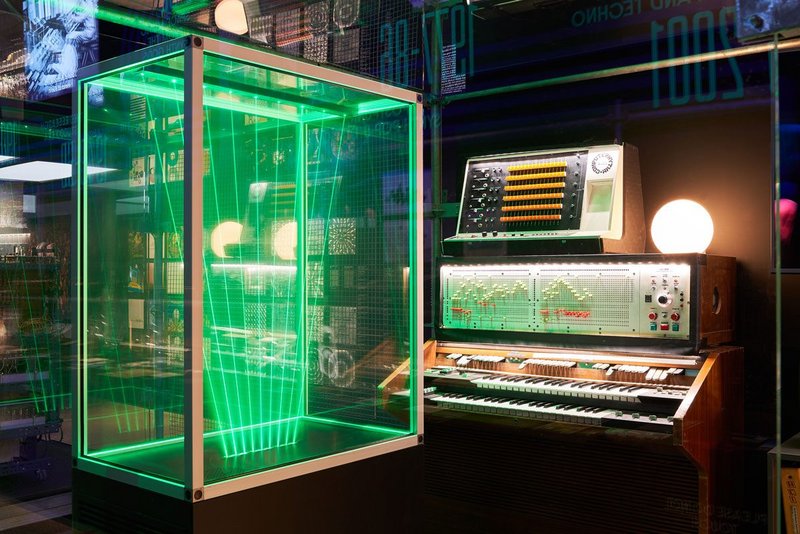 Jean-Michel Jarre imaginary studio
A longing for darkened rooms, bodies moving together in a kind of spiritual hedonism, and immersion in crystal-clear electronic beats is but one aspect of pre-Covid nostalgia that underpins this intriguing – and intriguingly kinetic – pan-generational survey of machine-powered music, its associated cultures of place, and its accompanying, evolving aesthetic. Is the concept of 'dance music all night long' now consigned to history, to museum-based assessment through a curatorial gaze only? Or do the clandestine rural raves currently decried as a health menace re-engage a long-buried sense of rebellion centred on gathering in the ephemeral, liminal place of clubs, abandoned warehouses and raves?
Contained in a black-box immersive experience by French practice 1024 Architecture, ELECTRONIC: From Kraftwerk to The Chemical Brothers, was initially curated by Jean-Yves Laloup for the Musee de la Musique – Philharmonie de Paris and is here adapted for a post-lockdown experience by Design Museum curators Gemma Curtin and Maria McClintock. Beginning with the first rumblings of instruments adapted to produce electric sounds in 1901, the exhibit maintains an ageless exuberance attractive to hardcore synth nerds and club culture aficionados alike. Through glimpses of landmark technology (think Daphne Oram, Robert Moog, the BBC Radiophonics Workshop, and Jean-Michel Jarre's custom-built rigs) and 'rooms' in tribute to spaces in Chicago, Detroit, London, Manchester and Berlin, the immense cultural magnitude of the art form is clear. Navigating these spaces under heavy Covid manners, masked and wired-up, wearing 3D specs, feels anything but isolating: the sensation of being plugged-in serves to underscore the connectivity its proponents always cite as an idealistic outcome of club culture.
First, the spatial: efforts to recreate past and present settings such as Berlin's Berghain, Manchester's Hacienda and Sheffield's Gatecrasher are broadly successful, from the Ben Kelly designs for the Hacienda reconstructed from archived signage and iconography, a 3D immersion in a Kraftwerk concert, to the recreation of a Chemical Brothers festival set complete with belching smoke machines and foam-based costuming by long-time collaborators Smith and Lyall. Most delightfully of all, the electric rain of 1024's kinetic light sculpture sits in a big black box of its very own, accompanied by and reacting to a five-hour DJ set by Laurent Garnier – a journey encompassing the beginnings of modern clubbing at gay house parties such as The Loft, the chart-friendly days of the Second Summer of Love, and latter-day nods to garage and grime (also available as a <LINK> to enjoy at home).
Complementing the history of its music and venues, the curators demonstrate how the aesthetic has permeated high and mainstream culture. High fashion offers the queer, fetishistic contribution of Walter Von Bierendonck, Charles Jeffreys of Loverboy and Raf Simons, now Prada co-creative director, whose work links record-label T-shirts to the house of Dior. Andreas Gursky's wide-scale images of revellers, Jeremy Deller's Acid Brass diagram showing the socio-political connections thrown up by dance music, and Christian Marclay's disc-based Body Mix, evocatively render the intersection with fine contemporary art. Graphic designers – perhaps the first cohort from outside music to integrate the genre with commercial success – are represented here by Designers Republic, Factory's Peter Saville, and Tomato (the practice co-founded by Karl Hyde, better known as one half of Underworld). But the real aficionado – and those seeking representation of Black, LGBT and countercultural impulses – can find acknowledgement in countless examples of 'disposable' ephemera: the club flyers and membership cards promoting early parties in Chicago and Detroit, or release campaigns by an array of artistes from Aphex Twin to Detroit's Underground Resistance.
In these straitened and isolating times, the balm provided to marginalised communities and youth culture via electronica's accidental provision of places to gather hangs over the whole exhibit, with special attention paid to the efforts of authorities to ban at first impulse, and co-opt for profit at the second. At every turning there's a rush of recognition, of potent reminders of the transportive and transformational power of simple, repetitive beats, of times when one nation really was under a groove – and inevitably will be a cultural current in years to come. At ELECTRONIC, you're never just dancing on your own.
ELECTRONIC: From Kraftwerk to The Chemical Brothers, Design Museum London, to 14 February 2021