Public transport art is alive and kicking on London's Elizabeth Line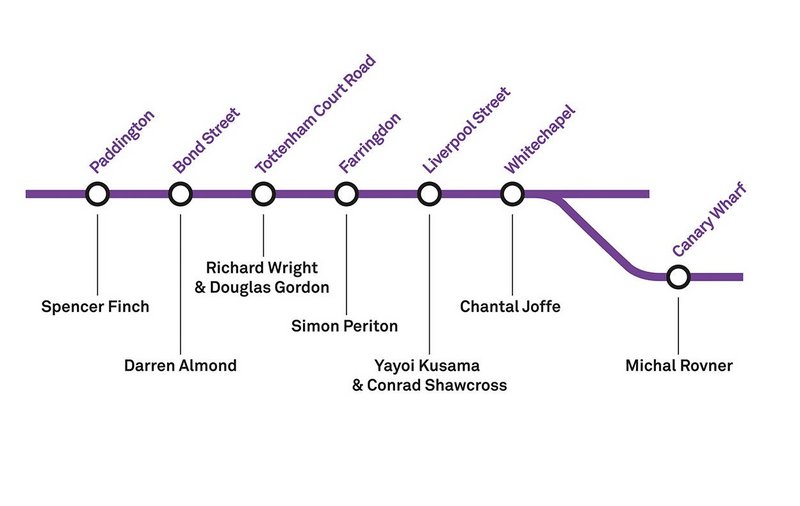 Graphic from Art Capital: Art for the Elizabeth line, Whitechapel Gallery, London, 2018.
The London Underground has long incorporated art to conjure up a sense of place even when deep down at platform level. Eduardo Paolozzi's joyous mosaics at Tottenham Court Road set the scene for the busy West End even before you get there while at Baker Street, the chance to reference Sherlock Holmes in the platform tiling was just far too good to pass up. I've always enjoyed David Gentleman's vivid Medieval figures on the northern line mural at Charing Cross depicting the construction of a cross in memory of Queen Eleanor.
Crossrail's Elizabeth Line is carrying on this tradition with aplomb in what Whitechapel Gallery director Iwona Blazwick describes as the 'biggest and most significant art commissions of our time." Her gallery is not only the venue for an exhibition of art for the new line but has also been involved in commissioning artist Chantal Joffe to create the work for the new Whitechapel station.
So what's in store for us when the new line opens in at the end of the year? It's a real mixed-bag, but I think in a good way – after all, a consistent design language at platform and circulation level should provide enough visual continuity between the different stations to support such diverse artistic responses. Figurative, abstract, sculpture, moving image, painting, illuminations – all are here, some subtly incorporated into the architecture itself as at Paddington, others such as Joffe's large scale portraits at Whitechapel, making an immediate impression on all arriving by train.
Joffe's commission A Sunday Afternoon in Whitechapel promises to be one of the most impactful. A local artist, she researched the project by taking photographs of passers-by outside Whitechapel Station and using these as a basis for abstract portraits made using cut paper. Twenty of these colourful figures are then translated into large-scale images lining the curving platform walls using painted, laser-cut aluminum, encased in glazed cassettes. Joffe's aim was to bring some humanity into the hard, shiny transport environment by reflecting something of the sense of place that is so strong at Whitechapel.
'It's so vivid, and alive, and noisy, and beautiful…the more you look, the more incredible the people become to me,' she said.
I'm very much looking forward to Michal Rovner's commission at Canary Wharf. This large-scale moving image piece imagines a London-esque cityscape with hundreds of figures travelling across at different levels in a relentless movement through the city. Every now and then, a long procession of marching figures speeds up to evoke the idea of a train zooming through the tunnels.
Meanwhile, Darren Almond takes a poetic approach in his commission for Bond Street. Here, created in the style of vintage locomotive boilerplates, are two enigmatic messages: From Under the Glacier as you arrive up the escalator and, as you depart, Reflect From Your Shadow. Another numerical piece evokes the old-fashioned rotating train destination and arrival boards. This is a contrast with Douglas Gordon's neon signs at Tottenham Court Road, which instantly evoke the sleazy glamour of nearby Soho. At the same station, Richard Wright's delicate tracery of geometric and baroque patterns will be created in situ using gold leaf above the escalators of the eastern ticket hall, a painstaking process expected to take eleven weeks.
One of the most ambitious in its scale is Spencer Finch's cloudscape at Paddington. At 120m long, it depicts an array of cloud formations and is digitally printed onto the glazed roof panels at the new station. As passengers arrive and come up to ground level, they will look up and see this 'sky' canopy, the effect varying each time depending on weather and light conditions.
'People can look up and dream, and escape that pressure of arrival and being late,' said Blazwick.
At Farringdon, Simon Periton's piece is also incorporated into the building structure, forming a canopy above the station entrance. The facetted pattern is again a site specific response, inspired by both the jewellery quarter at Hatton Garden and the ornate metalwork of Smithfield's meatmarket, both nearby.
There will be two installations in the public realm outside Liverpool Street station. Conrad Shawcross's dynamic bronze Manifold sculpture promises to be an extraordinary tornado-like piece inspired by sonic waves. This is particularly well presented in the gallery through beautiful drawings and models. Japanese artist Yayoi Kusama, best known for her use of dot patterns and forms, is creating Infinite Accumulation, a sculpture of giant, polished stainless steel balls outside the eastern ticket hall at Broadgate.
Crossrail's art programme falls outside its core funding – instead, the commissions are supported by corporate funding matched by the City of London Corporation.
This exhibition is a tantalizing taster of what's in store, although the scale of the final works is hard to convey in the confines of the gallery despite the use of films that give the architectural context to the commissions. For the time being, we will just have to use our imaginations to understand the varied impressions these pieces will make at the new stations. But it won't be long before we can ride the Elizabeth Line, and see the real things, for ourselves.
---
Art Capital: Art for the Elizabeth line, until 6 May, The Whitechapel Gallery, 77-82 Whitechapel High Street, London E1 7QT