Given the task of creating an installation out of cross laminated tulipwood to mark this month's London Design Festival, dRMM's Alex de Rijke was keen to create something that wasn't just art but was 'useful art'.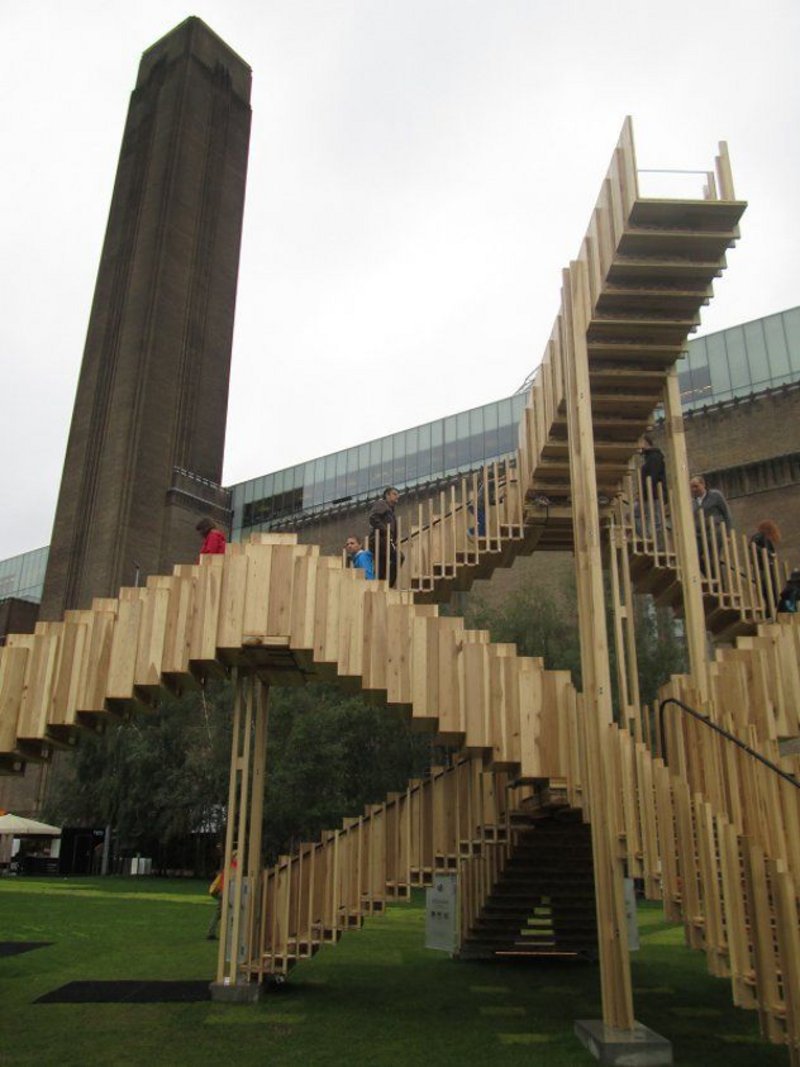 The result is Endless Stair, a collection of 15 interlocking staircases that encourages those who climb it to enjoy the multitude of great views of the Tate Modern location – whether back to the gallery, the Millennium Bridge, or up, down or cross river to the capital's many landmarks. Not only is it something to be seen, but it's somewhere to see out from, as well as being the first time that tulipwood has been used in Cross Laminated Timber form (CLT). And, maybe most importantly, it's a bit of fun.

De Rijke says the stair has a touch of Escher about it, but added that some have found similarities within the set of Bowie's mad 80s fantasy film Labyrinth. I keep expecting the flights to move like the staircase at Hogwarts. They don't, but it's still a pleasing experience, especially if armed with a delighted child or two.

Standing more than 8m tall, the structure, engineered by Arup, is a combination of 1m wide, interconnecting flights. Each flight acts as a beam, with CLT supports where necessary to connect stairs together and transfer load. There are places to stop and chat, although the kids and adults alike I saw swarming over it on its opening weekend were far more interested in getting to the top.

Working with the material and its supplier - the American Hardwood Export Council - has convinced dRMM of its merits including sustainability having previously avoided hardwoods because of the difficulty of establishing a sustainable provenance. De Rijke likes its variegated appearance, and because of its strength, the potential to create slimmer profiles than usually possible with CLT.

Beyond it's time as a LDF installation, Endless Stair is expected to have an afterlife, whether as a whole or in parts, with potential buyers from all over the world expressing an interest even before it had been assembled.

People don't really need a bunch of staircases to enjoy the views from the Tate Modern. But who cares – Endless Stair looks set to become a popular temporary addition to the riverside promenade, and kicks off LDF in style.