Ralph Erskine's humanity shines through all his work, as this exhibition at his Clare Hall, Cambridge, commemorates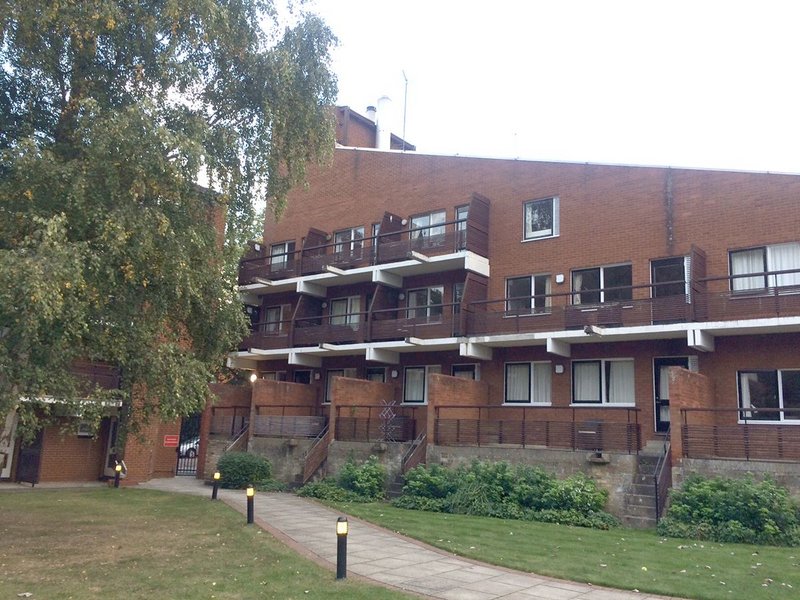 There's a particular intimacy to the experience of Clare Hall, Cambridge as you wander along its Scholar's Walk and Family Walk – narrow brick passageways crossed only by the east/west walkway linking the college garden back to the entrance, common room and refectory. Some might say it's too intimate – a feeling I re-experienced earlier this month at Clare Hall's Ralph Erskine symposium to mark the 50th anniversary of the founding of the postgraduate college alongside a small but informative exhibition. It was as if Erskine, empiricist radical that he was, refused to let the formality of hundreds of years of history get in the way of his fundamental humanist principles.
The college's domesticity is palpable: warm, timber-lined formal spaces suggest an upmarket ski lodge, its passageways to the ground floor flats and upper levels sheltered and understated. As Cambridge's Professor Alan Short explains: 'It completely inverted the norm. It filled the quad instead of lining it, and in that dense collection of spaces for living, working, eating, talking and reading, conjured up the setting for a complete community.' Sure, there was other modern architecture in Oxbridge, a new, Brutalist dialect being spoken on the edges of its medieval quads, but the language was the same, obeying the same formal rules. In that regard, Clare Hall stood apart with its lack of a gatehouse, a quad, or the exuberant space of formal dining. It feels like Erskine was emphasising the quotidian nobility of academic life without conceding to it any of its civic monumentality. Instead, Clare Hall was a hilltop village, but built unceremoniously on the contours of his concrete carpark. Even now, in its flagrant rule-breaking, it still has the power to shock.
But one's man's meat is another man's poison. That understated sensitivity to how people actually lived saw him consulted on unbuilt schemes in Italy. Clare Hall Fellow, Professor Antonello Alici, spoke on his proposals in the 1980s for stitching together post-war damaged parts of ancient Ancona and industrial Florence; some real hilltop town work that demanded a keen understanding of site and context – preoccupations honed during his earlier involvement with TEAM 10. Here it was about reintroducing 'a plurality of functions'. But in typical fashion, it was about approaches and not didactic plans; his caveat to his studies was their need 'to be evaluated on the basis of their social and urban contents' – just like his designs for Byker Wall. Tony McGuirk, ex-BDP CEO and Byker team member, paraphrased Erskine's idiosyncratic line: 'I build houses,' he'd say, 'people make them homes.'
McGuirk outlined his dealings with the strong but vulnerable Byker residents; a process of real, long-term community engagement that resulted in his ground breaking urban housing project. He explained the big formal flourishes that created the embracing north wall or the walls of the stepped terrace housing, painted black or white to take account of the sun. But it was about details too. High level access corridors used by only a few families to engender ownership and passive observation, district heating pipes that doubled as handrails – it was an almost naïve pragmatism. Erskine's HQ was a former undertaker's where he regularly consulted with the community and, when Byker was complete, he named its main block Tom Collins House after the city councillor who'd been his biggest detractor; showing he kept his friends close and his enemies closer. Both acts display the marks of a shrewd, even Machiavellian thinker.
Erskine died in 2005 but it was the recollections of former co-workers Bengt Ahlqvist and Klas Tham that gave the greatest measure of the man, and a flavour of the time in which he worked. They described the three frantic summer weeks they spent in Sweden, moored on his barge cum office 'Verona' on an inlet near Kökar, drawing up the plans for Clare Hall. Working alongside Nelson the parrot, they made copies of drawings by placing the tracing originals on dyeline paper and leaving them on deck in the sun, to be picked up by hydroplane and flown back to Cambridge for submission. You may see one of them in the small exhibition at the college, showing the design's genesis through to completion – along with a model of an interim flat-roofed scheme that was superceded by the signature monopitches. These would have been far too Leslie Martin Cambridge for Erskine, far too 'modern'.
Flat roofs too would have obviated the need for Erskine's huge water hoppers that directed rainfall off the roofs and into his open brick channels – where the Fellows' kids would splash around, until they were paved over for health and safety reasons. I met one resident who said she mourned their passing but who still looks forwards to a downpour: 'With the drumming on the roof and the water cascading noisily down the hoppers; at that moment the building really comes alive.'
Ralph Erskine and the Invention of Clare Hall runs at Clare Hall Cambridge until 10 December. Mon-Fri 9am-5pm