MC Escher is beloved by hippies, teenagers and mathematicians, but everyone marvels at his skillful illusions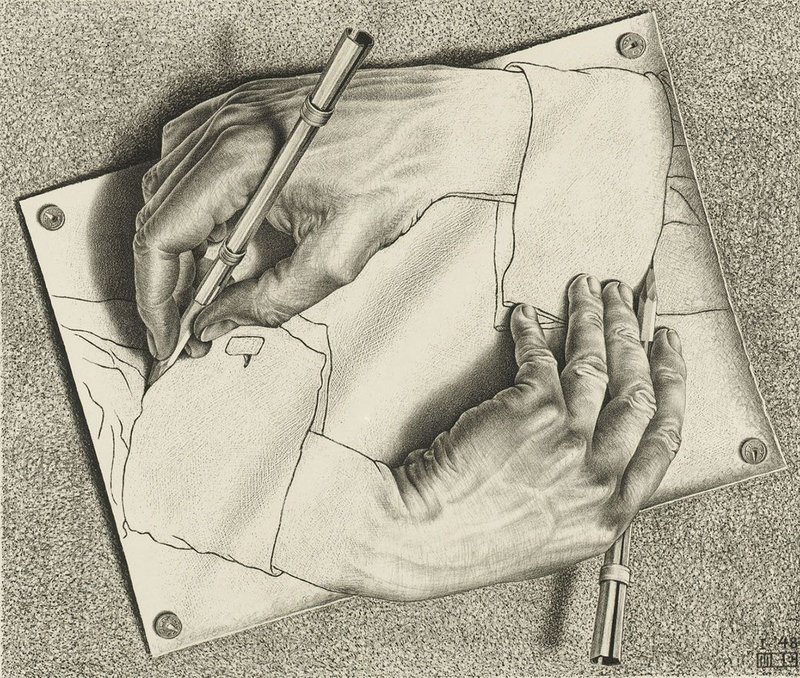 Drawing Hands 1948. The M.C. Escher Company
For a few short weeks MC Escher studied architecture, before his tutors, spotting his amazing drawing skills, convinced his parents that he should be allowed to switch to graphic art. Buildings, often viewed from distorted perspectives, instead became one of the recurring subjects of his instantly recognizable work, as demonstrated in the Dulwich Picture Gallery's fascinating new exhibition The Amazing World of MC Escher.
Architecture's loss was definitely art's gain, with Escher going on to be one of the best-known artists of the 20th century. Yet the art world never quite knew how to respond to his work and did not recognise him as the important artist he was, according to Dulwich Picture Gallery Sackler Director Ian AC Dejardin, maybe because his work was so hard to classify. This new exhibition, organised by the Scottish National Gallery of Modern Art in Edinburgh, is the first major show of his work in the UK. Astonishingly, only one Escher is in a public collection in this country.
'He was a real one-off – the greatest one-off in 20th century art,' said Patrick Elliott, senior curator at the Scottish National Gallery of Modern Art.
Apparently there are three types of people who Escher particularly appeals to: teenagers, mathematicians, and hippies, and it's easy to see why after visiting this exhibition. But while morphing creatures and mind-boggling optical illusions might not be to everyone's taste, his technical artistry at creating the appearance of 3D from 2D in woodcuts, linocuts and lithographs plus his mesmerizing infinity patterns and intricate tessellations can surely be appreciated by one and all.
Maurits Cornelis Escher (1898-1972) was born into a wealthy Dutch family. His self-portraits suggest a serious man with close-set eyes and an intense and piercing stare – it's something of a surprise to learn that Escher enjoyed a good joke. He took his work very seriously and found his considerable success a frustrating distraction. When Mick Jagger and Stanley Kubrick came knocking in the 1960s in the hope of collaborating on an album cover and film respectively, he turned them down – quite possibly he'd never heard of them.
This new exhibition is a chronological presentation from his early work and first experiments in tessellation up to his final piece Snakes (1969). We learn about the many years he spent in Italy, exploring hill-towns and landscapes that must have been completely alien to the flatness of his homeland. The curators suggest this may have been a factor in his fondness for extreme very low or very high perspectives such as his astounding bird's eye view of the Tower of Babel (1928) and the manipulations of proportion and perspective in the Bonifacio, Corsica (1928) woodcut. Particularly impressive are those later works with the staircase motif such as Up and Down (1947) which cleverly plays with the illusion of perspective. House of Stairs (1951) and Relativity (1953) are particularly bewildering in their manipulation of upwards and downwards perspectives.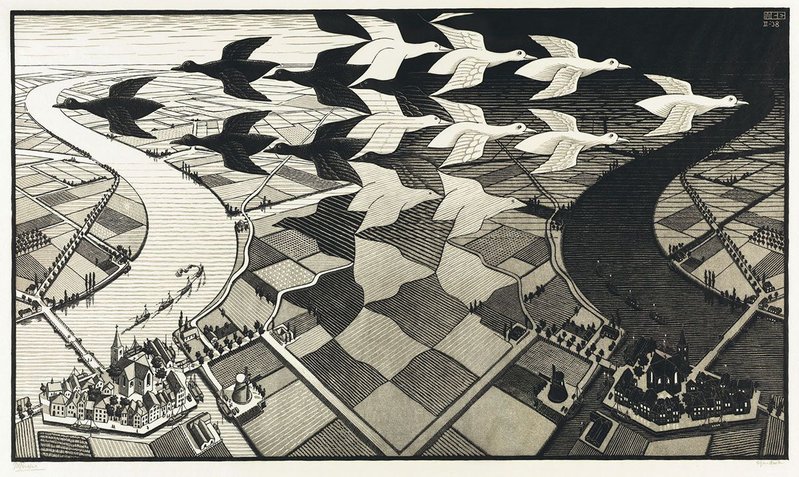 Day and Night 1938.

Credit: The M.C. Escher Company
The exhibition also takes in Escher's interest in Islamic tiling, which he encountered on visits to Alhambra in Granada, Spain, and in crystallography, and explores their considerable influence on his work. Many works are widely known – I once had an impossible jigsaw puzzle of his lithograph Reptiles (1943), which features a series of lizards transforming from 2D to 3D and marching in a circle before changing back to 2D and beginning the circuit again. In Day and Night (1938) two flocks of geese emerge from a chequeboard of fields and fly in opposite directions over the same landscape, one in white one in black. Then there's the wonderful illusion of Drawing Hands (1948), depicting a drawing of a hand seemingly evolving into a real hand that's drawing another hand, that's drawing the first hand… one of his many 'circular' designs. You could gaze at them forever wondering how he did it.
So did Escher make the right choice in choosing art over architecture? Judging from the continued appeal of the work celebrated in this long overdue exhibition, the answer must surely be yes. But I'd have loved to have seen his buildings all the same.
The Amazing World of MC Escher, until 17 January 2016, Dulwich Picture Gallery, Gallery Road London
---