Morley College hosts a celebration of the storytelling skills of the prolific artist Edward Bawden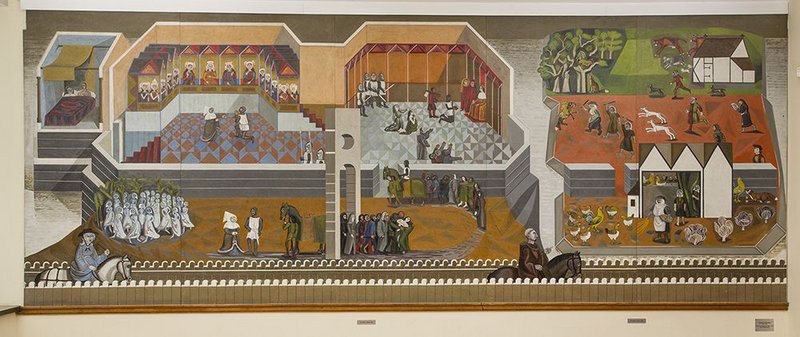 Edward Bawden, section of Canterbury Tales murals, 1957, still visible in Morley College refectory
It's fitting that Morley College should be the venue for a rare show on the quirky work of Edward Bawden (1903–1989), the prolific illustrator, graphic artist and painter.
Back in 1930, Bawden and his nowadays rather better-known contemporary Eric Ravilious were both employed by Morley College in London to create light-hearted murals on different walls of the tea room. After the building was bombed, Bawden returned to the adult education college to complete another mural, this time on the theme of the Canterbury Tales.
Like his friend Ravilious, Bawden turned his hand to a wide variety of graphic and illustrative work from advertising to murals. This new exhibition, the first since 1989, concentrates on his powers as a storyteller, and includes posters, book illustrations and covers and murals. According to the show's co-curator, architecture and design historian Alan Powers, Bawden's work had a style that was completely new at the time – informed by Picasso and Modernism but also funny and sometimes grotesque with slightly cruel parodies and a penchant for the disastrous.
'It was totally different to what anyone else was doing. It was a style that became normalised,' he says, adding that the 1920s (when Bawden enjoyed early success) were a very fertile period for those designing for print.
'Bawden understood printing techniques and how to work with a limited number of colours, and how to relate a drawing to a piece of text.'
Power adds that he also had a very good historical sense of buildings and had links with the architectural world – in particular the architect David Medd – and JM Richards, legendary editor of the Architectural Review for whom he contributed illustrative headings in the 1950s. Bawden incorporated distinctive buildings into his artwork for the Chubb lock company, and his skill at depicting illustrated cityscapes is evident in the mural of Scarborough displayed in the exhibition. Another Scarborough exhibit is a peepshow commissioned by a hotelier, which is being shown outside the town for the first time.
Although the 1930s were probably his heyday, Bawden enjoyed considerable post-war success in the 1950s and taught extensively, most notably at the Royal College of Art. While Ravilious's work has become highly collectable, Bawden's is considerably less commercially valued. This show, which marks both the 125th anniversary of the college and the 25th anniversary of Bawden's death, should help in some measure to raise the profile of a singular and prolific talent.
Edward Bawden Storyteller, 4-28 November, Morley Gallery, 61 Westminster Bridge Road, London
---