Only fundamental change in our education and practice will equip us to make any real impact on climate change. This book identifies the starting points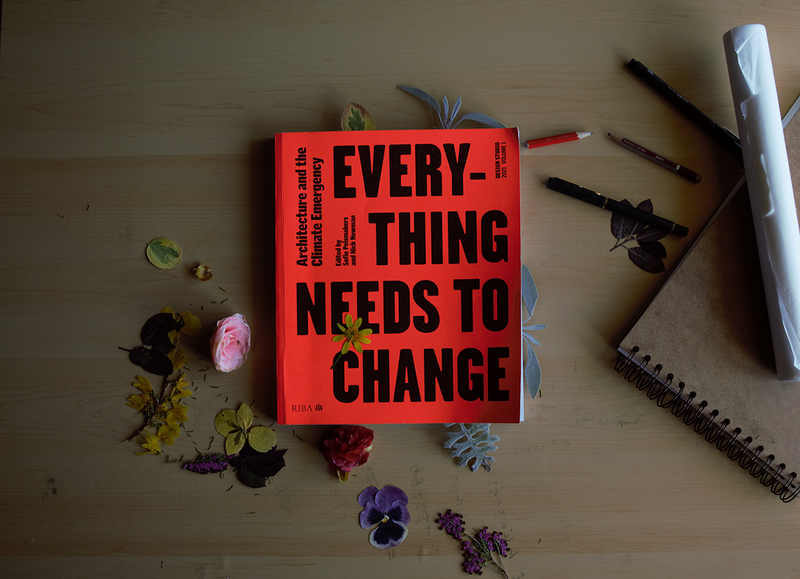 Everything Needs to Change

Credit: Sarah Alrazak
Diverse projects and perspectives from around the world demonstrate dynamic and sustainable architectural thinking in the first volume of Design Studio 2021 – Everything Needs to Change: Architecture and the Climate Emergency. The book prompts architects and architectural students to join in, empowering designers at all stages of study to position themselves in their architectural projects in the midst of the climate emergency.
Editors Sofie Pelsmakers and Nick Newman incorporate the perspectives of multiple architectural thinkers, designers and practitioners in three sections: articles, profiles and case studies. Each section highlights the challenges and layered relationships of the climate emergency with design, to tackle it better and faster than we do now.
The book's very presentation emphasises the importance of integrating sustainability into the design process. Its environmental decisions are specified on the first page, where it outlines the efforts taken to print it on the first carbon neutral printer in the world, with eco-friendly vegetable-based inks and recycled paper. As a result it is also a more comfortable item to carry on commutes to university and the workplace.
This presentation gives the book a strong first impression. Pelsmakers and Newman's urgent tone is effectively expressed through the intense cover colours, and the bold title that was inspired by environmental activist Greta Thunberg. The title spans the front cover, resembling a protest banner.
Pelsmakers and Newman give students and architects alike a refreshing look at sustainable design. Appealing to readers to explore sustainability through both a scientific and social lens, the editors constantly remind designers not only of the value of their individuality but also how design can influence society. Tom Bennett's Eight Steps Towards Architectural Activism, in Movement Building: Activism in an Age of Crisis, acknowledges that architecture has been and will continue to be political.
I was most engaged with the inspiring ideas regarding social sustainability – for example dRMM founding director Alex de Rijke's Radical Sustainable Architecture, which discussed a retrofit design that considerately addressed the prejudice attached to structures and community at Kingsdale School, London.
Coexistence with species through design is explored in The Polyphonic City, an ethical project by masters students from Sheffield School of Architecture presented in Hope in the Burning World by Kasia Nawratek. The project based in Sheffield addresses the significance of observing the ecosystems we unconsciously are connected to on our sites. The students' design process includes a 'feminist methodology of care' to approach a considerate connection to non-human and human users of the designed spaces.
The case studies actively respond to climate change from different angles. Anyana Zimmermann and Fabián Rodríguez Izquierdo's Adaptation Out of Necessity investigates Cuba's progressive strategies to face the increase in natural disasters –­ for instance, treating the damage to people's mental health alongside emergency evacuation procedures. Zimmermann's MA thesis, Shield & Shelter, delves into 'disaster-resilient architecture' that 'bends rather than breaks' to mitigate environmental loss and the mental strain of losing one's sense of belonging after a hurricane.
Appropriately placed in the centre of the book is a discussion on how architectural education in Britain is itself in crisis, and how if revolutionised it could stimulate climate recovery immensely. In Transforming Education in a Climate Emergency, Architects Climate Action Network (ACAN) boldly highlights insufficient action in the academic curriculum to 'normalise climate literacy and carbon-neutral design' for future generations of architects. ACAN stresses the powerful role of students as a collective force to change how we are equipped to resolve environmental design challenges when we are practitioners. This is important because modules that do not require assimilation of sustainability studies allow environmental design decisions to become afterthoughts. As Elizabeth Donovan and her co-authors explain in Architectural Learning for a Sustainable Future, relying on typical sustainable solutions does not develop critical minds in students.
Citations and a recommended reading list at the end of the book further encourage the exchange of ideas, understandings, and unique perspectives beyond its pages.
Overall, Pelsmakers and Newman call for change in the architectural industry and education with a serious and imperative tone – but they equally encourage designers to make change through creative experiments and thought-provoking collaborations during their sustainable conscious design process.