DOTY exhibits take on the current and political issues of today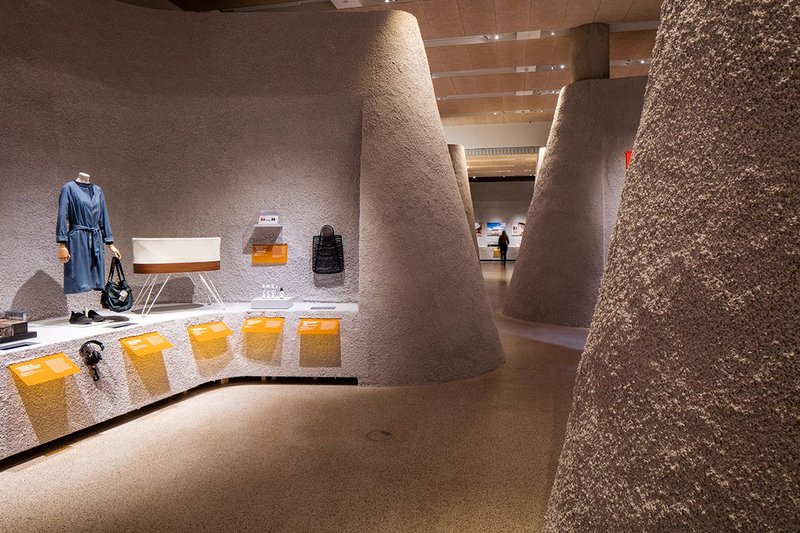 Carmody Groarke used recycled newspaper sprayed insulation to form the backdrop for the Beazley Designs of the Year exhibition.

Credit: Luke Hayes
Always stimulating, the new Beazley Designs of the Year exhibition packs more of a political punch this year. Given these dark times, perhaps it should be hardly surprising that the Design Museum's latest annual review of cutting-edge design takes in refugee-related design projects, national identity, US protest design, and pre and post Brexit referendum graphic communication.
Carmody Groarke's exhibition design does a great job of lending visual cohesion to such a disparate group of exhibits, which range across all design disciplines from architecture to fashion. The setting is created out of cocooning walls of recycled newspaper sprayed insulation, which forms a tactile yet neutral backdrop to the 62 exhibits.
In a short film marking the 10th anniversary of the awards, Design Museum co-director Deyan Sudjic reflects a little ruefully on the first iPhone failing to win the DOTY award in 2008. But this exhibition has always been about far more than spotting the big hits. Where it scores is its ability to showcase a global range of stimulating designs that tackle the pressing concerns of the day through innovative technology and design. As the exhibition points out, most items featured are developed by independent design studios, many speculative rather than commercial, although big names such as Google are also investing in experimental design projects.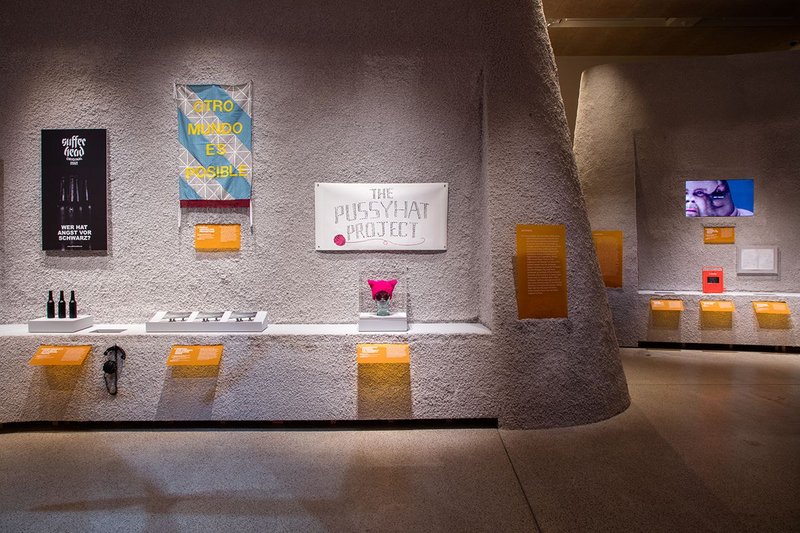 Protest-related exhibits include the PussyHat Project (centre) with the Protest Banner Lending Library shown to the left.

Credit: Luke Hayes
The results can be both uplifting and challenging, and this year's crop is no exception, kicking off the exhibition with the arresting sight of Graham, an interactive sculpture that demonstrates what form a human body would need to take to survive a car crash.
The political and humanitarian content is strong. There are several refugee-related projects relating to both during and after the migrant journey, including a search and rescue drone for those refugees attempting to cross the Mediterranean, and the Refugee Text messaging service. At Calais, architect Gráinne Hassett led a project to build community infrastructure (now demolished) in the Calais Jungle camp. In the poignant Weltstadt Refugees' Memories and Futures as Models, refugees from African and Middle East created models of the lost spaces and buildings of their homeland.
Donald Trump's presidency has prompted a wave of activism in America, and the exhibition includes two related items. The Protest Banner Lending Library was instigated by artist Aram Han Sifuentes to help people gain the skills to make their own protest banners. It's good to see the inclusion of the bright pink Pussyhat, worn by women's rights marchers in demonstrations the day after Trump's inauguration.
Back home, there are two Brexit-related designs. More than a year after the vote, the Remainer graphics designed by Wolfgang Tillmans before the referendum, are all the more poignant, with wording such as 'What is lost is lost forever'. I like the set of Me & EU post-cards designed by Nathan and Sam Smith for creatives to send across Europe to keep in touch following the Brexit vote. These raise a smile, albeit in a grimly humorous way.
National identity is another strand. The Refugee Nation Flag – orange with a black horizontal stripe – is designed by Yara Said, inspired by the colour and design of lifejackets for those without a country, while Smörgåsbord has created a new national brand identity for Wales. Two other innovations aim to bring the languages of the world together. Google's Noto creates a free, single typeface compatible with more than 800 of the world's languages and more than 100 different language systems. Remember the Babelfish alien translator fish from The Hitchhiker's Guide to the Galaxy, which seemed so far-fetched back in the 1970s? Decades on, the world's first translating earpiece is here – Waverly Labs' Pilot, which promises near simultaneous face-to-face translation.
In transport, the trend towards driverless vehicles continues. This year we have Olli, a self-driving bus designed by Local Motors and a self-driving Autonomous Rail Rapid Transit. Developed by CRRC in China, this tram is guided by sensors and a double-dashed line rather than tracks. There's also an intersection road system for driverless cars developed by Carlo Ratti at MIT. Gita is a person-less bag carrier, a drum-like robotic personal helper developed by Piaggio Fast Forward to trundle along behind you carrying your belongings, thus doing the heavy lifting but depriving the victorious shopper of the chance to proudly swing their bags.
Olli is also the world's first bus made using 3D printing, and the exhibition additionally showcases the refined 3D printing technology of New York-based OTHR, which can produce pieces in porcelain, bronze and steel. Just as the world is getting used to 3D printing, along comes another technology, Rapid Liquid Printing (RLP), which we're told could eclipse it. In this experimental fabrication process, the material holds its own form and cures as it is being injected. It has been developed by Self-Assembly Lab, MIT, in collaboration with Steelcase.
As ever, there are plenty of material innovations, with products made variously from molten lava, marine waste and boards made of textiles.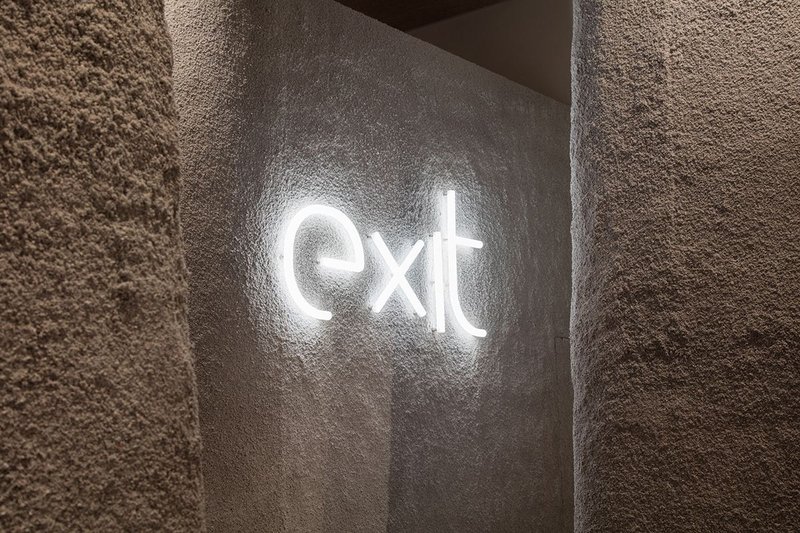 Alphabet of Light modular lighting system designed by BIG – Bjarke Ingels Group for Artemide.

Credit: Luke Hayes
Meanwhile, entries in the architecture category featured a fair share of big guns – such as David Adjaye (National Museum of African American history and Culture in Washington), Zaha Hadid Architects (Port House, Antwerp), OMA (Il Fondaco Tedeschi development in Venice), but it was the smaller and lesser known nominations that caught the eye, such as the Calais Jungle infrastructure. Mrs Fan's Plug-In House (People's Architecture Office) is a prefabricated module used to renovate an old courtyard house. This enables its owner to live closer to the centre of Beijing and thereby reduces their daily commute from four hours to one. Arturo Vittori's Warka Water structure enables villages to harvest potable water from the atmosphere by collecting rain and harvesting fog and dew.
Several entries eschewed redevelopment for careful renovation, or instead enshrined existing structures within the new. Blackstad Haffner Architects' Hegnhuset memorial and learning centre on Utoya, Norway, which commemorates victims of the 2011 terrorist attack, retains part of a café where some the massacre took place. Craft Lodge Studio, designed by Kate Darby Architects and David Connor Design, preserves an 18th century cottage within a new house and studio.
Architects spilled into other categories too. Diller Scofidio + Renfro created a VR experience for an exhibition into the work of Pierre Chareau. Forensic Architecture is also in the digital category for its interactive 3D recreation of a Syrian torture prison, constructed for Amnesty International through the memories of survivors. BIG's Alphabet of Light is a customizable modular lighting system.
With so much packed in, this exhibition isn't a quick browse. The subject matter behind a fair number of the projects is a deeply concerning mirror of our times. But as an uplifting advert for the impact of great design, it's hard to beat. Category winners and the overall winner will be announced on January 25.
---
Beazley Designs of the Year, until 28 January 2018, Design Museum, 224-238 Kensington High Street, London W8 6AG