Everyone wants to feel good, but how do you satisfy that? A show at the Building Centre explores a subject that has many different answers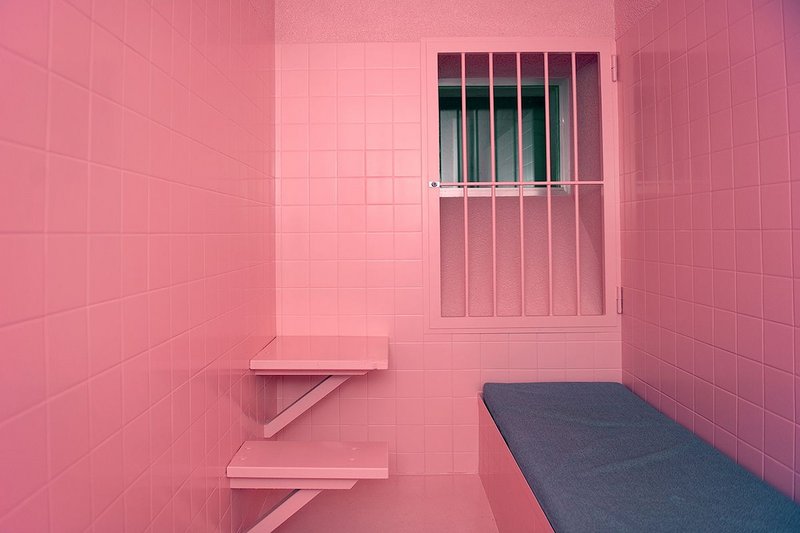 Cool Down Pink cabin, developed as a way of reducing aggressive behaviours in prison inmates by Daniela Späth, colour designer at Color Motion GmbH and Michael Steinlin, managing director at Dold Ag.

Credit: Dold AG Switzerland
What gives you a sense of wellbeing? Jesus, local authority, even scotch eggs according to some of the more curious responses on a wall of public messages at Making Wellbeing, an exhibition on wellbeing in the built environment at the Building Centre.
This show is a timely look at a subject that has been steadily gaining traction, most recently with the development of the WELL building standard certification for health and wellbeing in buildings. Consideration and promotion of wellness through design has permeated far beyond its natural constituency of healthcare into everything from education and workplace to housing. Yet designing for wellness can be a slippery subject, full of conflicting theories and intangibilities.
Making Wellbeing doesn't seek to provide answers. Instead, it shines a light on current, sometimes disparate, thinking in an exploration of everything from colour theory in prisons and air-cleansing green walls to the broader issue of designing sustainable, healthy communities.
'It's a forum to examine what wellness is about in the built environment. There are so many factors contributing to what we see as wellbeing. We're trying to bring some of the more notable strands together,' say Lewis Blackwell, director of strategy and development at The Built Environment Trust which curated the exhibition.
As the exhibition shows, there are many aspects to Wellness. On a basic level, it can be thought of as meaning the security of a safe environment, free of danger, for example, from fire or toxins. Beyond this, wellness relates to autonomy - the ability of the individual to control their environment to meet their needs, whether this be environmental, spatial or social. Then there's the hugely important but often intangible softer, psychological issues of how an environment can be designed to positively affect the way a person feels, whether through materials, colours, configuration, access to greenery, or general ambience. While this is undoubtedly all well and good, in today's harsh financial climate, the challenge is how to identify the cost benefits to justify investment in design that may be conducive to wellness.
The exhibition explores wellness in different sectors. There are some fascinating examples here, in particular the positive effect of timber on children's learning, and the reportedly calming effects of the colour pink on inmates in Swiss prisons. However some inmates found the pink demeaning, demonstrating the difficulties of evaluating such design strategies for wellbeing.
In healthcare, there is the shining example of the Maggie's Centres and their positive effect on cancer patients and their families – the show features Foster's timber-framed Manchester Maggie's – as well as the uplifting, colourful graphics at the Royal London Children's Hospital which do so much to enliven usually dull and relentless hospital corridors. It's interesting to learn that as far back as 1888, Florence Nightingale noted that 'variety of form and brilliancy of colour' contributed to patient recovery.

Holmes Road, designed by Peter Barber Architects is a development of micro houses for homeless people in Camden. Terraces face onto a communal garden.

Credit: Morley von Sternberg
Biophilia – love of nature – is a recurring factor, whether in Roger Ulrich's seminal studies from the 1980s into the effect of landscape views on hospital patients' recovery rates, or simply in terms of access to plants or, on a wider level, public parks.
Wellness in the built environment in its broadest sense is touched on by references to celebrated US city activist Jane Jacobs, and her approach to fostering diverse and healthy communities. Nowadays, Blackwell hopes that the anticipated growth of the long-term housing rental market could have a positive effect on the quality of housing and its associated community environment. In developments such as the proposed Greenford Green in Ealing, where only 25% of the total 1965 units will be sold by developer Greystar, the priority is on building to last, with high quality materials and well-designed, well-maintained communal areas, in order to continue to attract and retain tenants over the long-term. There is also more incentive for developers of such accommodation to provide a variety of unit types suitable for different stages of life, so that those with growing families don't have to move away, as well as appealing to a wider market.
The ability to provide diverse accommodation to fit new social norms rather than taking a one-size-fits all approach is embodied in several projects by Peter Barber Architects in the exhibition. At Holmes Road in Kentish Town, homeless people are accommodated in terraces of micro houses around a courtyard while the Beveridge Mews social housing development in Stepney responds to the needs of extended, multi-generational local families by providing homes with four to six bedrooms.
In the workplace, wellbeing issues could be pushing at an open door as they coincide with a fundamental rethink of the role and nature of the office prompted by the impact of mobile technology. Forward-thinking clients are seeing that their physical workplaces need to work harder by providing an environment more conducive to effective, collaborative working and also more attractive to recruiting and retaining staff. There can however be a fine line between office gimmick and valuable workplace setting. As lovely as it might be to pop into an office sleeping pod for a quick power nap – as some big corporates are apparently now providing and which visitors to the exhibition can try out for themselves – there will always be the impossibility of calculating the financial benefit of such features in order to justify their inclusion.
While this exhibition does its bit by bringing together wellness thinking, Blackwell feels that a lot more long-term research and joined-up thinking is required to advance wellness design principles further.
'One of the things we're really missing is data. There's a bit too much of people's convictions and not enough of the science,' he says. 'We need to build a wellbeing consensus before we can move forward.'
In the meantime, anyone for a scotch egg? Think I'll have mine in private in the new office sleeping pod.
---
Making Wellbeing: from birth to death, until 26 January 2018, Building Centre, Store Street, London, WC1E 7BT