An immersive installation in the RIBA Architecture Gallery at Portland Place in London evokes the extraordinary homes of four women, exploring the power games at play in plans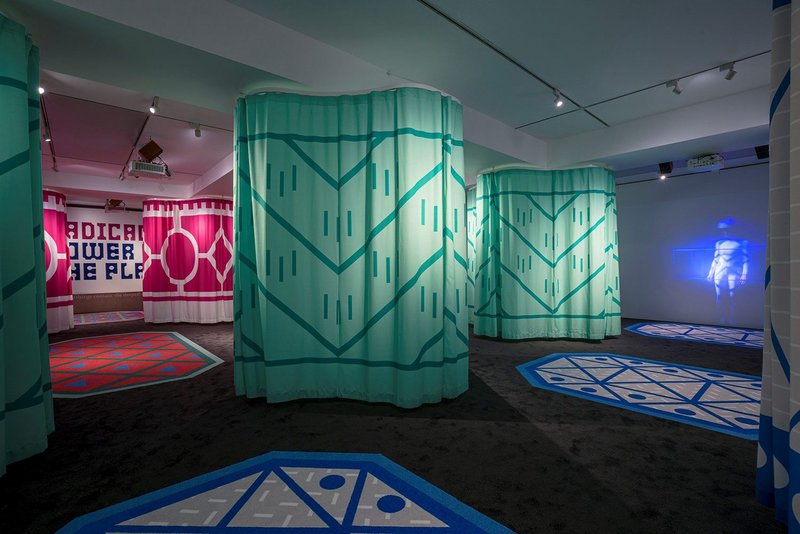 Radical Rooms at RIBA Architecture Gallery.

Credit: Gareth Gardner
Radical Rooms is an exhibition about architecture and power. This relationship is explored through the seemingly ordinary world of houses and domestic plans that structure family life. Historically, this involved strict hierarchies and separation by class, gender, age and occupation. Today, these divisions are often less explicit but remain present. Why are some rooms more private than others? Why do we have rooms dedicated to specific functions? And who gets to decide the layout of our houses?
Robin Evans' 1978 essay Figures, Doors and Passages forms the starting point. He showed how the grid of interconnected rooms in Palladian villas was later adapted by the introduction of the corridor as a device for separating rooms and people – a seemingly banal development that manifested profound concerns about privacy, segregation and social control.
Our exhibition traces an alternative history, highlighting moments of escape or departure from normative domestic layouts and the tyranny of the corridor. It comprises three main elements: a physical installation, an audio-visual performance and a display of archive material from the RIBA Collections.
The gallery is divided into a grid of connected rooms formed by curtains and patterns on the floor. As one passes through the gallery, their colours and details change to evoke three extraordinary houses commissioned or designed by women, whose influence has generally been downplayed in architectural history.
Hardwick Hall is an Elizabethan mansion built for lavish entertaining and commissioned by Bess of Hardwick. A La Ronde is a 16-sided Regency cottage conceived by two cousins, Jane and Mary Parminter, based on the chapel of San Vitale of Ravenna in Italy. The Hopkins House, designed by Patty and Michael Hopkins in the mid-1970s as their home and office, used mass-produced and industrial components.
Bess of Hardwick, Jane and Mary Parminter and Patty Hopkins appear in a series of performances projected onto the walls. Together, they become the inhabitants of the spaces, telling their stories through music, dance and spoken word. Each protagonist is freely interpreted as a fresh archetype: Bess becomes a grime MC, her braggadocious attitude matching the astronomical ambitions of Hardwick Hall. The Parminters are re-imagined as a pair of punk flâneurs, proto-feminists fabricating a playful monument to their personal freedom. Patty Hopkins lends a voice-over to a minimalist electronic score that evokes her love of refined industrial components and the subtle, free-flowing spaces of her home.
The characters are clad in extraordinary outfits and accessories using the same patterns as the curtains and carpets. Bess' ruff is as grandiose as her house, the Parminters sport 16-sided bonnets and wallpaper-patterned pantaloons, while Patty inhabits a wearable space-frame and a costume evoking the venetian blinds that modulate light in her house. Subtle evocations of the houses occur in a play of patterns, plans and geometries.
Somewhere in all this and partly concealed by the curtains is an exhibition of drawings that charts a 400-year history of radical houses. Sometimes these houses are radical because of who lived there, sometimes because of how they were planned, or how they reflected changes in society. Each breaks out of normative modes of planning to suggest alternative organisations of domestic space and other ways to live together.
This immersive, multi-sensory experience is the product of a collaboration between an architect, an artist, and RIBA curators Marie Bak Mortensen and Margaret Cubbage. Like all good creative collaborations, the key decisions seemed to happen naturally. The choice of the three key houses emerged suddenly, shaped by the increasing importance of the role of women within the narrative of the exhibition. We visited A La Ronde during the summer of 2021, and were equally convinced of its inclusion. Eager to involve Patty Hopkins in the development of our ideas, we visited the Hopkins House together and were smitten by its ethereal interiors.
Radical Rooms is intended as both a reflection on architectural history and a provocation to reinvent that history. It plays fast and loose with architectural genres and jumps back and forth through time. In place of static walls and solid stone it makes architecture out of fabrics, furnishings and costumes, suggesting that the conventions of domestic space are not fixed. It celebrates the work of four women who remade their lives through architecture and in doing so challenged the preconceptions of their time. Radical Rooms is an exhibition about architectural plans, but also about how we inhabit them and how – through that inhabitation – we make new plans all the time.
Radical Rooms: Power of the Plan. RIBA Architecture Gallery, 66 Portland Place, London, 28 April-30 July
Charles Holland is the founder of Charles Holland Architects. Di Mainstone is an artist working in performance, installation and film