The Royal Academy's Renzo Piano exhibition celebrates the 81-year-old's achievements – and looks to the future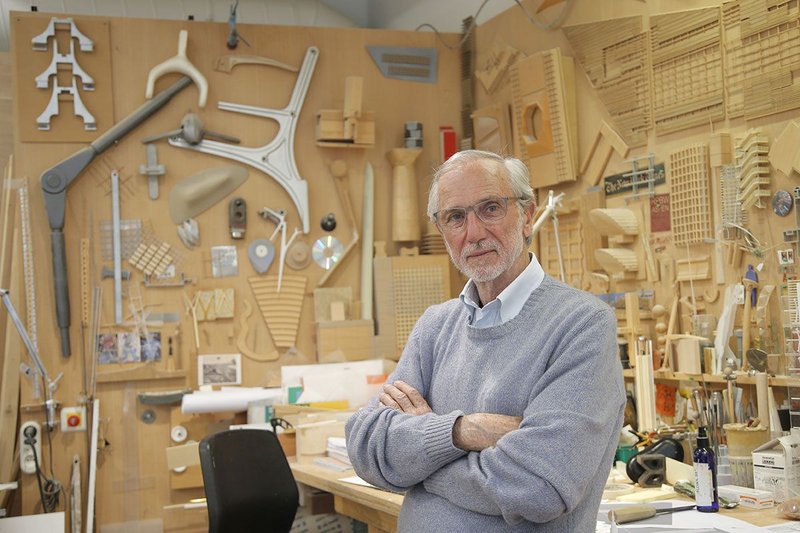 Renzo Piano in his workshop in Paris, 2015.

Credit: Francois Mori/AP/REX/Shutterstock
In the midst of the Royal Academy's new Renzo Piano exhibition is an imaginary island, a giant model beautifully crafted in the workshop of the architect's famous Genoa studio and populated by 102 of his past, present and future projects at 1:1000 scale. In this playful installation The Shard forms part of a promenade with many of Piano's urban landmarks while other projects are thoughtfully positioned around the coastal landscape.
Perhaps this can be thought of as Renzo Island, a gathering of the fruits of the esteemed Italian architect's 50 years-and-still-counting career. As visitors to the exhibition navigate the island's built population with the aid of a map, a film projected on two nearby walls of the room gives insights into his approach to life and architecture while 32 newly commissioned photographs contribute to this portrait of the Italian architect and his work. In Thomas Riedelsheimer's film, we learn about his love of sailing and his home town of Genoa, his thoughts on urbanity and the urbane, his fascination with light and lightness, and his consideration of architecture as a public art and as an art of telling stories. This central section on the man himself is the beating heart of Renzo Piano: The Art of Making Buildings, in the RA's newly created Gabrielle Jungels-Winkler Galleries.
Surprisingly, the show is the first major London exhibition of his work since 1989. London seems an appropriate location given Piano's connections with the city, which go back far further than The Shard and Central St Giles projects. The honorary Royal Academician lived there from 1966-71, teaching briefly at the AA and staging exhibitions of his work in 1967 and 1969 (a couple of surviving panels from the latter are included in this new show). During this period he met Richard Rogers, who became his livelong friend and future collaborator on Centre Pompidou, and formed relationships with Ove Arup and ZS Makowski, a Polish engineer leading innovations in space-frame structures.
The roughly chronological exhibition explores 16 projects in detail that represent the huge span of building types, scales and contexts he has tackled throughout his career, from skyscrapers (The Shard, 2000-2012) to small-scale ephemeral projects (IBM Travelling Pavilion, 1983-86), and from cultural centres (Centro Botín, Santander, 2010-17) and offices (New York Times Building, 2003-07) to airports (Kansai, Osaka, 1988-94). In doing so, the show spans his collaborations with Rogers (1971 – 77); with engineer Peter Rice (1978-81) and the establishment of his own Renzo Piano Building Workshop in 1981. Visitors are greeted by a scenography of suspended and tabled models plus Piano's splendid large-scale drawings. A number of specially created soundscapes seek to evoke the atmosphere of the buildings, such as the sound of air travelling through the slats on the facade of the stunning Jean-Marie Tjibaou Cultural Centre (1991-98).
Entering the exhibition is like 'stepping into a world of floating ideas' according to curator Kate Goodwin, head of architecture and Drue Heinz curator at the Academy. In particular, she hopes the suspended models reinforce the theme of lightness so central to Piano's work. Routinely described as elegant and poetic, it can be hard to pin down in that there is no stylistic consistency to hold on to. Instead, Goodwin points to an attitude and approach which Piano himself identifies as a 'fil rouge' that runs through his career. He is, she says, both a pragmatist and a dreamer, both humanist and scientist and perhaps above all, an 'architect of dignity'
He is both a pragmatist and a dreamer, both humanist and scientist and perhaps above all, an 'architect of dignity
'There is something very considered and refined about his work, something that is never in excess. Its starting point really is the art of making a building and how it comes together – it is about its construction, never the expression first,' she says, adding that while he is very rational, this is combined with the ability to give beauty to the technical.
The son of a builder, Piano is well known for his attention to the art of building, as epitomized by his practice's name. Both exhibition and the accompanying book emphasise his deep commitment to making, in particular his refinement of design through the use of large-scale mock-ups and prototypes. This is well illustrated with the design of the Menil Collection in Houston (1982-86), the first time that he made a 1:1 prototype of a whole section of gallery. Here Piano painstakingly developed light-filtering 'leaves' that enabled the introduction of natural light into the gallery from above without damaging the exhibits. In doing so, the changing cycle of light over the day is perceptible – a common theme throughout his work. The exhibition includes white ceramic rods from a 1:1 mock up of the New York Times Building.
As well as Piano's particular focus on refining the process of making, the exhibition explores his belief in architecture's role as a 'civic gesture and social responsibility', exemplified by his offer to donate a design for a new bridge for Genoa after the recent tragedy. His drawings are often characterised by areas of orange denoting shared public space both outside and inside, with concentric circles indicating particularly important gathering places. He has always, says Goodwin, had the ability to engage at a larger civic scale as well as detail. As a result, his very legible buildings – with notable exceptions such as the eternally provocative Centre Pompidou – often look as if they've always been there, especially once the building has bedded in as the context settles around the aspirations of the architect's intervention.
The starting point of his work really is the art of making a building and how it comes together
'He creates something that's rooted in the integrity of the place,' says Goodwin.
Unlike many retrospectives that only look back, this show also looks forward, with the 81-year old architect still firing on all cylinders. His 150-architect practice is on site with the Academy Museum of Motion Pictures, Los Angeles, and the Emergency Children's Surgery Centre in Entebbe, Uganda, both included in the exhibition as works in progress, a fitting reminder of Piano's fascination with the construction process.
'He has an alertness, an undying curiosity, a youthfulness…and there's an agility to how he works and thinks,' says Goodwin, who hopes the exhibition will inspire visitors through both his work and the complexity and power of architecture in general.
The Royal Academy describes his work as architecture 'that touches the human spirit'. After visiting this wholehearted celebration of his oeuvre, Renzo Island and all, visitors should be well armed to judge for themselves.
---
Renzo Piano: The Art of Making Buildings, Gabrielle Jungels-Winkler Galleries, Royal Academy of Arts, Piccadilly, London. 15 September-20 January, 2019. The accompanying publication is available at £16.95