The Design Museum's exhibition of David Adjaye's work explores the democratisation of the memorial to prompt personal responses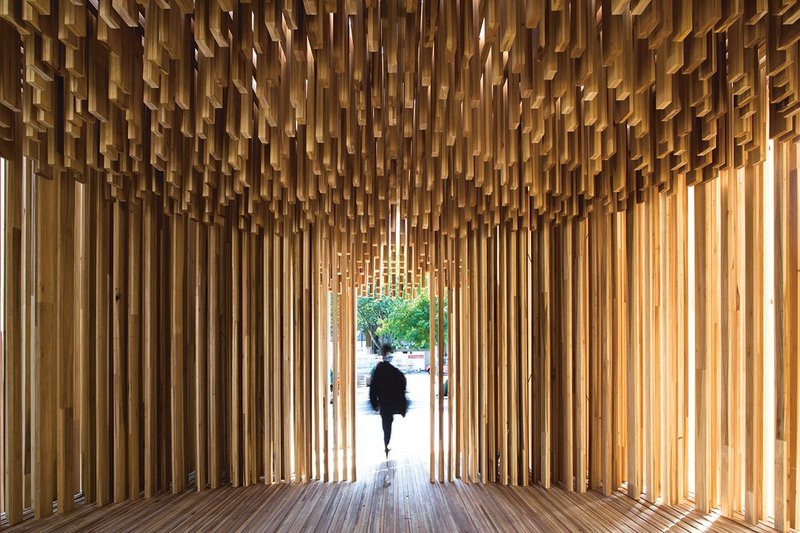 Sclera pavilion, designed by Adjaye Associates for the 2008 London Design Festival.

Credit: Ed Reeve
David Adjaye: Making Memory, is the Design Museum's first major architecture exhibition at its Kensington home. At the launch, co-director Deyan Sudjic remarked that while it was originally intended to be a retrospective, he was pleased that it had turned into an exhibition about an idea – the contemporary expression of monuments and memorials seen through the work of Adjaye Associates.
I'm pleased too. With its focus on experiential space and narrative, it's a rewarding lens through which to view the work of a practice riding high after the triumph of the Smithsonian National Museum of African American History and Culture in Washington, one of seven projects in the exhibition. It's also excellent timing, with the Holocaust Memorial for central London, for which Adjaye is lead architect, in for planning permission.
At the start of the exhibition, visitors are encouraged to reflect on historical forms of commemoration, and to consider how contemporary examples might be changing.
The chosen Adjaye projects range from monuments dedicated to particular events or people such as the Holocaust memorial to a looser interpretation of the typology. This allows the inclusion of the National Cathedral of Ghana and the Smithsonian museum as nationally significant buildings, the former as an emblem of unity and identity, the latter as a monument to the stories told within it. Not all seem a natural fit – the Sclera Pavilion from the 2008 London Design Festival, however interesting its eye-inspired narrative, lacked the gravitas of the others' subject matter.
Making Memory talks about exploring a 'democratisation' of the monument to reflect 'a broader experience of time and place' rather than a prescriptive reading. Instead, we are provided with a setting for reflection to make our own response.
This seems particularly true with the Holocaust memorial, where the route down into its learning centre is formed by bronze fins creating 22 spaces – the number of countries directly involved in the Second World War. The hope is that it will be a place where people from all backgrounds can learn from the past and apply those lessons to the future.
The engaging exhibition intersperses architectural models, drawings and prototypes with visuals, interviews and sources of design inspiration. Five giant colourful umbrellas loom over the Cathedral room, a reference to the ceremonial umbrellas and traditional canopies that inspired the roof, while in the Smithsonian room, a wonderful Yoruban sculpture by Olowe of Ise steals the show, depicting a man wearing the traditional tiered hat that influenced the form of the building.
For all the impressiveness of the Smithsonian and cathedral designs, more striking were the projects with a sense of the everyday. The Gwangju River Reading Room in South Korea, a walk-through memorial to 200 students killed in a pro-democracy uprising, incorporates open access book niches. The idea is for people to pause and read about democracy, or sit in contemplation before continuing. I particularly like the unassuming, forthcoming Coretta Scott King and Martin Luther King Jr Memorial. Proposed for Boston Common, this is built into the landscape with a pathway running over the top. Its walls will be inscribed with text from the Kings' speeches, the typographical style reflecting the cadence and weight of delivery. It looks like it will be a place where people can spend time – walking through or sitting eating lunch or meeting up. Rather than a one-visit place, this is a monument that will be embedded into the everyday, fulfilling eloquently the exhibition's idea that 'both psychologically and physically, a monument should always be a place of return.'
---
David Adjaye: Making Memory, until 5 May 2019, Design Museum, 224-238 Kensington High Street, London W8 6AG