Lucienne Day's particular take on plants and flowers in her patterns is explored in this show which coincides with her centenary and revived popularity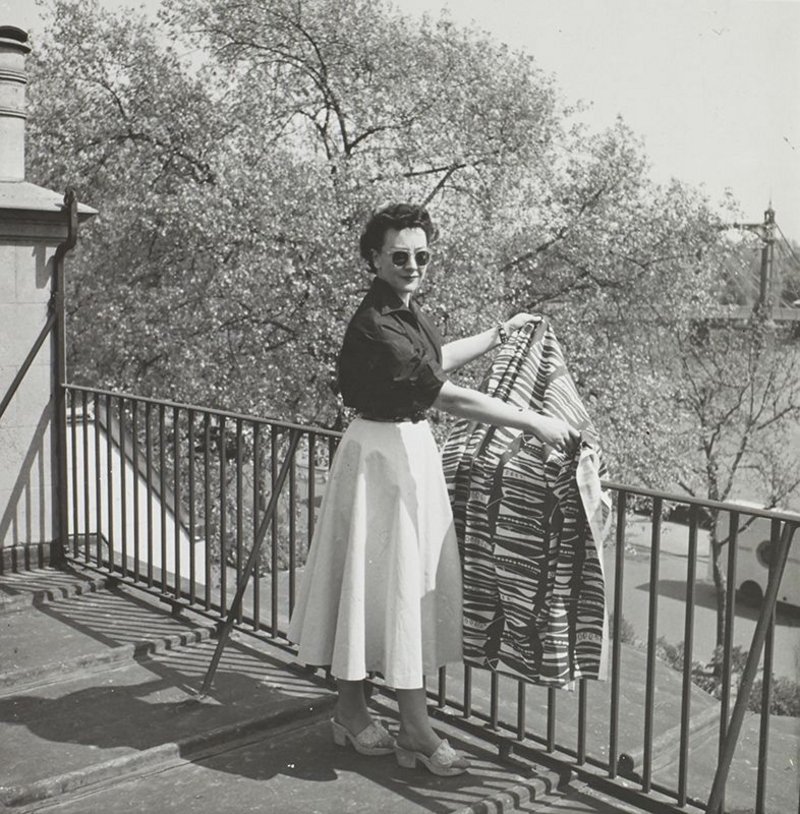 Lucienne Day with Foreshore (1952) on the roof of her house at Cheyne Walk, 1950s. Copyright the Robin & Lucienne Day Foundation.
Flowers and plants are a natural inspiration for pattern designers and Lucienne Day was no exception. At least half, if not two thirds, of her work was derived from such natural imagery according to Jennifer Harris, curator of a new exhibition on Day's floral-based designs.
A Sense of Growth, which opens at the Whitworth gallery in Manchester on 14 April, is timed to coincide with the centenary of Day's birth. The exhibition shows off Day's often radical and abstract interpretations of flowers and plants as she created famous designs such as Calyx, Herb Anthony, and many more. It wasn't just the showy florals that caught her eye. She saw the design potential of even the humblest natural forms – from bark and moss to mushrooms and grasses.
'Plants are traditionally represented by pattern designers but what's exciting with Lucienne is that they are so radically reworked to reflect movements in contemporary art,' says Harris, who describes Day as one of the most important pattern designers of the 20th century.
Appropriately, the new exhibition is staged in the Collection Centre gallery looking out to the art garden and the park beyond. The floral theme is a natural focus for this modestly-sized show, which also ties in with the gallery's GROW project that promotes the benefits of horticultural activities for improving mental wellbeing.
Day was a keen gardener, making do with houseplants and pots on the balcony of her and Robin Day's London home until the couple rented a weekend cottage in West Sussex with a garden. While much of her work in the 1960s tended to be more hard-edged and geometric, flowers and plants were a particularly strong theme in her work from the preceding and succeeding decades.
'The way they were used in her designs was quite loose. Sometimes her work is quite anatomical, sometimes really abstracted and far removed from the original plant form,' says Harris, who collaborated on the exhibition with the Days' daughter, Paula.
Lucienne Day used many techniques. The Linden design for Heal's furnishing fabric (1960) involved inking real leaves and using these to create overlapping prints of the leaf form. Also for Heal's, High Noon (1965) was created with cut-out coloured paper. She experimented freely with scale – designs such as Sequoia (1959) use bold, large-scale pattern in contrast with the delicacy of earlier work such as Calyx (1951) and Dandelion Clocks (1953). The degree of abstraction varies too – designs such as Pomegranate (1961) are clearly reminiscent of their source material while in Trio (1954) the plant-inspired forms take on almost anthropomorphic qualities.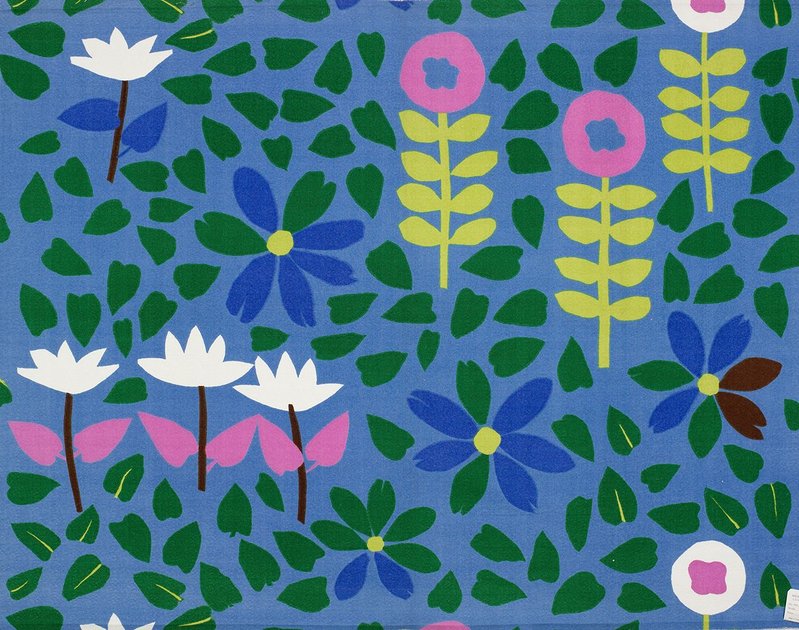 High Noon screen-printed furnishing fabric, Lucienne Day, Heal Fabrics, 1965. Copyright the Robin & Lucienne Day Foundation.
As well as around 30 designs, the A Sense of Growth exhibition includes other related items such as Day's gardening journals and articles.
It was important to Day that her work was accessible to a wide audience.
'She expressed the feeling that while most people can't afford art, sculpture or painting, most of us can afford a curtain,' says Harris, who collaborated with Day on the first retrospective of her work back in 1993.
Day's work has enjoyed a surge in popularity since then in tandem with the prolonged interest in mid-century modern. And in her centenary year, her patterns – florally-inspired or not – are about to get more accessible thanks to a new range of cushions and fabrics in her archive prints, launched by John Lewis this spring to time with the anniversary.
Lucienne Day – A Sense of Growth, 14 April-11 June, Whitworth, Oxford Road, Manchester M15 6ER
---